These big, beautiful bakery-style gluten free sugar cookies are chewy and satisfying, and a slightly more complex sugar cookie flavor.
What type of sugar cookie is this?
This is not our only gluten free sugar cookie recipe, but it's my current favorite for the unique flavor and texture of each beautiful bite. The very outside is slightly crispy, and each bite practically melts in your mouth.
The extra egg yolk, the right balance of plenty of butter with some oil, a basic gluten free flour blend with confectioners' sugar that adds some tenderness and lightness, and some cream of tartar all combine to present a bakery-style sugar cookie that is simple to make, but makes a fancy presentation. They're drop cookies, though, so they're way easier to make than they look.
These cookies do tend to be slightly fragile, though. So this isn't the type of sugar cookie that I would ship in a box to your eldest daughter who just went away to college (just me?)
Make this cookie dough ahead of time
Many of my cookie recipes call for chilling the dough after shaping and before baking. It tends to help the cookies hold their shape during baking, so your cookies are only as thin as you intended.
I like the flavor best of cookies made with real dairy butter, but butter contains a fair amount of moisture and tends to spread in the oven. Chilling the shaped dough and placing it in the hot oven when it's still cold helps control the spread.
Even though these cookies contain a lot of butter, the cookie dough performs best when it's been chilled before being shaped. If you allow the dough to rest in the refrigerator for 1 to 3 full days before shaping and baking it, you'll get the very best flavor and texture.
When you shape the pieces of cookie dough, the warmth of your hands will warm up the dough to just the right temperature so that it spreads just enough in the oven. You can allow the dough to rest in the refrigerator for longer than 3 days, of course, since it will remain unspoiled for as long as its most perishable ingredient, the butter.
A combination of oil and butter
It may seem unusual that this recipe for bakery-style gluten free sugar cookies calls for both oil and butter. Using precisely this balance of both ingredients creates a cookie dough that performs just as we want.
The butter provides tons of flavor and allows us to whip some air into the cookies by creaming the butter until it's light and fluffy. The addition of oil, along with the single extra egg yolk, beaten well into the wet ingredients in the cookie dough, provides more fat without adding more moisture.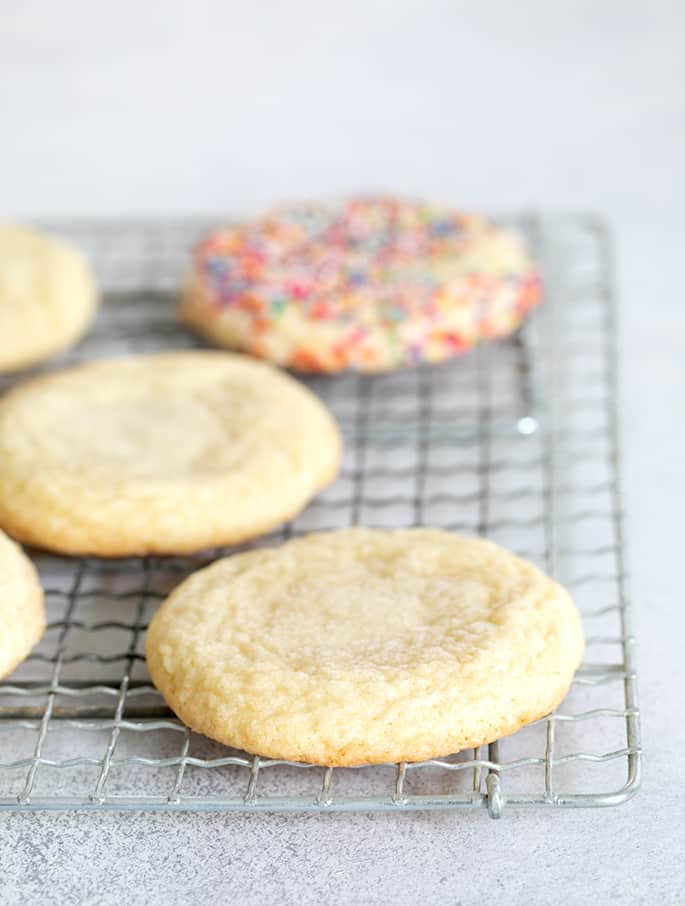 Ingredients and substitutions
Dairy
The combination of butter and oil is what makes the texture of these cookies so special. If you are dairy-free, you can try replacing the dairy butter with vegan butter (Melt brand and Miyoko's Kitchen brand are my favorites). The cookies may spread a bit more, and be thinner as a result.
You cannot replace the butter with more oil. Your cookies will taste oily, will be oily to the touch, and will be super flat since you won't be able to cream the oil like you can butter.
Oil
Baking cookies with oil that is liquid at room temperature has a higher fat content than butter, and lends a cake-like texture and tenderness to the cookies. You can use any neutral oil. Grapeseed, peanut, canola, and vegetable oils all work equally well.
Eggs
The single whole egg in this recipe provides structure and tenderness. The added egg yolk is for texture.
If you can't have eggs, you might be able to replace the whole egg with one "chia egg" (1 tablespoon ground white chia seeds + 1 tablespoon lukewarm water, mixed and allowed to gel). I don't know how to replace the egg yolk. Maybe try another tablespoon of butter, or another of oil?
Cream of tartar
The cream of tartar in this recipe helps to stabilize the beaten butter and egg white in this recipe, plus provides a slightly tangy flavor and more chew. You can try using some lemon juice in its place, but it won't have precisely the same effect.
Bakery-Style Gluten Free Sugar Cookies
Ingredients
10 tablespoons (140 g) unsalted butter, at cool room temperature
1/2 cup (100 g) granulated sugar
4 tablespoons (56 g) neutral oil (grapeseed, peanut, canola, or vegetable oil all work)
1 1/4 cups (145 g) confectioners' sugar
1 egg (50 g, weighed out of shell) + 1 egg yolk (25 g) at room temperature, beaten
2 teaspoons pure vanilla extract
2 cups (280 g) all purpose gluten free flour (I used Better Batter) (see Recipe Notes)
1 teaspoon xanthan gum (omit if your blend already contains it)
1/2 teaspoon baking soda
1/4 teaspoon kosher salt
1/4 teaspoon cream of tartar
Gluten free edible decorations, for rolling (optional) (See Recipe Notes)
Notes
I used Better Batter original blend all purpose gluten free flour in this recipe. If you use a higher-starch blend, like Cup4Cup or my mock Cup4Cup blend (follow the link in the recipe to the gluten free flour blends page), your cookies will brown less and likely be a bit thicker—especially since the confectioners' sugar has a bit of starch in it.
The cookie dough must be chilled in the refrigerator before shaping for at least 30 minutes so that it holds its shape and spreads slightly less. If you'd like to chill it for longer, it can be made days ahead of baking. Just be sure to keep it covered tightly so it doesn't turn dry.
Signature Brands, which makes Cake Mate and Betty Crocker brand sprinkles and nonpareils, typically makes these products gluten free in the U.S. Please always check labels and if you're at all concerned, please contact the company directly. I do not recommend Wilton brand decorations because they tend not to be reliably gluten free (as per the company itself).
Instructions
Preheat your oven to 350°F. Line rimmed baking sheets with parchment paper and set them aside.

In a large bowl or the bowl of a stand mixer fitted with the paddle attachment, place the butter and beat until light and fluffy (about 3 minutes). Scrape down the sides of the mixing bowl, add the granulated sugar, then the oil and confectioners' sugar, eggs, and vanilla, beating well after each addition. Add the flour, xanthan gum, baking soda, salt, and cream of tartar, and beat until just combined. The cookie dough will be relatively thick, but soft. Cover the bowl and refrigerate for at least 30 minutes or until firm.

Divide the dough into 1 ounce portions and roll tightly into a ball, then place about 4 inches apart from one another on the prepared baking sheet. If you want to decorate any of them, place gluten free nonpareils or sprinkles in a small bowl, place the balls of dough in one at a time, and rotate the dough until covered on all sides. Then return to the baking sheet.

Place the baking sheets, one at a time, in the preheated oven and bake for until the cookies are set in the center and lightly brown on the edges (about 12 minutes). Remove the baking sheet from the oven and allow the cookies to cool on the baking sheet for 10 minutes before transferring to a wire rack to cool completely. Repeat with the remaining baking sheets.