These 10 recipes for gluten free sugar cookies are perfect for every possible occasion. From classic cutout cookies that hold any shape you like, in chocolate or plain, to chewy sugar cookies and even cookies shaped like mini cinnamon rolls. They're all here!
Part of me is wounded by the fact that there's a "cookie season." Cookies are perfect all year long, in every single way. Whether you like them thick or thin, chewy, crunchy or melt-in-your-mouth soft, there's a sugar cookie for everyone. If your cookies are made primarily with sugar, butter, flour, and eggs, plus baking powder or baking soda, they're sugar cookies.
Although they're mostly plain or vanilla in flavor, they're sometimes chocolate—and never ever Plain Jane. These 10 recipes for gluten free sugar cookies come in every shape and size. But as you scroll down the list, you'll see that I prize cutout sugar cookies more than any other. During the holiday baking season, I think you do, too. Only a proper cutout cookie is going to hold whatever shape you like.
A few things to keep in mind as you bake (hopefully dozens of) cookies through the fall and winter:
Be sure that your ingredients are at room temperature, when specified in the recipe. If your butter is at room temperature, but your eggs are not, when you add the eggs, your butter will clump. When those ingredients are not at room temperature, they will not incorporate into one another properly. Ever try to cream butter in a mixer when it's cold? You just can't make it happen.
Be sure to use one of my recommended gluten free flour blends. These sugar cookie recipes are relatively simple, so the flour blend really shines. If you use an unbalanced or gritty blend, your recipes simply won't turn out.
Since these sugar cookie recipes almost all have the same ingredients, give or take, it all comes down to the details. If a recipe calls for butter and shortening, and you don't use both, it won't turn out as pictured. Feel free to experiment with substitutions, but understand that the more substitutions you make, the less likely the recipe is to turn out as expected.
When rolling out cookie dough, what you feel should guide you even more than what you see. If you run your hands over the top of rolled out cookie dough, you'll be able to tell if you've rolled it evenly. Don't be afraid to reroll the dough if you think it's necessary.
As with all baking, don't forget to use an oven thermometer! Most ovens are improperly calibrated by quite a lot (mine included!). An inexpensive oven thermometer will always get the temperature right, and you'll begin to learn whether your oven runs hot (most do), and by how much. When you're baking something like sugar cookies, which you tend to bake until pale-golden, oven temperature must be accurate.
Soft and tender gluten free cream cheese cutout sugar cookies that taste like cheesecake in a cookie. With or without the simple cream cheese frosting, it's the perfect cutout cookie. This is the cutout cookie you've been missing in your life. 
These soft gluten free chocolate cutout cookies roll out so easily and hold their shape perfectly during baking. Never too sweet, they have that rich chocolate taste and soft bite you simply must have in a cutout cookie.
These delightfully soft cutout pumpkin sugar cookies are packed with pumpkin flavor and simple to make. Perfect for every fall holiday you can possibly think of, from Halloween (a pumpkin!) to Thanksgiving (a turkey) and even Christmas (Santa!). Don't forget the simple maple icing, too.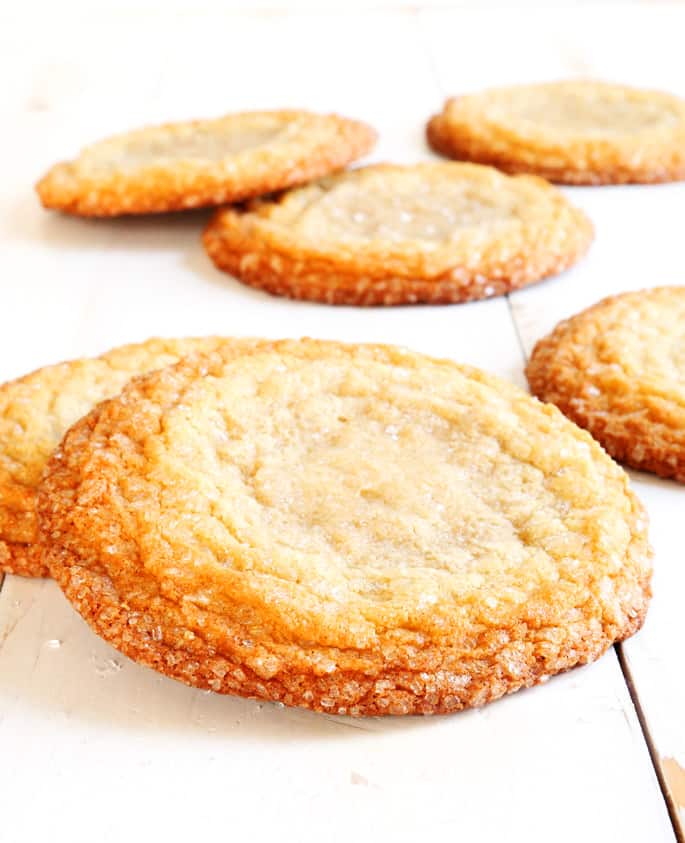 Crispy on the outside, impossibly chewy on the inside, these are New York Times-Style gluten free sugar cookies. They're unlike any other sugar cookie you've ever had. Feast your eyes, and then your belly. 
Basic sugar cookie dough is dyed and twisted easily into these soft and tender gluten free candy cane sugar cookies. Add a touch of peppermint extract for some extra holiday cheer!
The best place to begin baking gluten free is with a simple drop cookie. These gluten free drop sugar cookies are the cookie you've been looking for. Simple, sweet and buttery, plus they're stable enough for mailing clear across the country if that's your holiday thing.
Baking these chewy gluten free sugar cookies in a low oven keeps the cookies pale and tender, without crisping the edges much at all. The result is the perfect chewy sugar cookie—holiday decorations entirely optional.
And in case you're wondering, the answer is yes. It is worth sorting out the proper colored miniature M&Ms for this purpose. Note to readers outside the U.S.: If M&Ms are not gluten free in your country, first of all, condolences. Second of all, try using colored sixlets in their place!
Every box of holiday cookies needs a star. These gluten free snowman sugar cookies are the flashy cookies to put at the top of your cookie boxes. And no one has to know just how easy they are to make—even with the scarf glaze. ☃️


These gluten free cinnamon roll sugar cookies somehow manage to be soft and tender, and even light and flaky. Just like a "real" cinnamon roll—but in a neat little cookie. And no rising time. They're cookies, after all.
Gluten free sugar cookies are great. These soft gluten free sugar cookies with a meringue-type frosting are in a class by themselves. They're the perfect cutout cookie. They'll hold any shape you like, of course. And they make it so much easier to roll on by those clamshell boxes of gluten-filled Lofthouse cookies at the grocery store.