Make this lovely gluten free fruit cake at Christmas or any time of the year. This versatile recipe gives you a choice of fruits and preparation methods.
Jump to Recipe
This recipe for gluten free fruit cake is packed with colorful, delicious, fruits—and actually tastes delicious! Douse it in spirits or simple syrup, or serve it fresh.
Why we make fun of fruit cake/why this gluten free fruit cake recipe is no joke
I think we Americans are at fault for making fruit cake into a joke. I think we didn't necessarily have the palate for it, but started buying it and then making it—and made it bad.
Bad fruit cake is too dense, has fruit that is cloyingly sweet, or simply isn't to your individual tastes. Make it yourself, and you can eliminate every one of those concerns.
This is a recipe for white fruit cake, which just means that it's blond in color, not deep brown, like dark fruit cake. I became optimistic about making a really good gluten free fruit cake only when I learned of the idea of white fruit cake.
The cake is incredibly moist and flavorful, and of course the fruit is plentiful. But you choose the type of fruit, and you don't use anything that is covered in jelly.
Gluten free fruit cake ingredients
Here's a quick overview of the ingredients we'll use to make this light gluten free fruit cake.
Fruit – No doubt the darling of this gf fruit cake recipe, and you have room to experiment — see my in-depth discussion about the best fruit below
Butter – Gives the gluten free cake a lovely, buttery taste, and also provides fat to keep your cake tender
Sugar – Provides the sweetness and structure for this fruit cake, and also serves as a tenderizer
Eggs – I use four eggs in lieu of other leaveners to provide the lift for this yummy gluten free cake
Gluten free flour blend – Better Batter is my recommendation, but you may be able to experiment with Cup4Cup, my other recommended basic all purpose gluten free flour blend
Dry sherry – You only need a bit for the batter, and then more for curing, if you'd like.
Chopped nuts – I like to use a combination of almonds, pecans, and walnuts, but you can use your favorite chopped nuts or just add more fruit instead.
The best fruit for this gluten free fruit cake
The original fruit cakes were undoubtedly not made with the sort of candied fruit we use today. I'm sure they were made with lovely dried plums, and apricots, soaked in spirits.
Instead of less beautiful, but perhaps more flavorful, dried fruits, I used candied fruits made by Paradise brand. I bought them on amazon.com, but they're available during the holiday season in most U.S. grocery stores.
You can use their "fancy" mix, or buy individual containers of different varieties. The containers don't say whether you can store any of the fruit for later use after the container is opened. But with all that sugar I can't see why not!
I almost always add some golden raisins to the mix. They're still beautiful, and I prefer to have a bit of dried fruit for texture.
Please be sure to rinse all the candied fruit first, or at least most of it, or your fruit cake will simply be too dense, and it will be much more fragile. Plus, the taste will go from delicious to intensely sweet in an artificial way. But mostly, rinse the jelly off because of the chemistry of it all.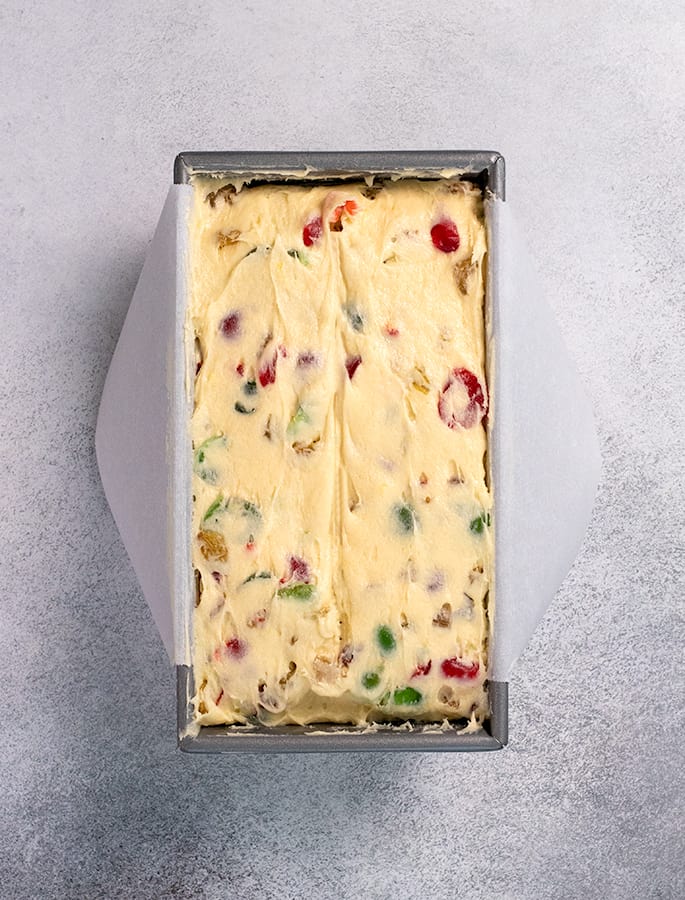 How to cure your gluten free fruit cake (optional)
Many people douse their fruit cake after baking with rum, brandy, or dry sherry. This fruit cake recipe can be "cured" in that way, and there are full instructions in the recipe below.
You'll simply pour about one tablespoon onto the top of the just-baked cake, and one tablespoon on the bottom. Wrap it tightly in plastic wrap, and let it absorb the liquid as it sits.
You'll add more liquid just about every other day, wrapping it tightly in between and storing in a cool, dark place, for the first week. Then, douse it again once or even twice a week until you're ready to serve it.
You can also soak a large piece of cheesecloth in the spirits, then wrap that around the cake. I find that to be a much messier option, but if that is your fruit cake practice, do as you usually do.
If you want to slice it thinly after curing, refrigerate it for 8 hours (still wrapped tightly) before serving.
What spirits to use to cure your gluten free fruit cake
Never cook or bake with any wine or spirit you would not like to drink. You will be concentrating the flavors, so you should really like it.
Brandy is a common spirit to use for curing fruit cake. Made from grapes and/or other fruits, brandy without flavoring should be naturally gluten free (but check labels and with manufacturers).
Rum, made from sugar cane, is also a nice spirit for curing. Like brandy, without additives, it should be naturally gluten free.
Dry sherry is also nice for cooking, but it tends to be a bit extra sweet. It's really a matter of taste.
How to make a simple syrup to douse your gf fruit cake instead
To keep my fruit cake (mostly) alcohol free (aside from the bit of dry sherry in the cake batter), I prefer to douse my fruit cake in a simple syrup. It moistens and preserves the cake, creating a denser texture that lends itself to thin slices.
It's so easy to make the rich simple syrup that you can use in place of alcohol for curing. To make any quantity of rich simple syrup, you'll need 2 parts granulated sugar and 1 part water.
Cook the sugar and water mixture in a small, heavy-bottom saucepan over medium-low heat until the sugar is completely dissolved and the mixture just begins to thicken. For example, you could use 1 cup granulated sugar and 1/2 cup water.
To flavor the syrup, add some citrus rind to the mixture while it cooks. Allow the mixture to cool completely and store in a container at room temperature. I like to keep the rind I used in the bottle with the cooled syrup, to continue to flavor it.
Tips for making the best gluten free fruit cake
Weigh your gluten free flour blend
To avoid a dry cake, it's important that you pay careful attention to the ratio of dry and wet ingredients in this recipe. It's particularly important that you don't use too much of your gluten free flour blend. The best way to ensure just the right amount is to measure your flour by weight using a kitchen scale rather than scooping it directly from the bag.
Give your dried fruit a rinse
Whether you're using a mix of candied and dried fruit or going dried all the way, be sure to rinse your fruit before adding it to the cake batter. This will remove the cloyingly sweet jelly from the candied fruit, but it will also add a little bit of moisture to your dried fruits so that your cake doesn't come out dry.
Prevent empty spaces with spoonfuls of batter
If you've made fruit cake before, you may have been plagued by empty spaces around the bottom and edges of the cake. This was a result of your fruit and/or nuts not coming in completely contact with your pan.
It doesn't affect the taste of your cake, but it does make it look a little messy. Avoid this issue by dropping a few of spoonfuls of cake batter (before fruit and nuts) into your pan and spreading it thinly around all edges.
How to store your leftover gluten free fruit cake
If you have leftover cake or made too much, you can easily store it to enjoy later.
If you cured your cake using liquor, you can give it another brush of alcohol and then wrap it tightly like before. Continue to feed the cake once or twice a week and keep it in a dark, cool spot, and it should store for several more weeks.
If you haven't cured your cake, you can store it in your fridge for about two weeks. Be sure to wrap it tightly to keep it moist.
For longer term storage, freezing your cake is another option. Make sure your loaf is completely cool, and then wrap it with aluminum foil before slipping it into a zip-top bag to store for up to two months. To defrost, transfer your fruit loaf to the fridge for 24 hours.
Substitutions for gluten free fruit cake ingredients
How to make gluten free, dairy free fruit cake
You should be able to replace the butter in the cake with vegan butter. My favorite brands are Miyoko's Kitchen and Melt brands. I wouldn't use Earth Balance buttery sticks, since the cake is already so moist and that has extra moisture.
Can you make gluten free fruit cake without eggs?
Since the only lift in the whole recipe comes from eggs, and there are 4 of them in one loaf, I do not recommend trying to make this fruit cake with an egg replacer. I wish I had better news!
Can I make a gluten free, vegan fruit cake?
Not with this recipe, unfortunately. As I explain above, you really need the eggs to give this recipe its lift. So sorry!
Can I skip the nuts in this gluten free fruit cake recipe?
Definitely! If you'd like to make a nut free fruit cake, just add more fruit in place of the nuts.
Spirits substitution
If you don't want to use alcohol in your gluten free Christmas cake recipe, you can substitute imitation vanilla extract for the batter. Rather than cure the baked cake, opt for a simple syrup topping.
Simple syrup substitution
If you don't want to use simple syrup, you can skip this step entirely and serve your cake "fresh", or you can try one of the variations below.
Gluten free fruit cake variations
Customize your gluten free version of traditional fruit cake by trying one of these delicious, simple variations:
A handful of mini chocolate chips – adds an another level of sweetness, but don't use too many or you'll end up with a dense cake
A drizzle of royal icing— another way to add a bit of sweetness and moisture
A dusting of powdered sugar – this is an especially festive way to decorate a gluten free Christmas cake
A sprinkle of spice — adding a teaspoon or two of grated or ground ginger gives you a touch of warmth
FAQs
What's the difference between a light fruit cake and a dark fruit cake?
A dark cake generally has dark brown sugar, molasses, and spices, all of which make the cake darker in color. The lighter variety skips these heavier ingredients.
Is a gluten free Christmas cake and fruit cake the same thing?
Yes, in many places, a gluten free Christmas cake and a fruit cake (or some similar recipe) are the same thing. They're usually enjoyed on Christmas Eve, Christmas Day, and throughout the holiday season.
Is this gluten free fruit cake recipe easy to make?
While a little time consuming, this recipe isn't difficult. You'll spend more time on it if you choose to cure it, but this is an optional step.
Is dried fruit gluten free?
Yes, dried fruit is naturally gluten free. However, you'll still want to pay attention to product labels. Some manufacturers may not promise against cross contamination, while others may sprinkle the fruit with wheat flour to prevent the pieces from sticking to one another.
Can I make an almond flour fruit cake?
This is something you'll need to experiment with on your own. For my recipe, I used an all-purpose gluten free flour, specifically Better Batter. While I can't say that almond flour won't work, I can tell you that your results will be different than what my recipe produces.
Can I make gluten free fruit cake in advance?
Absolutely, and you should. I find that baking and then curing your cake over several weeks results in a much richer and tasty end product.
Of course, if you don't want to cure, you can bake your cake and then refrigerate for up to two weeks or freeze for up to two months.
Can gluten free fruit cake make you drunk?
There is only a little dry sherry in my gluten free fruit cake recipe, so you don't have to worry about it getting you drunk. If you are at all concerned about alcohol, please use the simple syrup variation, and avoid the spirits altogether.
Of course, if you cure your cake with more sherry or another liquor after baking, the alcohol content will go up. But you're still unlikely to get drunk — unless you eat the entire cake yourself in one sitting? (Yes, it is that tasty, but I still don't recommend!)
Why is my gluten free fruit cake so dry?
If your gluten free cake has come out dry, you most likely had a problem with the ingredient ratios in the recipe. It's important that you follow my measurements exactly to skirt that fine line between a batter that is too wet and too dry.
Next time, use my recommended gluten free flour blend and measure by weight rather than volume. If you used all dried fruit in your cake, you'll also want to rinse them first so they rehydrate a little bit.
How do you fix a gluten free fruit loaf cake that's dry?
The best way to fix a dry flourless fruit cake is to soak it with a simple syrup. Follow my instructions above to slowly rehydrate your cake over several days.
How to make gluten free white fruit cake, step by step
Festive White Gluten Free Fruit Cake | with variation options
Make this lovely gluten free fruit cake at Christmas or any time of the year. This versatile recipe gives you a choice of fruits and preparation methods.
Ingredients
1

pound

2 ounces candied fruit/golden raisins

See Recipe Notes

16

tablespoons

(

224

g

)

unsalted butter

at room temperature

1 ¼

cups

(

250

g

)

granulated sugar

4

(

200

g (weighed out of shell)

)

eggs

at room temperature

1 ⅝

cups

(

228

g

) all purpose gluten free flour blend

(I used Better Batter; click thru for appropriate blends)

¾

teaspoon

xanthan gum

omit if your blend already contains it

1 ½

tablespoons

dry sherry

plus more for curing (See Recipe Notes)

¼

teaspoon

kosher salt

Zest of 1 lemon

8

ounces

chopped nuts

See Recipe Notes
Instructions
Grease a standard 9-inch x 5-inch loaf pan, and line in with parchment paper. Preheat your oven to 300°F.

First prepare the fruit. If you're using any larger fruit, like pineapple pieces or cherries, cut them into smaller pieces. Slice the cherries in half and chop the pineapple pieces into a 1/4-inch dice.

Place all the fruits (including dried fruits, like raisins) in a colander and rinse with cold water, and set them aside to drain.

Place the butter in the bowl of a stand mixer fitted with the paddle attachment or a very large bowl with a hand mixer and beat it until light and fluffy, scraping down the sides of the bowl as necessary. Add the granulated sugar, and beat again until fluffy.

With the mixer on low speed, beating continuously to combine, add 2 of the eggs, then half the flour, the remaining eggs and the sherry, then the remaining flour, the salt, and the lemon zest. Continue to beat the batter on medium speed until well-combined.

Add the prepared fruit and chopped nuts, and mix until the pieces are evenly distributed throughout the batter. Transfer the batter to the prepared loaf pan, and smooth the top with a moistened spatula.

Place the pan in the preheated oven and bake for 30 minutes. Rotate the pan 180° and continue to bake until the cake is firm to the touch all the way to the center, about another 30 minutes.

The cake will be very moist, and since you're baking at such a low temperature, the outside is very unlikely to burn. Remove the cake from the oven and allow it to cool on a wire rack, still in the pan, for about 10 minutes.
If dousing or curing the cake.
If you plan to douse the cake in spirits or simple syrup, pour about 1 tablespoon of the liquid on the top, another tablespoon on the bottom, and wrap the cake tightly in plastic wrap. Return it to the pan, and allow it to cool completely as is.

Once cool, store the cake in a cool, dry, dark location (not in the sun), removing it from the plastic every other day for a week.

Once a week, douse it with more spirits or simple syrup, then wrap it tightly again and store it in the pan until ready to serve.
If not dousing or curing the cake.
If you don't plan to cure the cake, remove it from the pan and place it directly on the wire rack to cool completely before slicing and serving.

Even if you're not planning to cure the cake, you can wrap it tightly once it's cool and refrigerate it for up to 2 weeks before serving.
Notes
About the fruit

.
I like to use 1 pound candied fruits, and 2 ounces golden raisins. I used Paradise brand candied fruits, and found them on Amazon.
About the nuts

.
In place of nuts, you can use more fruit. If I do use nuts, I alternate between chopped raw almonds and chopped pecans. Walnuts are also good. Soft nuts like pecans and walnuts will soften further over time. Almonds generally won't.
About the spirits

.
Dry sherry really gives a nice fruity flavor. If you must avoid alcohol, you can use alcohol-free vanilla extract (imitation vanilla extract is probably your best bet).
Instructions for curing the baked fruit cake with dry sherry, brandy, rum, or your favorite gluten free spirit are in the recipe above.
To make simple syrup

.
Cook 1 cup of granulated sugar with 1/2 cup of water (or another amount in that proportion) over medium-low heat until the sugar is completely dissolved and the mixture just begins to thicken.
To flavor the syrup, add some citrus rind to the mixture while it cooks. Allow the mixture to cool completely and store in a container at room temperature.
Originally published on the blog in 2020. In 2022, recipe unchanged and a few more text resources added.
Recipe adapted heavily from Jeffrey Steingarten's The Smith Family White Fruitcake from The Man Who Ate Everything (Vintage Books 1998).