These thick and chewy gluten free white chocolate macadamia nut cookies are made with buttery nut pieces toasted until just golden brown.
What makes these cookies special
The buttery goodness of macadamia nuts is paired with the sweet richness of white chocolate in a toothsome thick and chewy cookie. Even if you're not a lover of white chocolate, this is its highest and best use.
Every time I see a cookie like this, with something chunky mixed in, and the chunks of sweet chips and crunchy nuts are bleeding right out of a too-thin cookie, I cringe. Save the thin & chewy or thin & crispy cookies for the small bits and pieces, please!
With the right balance of ingredients, each at the proper temperature, and prepared with the right method, we are rewarded with the perfect gluten free white chocolate macadamia nut cookies. They're thick and chewy cookies that are lightly golden brown all over, and only crunchy around the edges.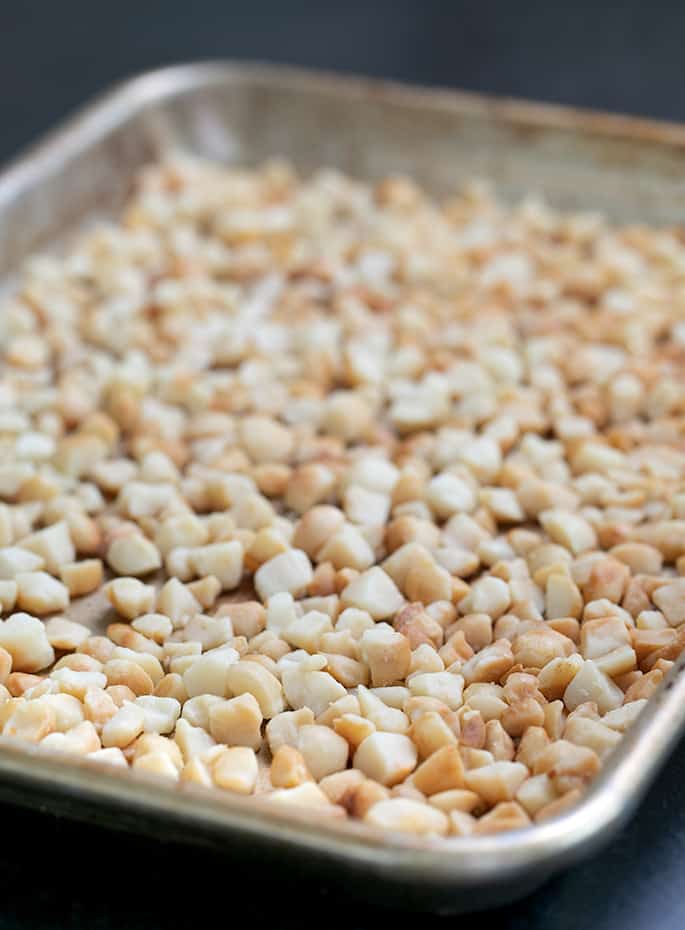 Let's talk about macadamia nuts
Macadamia nuts are definitely not cheap, so I buy them infrequently—and always in pieces. I never use them whole, and buying them in pieces means that whoever sells them to me can sell me the already-broken ones, so they cost a bit less.
Like most nuts, you can buy them raw, roasted or unroasted, coated or uncoated, salted or plain. I always buy my nuts raw and plain.
I like to toast the raw nut pieces in a low (300°F/150°C) oven for about 10 minutes total (5 minutes-stir-5 minutes more). It intensifies their natural buttery flavor and gives them a bit of crunch on the outside.
Toasted raw macadamia nuts mimic the overall flavor and texture of a good buttery thick and chewy cookie like this one. The slightly crisp outside gives way to a tender inside. Flavor x flavor = ?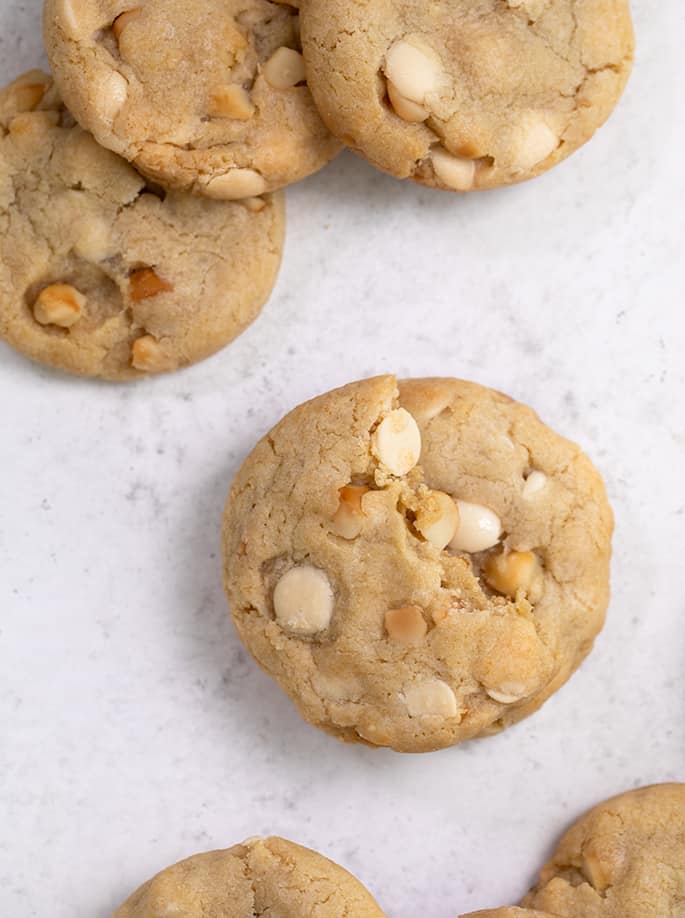 Let's talk about white chocolate
It's rare to find someone whose favorite chocolate is white chocolate. Much white chocolate is of poor quality and leads with sweetness.
The richness of cacao butter, which is at the essence of its chocolate flavor, can be overpowered by excessive sugar in sub-par white chocolate. There are quality brands of white chocolate, and when I chop it myself from bars, I like to use Ghirardelli brand.
In white chocolate macadamia nut cookies, though, it's not essential to use the Very Best White Chocolate, though. Any form of chocolate chip or disk will contain stabilizers that help prevent melting—and we want our white chocolate pieces to hold their shape during baking.
Even if you're not a lover of white chocolate, in general, it really does belong in white chocolate macadamia nut cookies. It just pairs so well with toasted macadamia nuts and the thick and chewy texture of the cookies.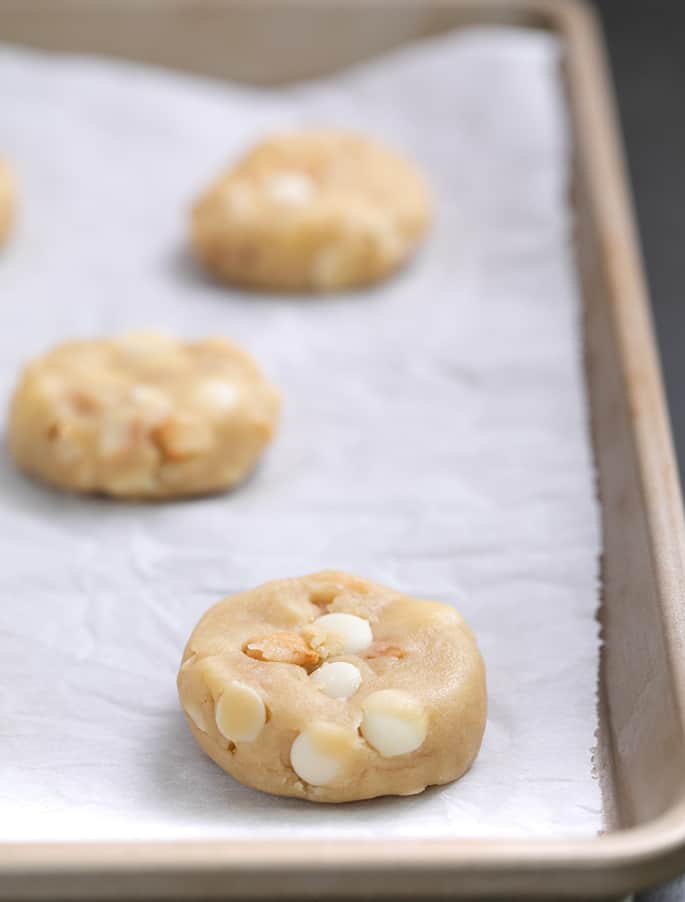 The reverse cream method of making thick and chewy cookies
The method described in many baking recipes calls for "creaming" the butter first, before adding the other ingredients like sugar and eggs. Dry ingredients are added last.
That method is essential for certain recipes, like a fluffy gluten free vanilla cake with a nice, open crumb. In my cookie recipes, I rarely call for creaming the butter first, especially when the recipe is for a thick and chewy cookie.
When you cream butter, you introduce quite a bit of air into the dough or batter. That's why the butter lightens in color once it's creamed.
I don't want a lot of air in thick and chewy cookies. I want a crisp outside and chewy inside. So I use what's called a "reverse cream," where (usually room temperature) butter is added to the already-combined dry ingredients and everything is mixed in reverse order.
Reverse creaming also has the added benefit of being simpler. It also calls for less equipment and fewer dirty dishes. Those are happy accidents. :)
Ingredients and substitutions
Dairy
In place of butter, try using vegan butter. I really like Melt and Miyoko's Kitchen brands. I do not recommend using Earth Balance, since it has too much moisture.
If you can't find dairy-free white chocolate chips or chunks, you could always make your own vegan white chocolate and chop it into large chunks before using it here. Or you could use a different type of chocolate chip that is reliably dairy-free.
Eggs
There are two eggs in this recipe. You can try using a "chia egg" (1 tablespoon ground white chia seeds + 1 tablespoon lukewarm water, mixed and allowed to gel) for each one.
Nuts
If you can't have nuts, then you're probably better off with our standard thick and chewy gluten free chocolate chip cookies. If you'd like something similar to this cookie, try white chocolate chips in place of the regular chips.