White bean blondies, like their black bean brownie cousins, taste nothing like beans but still have all that added nutrition. You will not believe the taste and texture!
How do white bean blondies compare to black bean brownies?
This recipe is adapted from one of the most popular recipes on this blog, our black bean brownies. Even though I'm not active on Instagram, I always check to see if anyone has tagged me in their posts—and so many of you have shouted your love for that recipe in particular. They always turn out, and taste so, so good.
When you're baking a dessert with beans, you do not want the baked goods to taste anything like beans. Since I've been baking gluten free since 2004, when a garbanzo bean-based gluten free flour blend was everywhere (including in my kitchen), I am super sensitive to anything that tastes like beans. Or even smells like beans when it's raw.
I can promise you that, like our black bean brownies, these blondies taste nothing like beans. It's harder to mask the taste and smell of beans, though, in a blondie since you don't have cocoa powder or brewed coffee in the recipe.
The brownie batter in the black bean brownies is much thicker than the batter in this recipe, though. But the blondies are even more stable after they're baked than the brownies, which can be a little extra tender.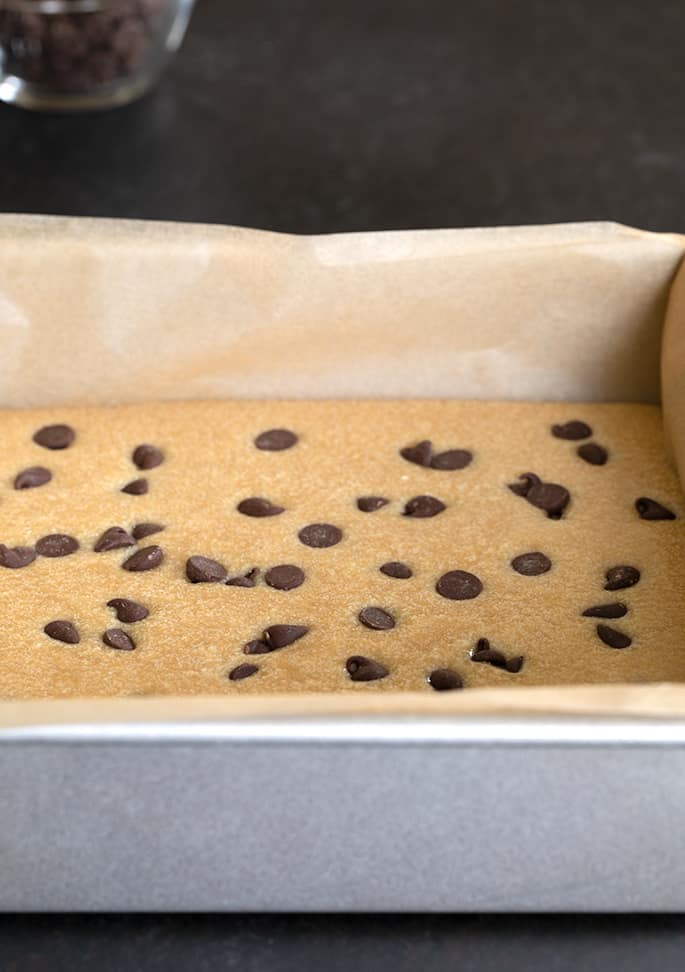 How these blondies get their taste and texture
You still want that slightly chewy brownie texture and that rich taste that isn't just sweet. Here, we owe the texture of these blondies to a combination of the right beans (I find that Great Northern beans work best), eggs, nonfat dry milk, and cornstarch, in all the right amounts.
When I first made the recipe, I used all cornstarch without any milk powder, and I found that both the texture and the taste weren't quite right. The blondies were a bit tangy (too much cornstarch can do that) and were too spongy.
We owe the taste of these blondies to a combination of brown sugar and plenty of vanilla extract. Plus, Great Northern beans, unlike garbanzo beans, don't have much flavor or aroma to cover.
How to make white bean blondies
Whenever I make a recipe with cocoa powder, I'm often asked if that ingredient can just be left out or replaced with a "vanilla alternative." Sadly, there isn't any appropriate substitute for cocoa powder on a one for one basis. But a combination of milk powder, cornstarch, and butter instead of oil helps make this recipe a success.
In this recipe, first, blend drained and rinsed Great Northern beans and eggs until they're very smooth. A blender is preferable, but if you let a food processor work for a while, the beans will smooth out. Instead of oil, we're using butter because it makes for a more flavorful blondie. But since we don't want the butter to be liquid, we aren't blending it with the eggs and beans.
Then, the brown sugar, milk powder, cornstarch, baking powder, and salt are whisked and mixed until well-combined and any lumps of brown sugar are removed. Then, the bean mixture is added, along with room temperature butter and vanilla, and mixed or whisked until very smooth. It will be thin, about the consistency of heavy cream.
About half of the chocolate chips are added carefully on top of the mixture after it's been transferred to the prepared baking pan. If you add them before, they'll all sink to the bottom since the mixture is too thin for them to be suspended completely until the blondies have begun baking.
After the blondies are baked about halfway, add the remaining chocolate chips and allow the blondies to finish baking. They rise to the perfect chewy and tender texture, with no trace of the white beans that form their base.
Ingredients and substitutions
Dairy-free: Unlike their black bean brownie cousins, these blondies are not naturally dairy-free. They have dairy in the forms of both butter and nonfat dry milk.
The butter can probably be replaced with a vegan butter replacement, like Earth Balance buttery sticks or (my personal favorite) Melt brand vegan butter. The nonfat dry milk can also probably be replaced with dried coconut milk.
I haven't tried this particular recipe with that substitution, but in the past, I've had success with Native Forest brand coconut milk powder. And I've even started seeing the product in my local grocery store, which is great.
Egg-free: Since there are only two eggs, you might have success replacing them with 2 "chia eggs" (1 chia egg is 1 tablespoon ground chia seeds + 1 tablespoon lukewarm water, mixed and allowed to gel). But this recipe is so mysterious, and the batter is so thin, that I'm concerned it won't work. If you give it a try, please report back and let us know how it went!
Corn-free: The cornstarch in this recipe can easily be replaced with potato starch or arrowroot, by weight. The cornstarch helps provide a bit of structure, and helps the batter hold onto the chocolate chips, so it can't just be eliminated without a replacement.
Beans: I have only tested this recipe with Great Northern beans, which are a really mild-tasting but relatively firm white bean. They're perfect for baking.
If you can't find Great Northern beans, you can try making this recipe with white beans, but you may taste the beans in the final blondie (or you might not! I honestly don't know). Just don't try garbanzo beans, because you will smell and taste them!
White Bean Blondies
Yield:
9 to 12 bars, depending upon size
Ingredients
1 15-ounce can Great Northern Beans, drained and rinsed well
2 eggs (100 g, weighed out of shell), at room temperature
3/4 cup (164 g) packed light brown sugar
1/4 cup + 1 tablespoon (30 g) nonfat dry milk
3 tablespoons (27 g) cornstarch
3/4 teaspoon baking powder
1/4 teaspoon kosher salt
6 tablespoons (84 g) unsalted butter, at room temperature
2 teaspoons pure vanilla extract
4 ounces semi-sweet chocolate chips
Instructions
Preheat your oven to 325°F. Line an 8-inch square baking pan with unbleached parchment paper or nonstick aluminum foil, and set it aside. In a blender or food processor, place the drained and rinsed beans and eggs, and blend until very smooth. Set the mixture aside.

In a large bowl, place the brown sugar, nonfat dry milk, cornstarch, baking powder, and salt, and whisk to combine, breaking up any lumps in the brown sugar. To the large bowl, add the beans mixture, butter, and vanilla, and mix until very well-combined. If necessary, whisk vigorously to smooth the mixture, which will be relatively thin. Transfer the mixture to the prepared pan and scatter about half of the chocolate chips gently on top of the batter. They will sink a bit during baking, but shouldn't fall all the way to the bottom.

Place the baking pan in the center of the preheated oven and bake for 15 minutes. Open the oven door, gently pull out the rack with the pan on it, and scatter the remaining chocolate chips evenly on top of the blondies as they are baking. Return the rack with the pan on it to the oven, close the door, and continue baking for another 15 to 20 minutes, or until the top is lightly golden brown all over and the blondies spring back when pressed gently in the center. Remove the pan from the oven and allow to cool for at least 10 minutes before transferring the blondies, still in the paper or foil, to a wire rack to cool completely. Slice into 9 to 12 equal pieces, and serve. Store any leftovers in a tightly sealed container in the refrigerator for up to 1 week, or in the freezer for longer storage.