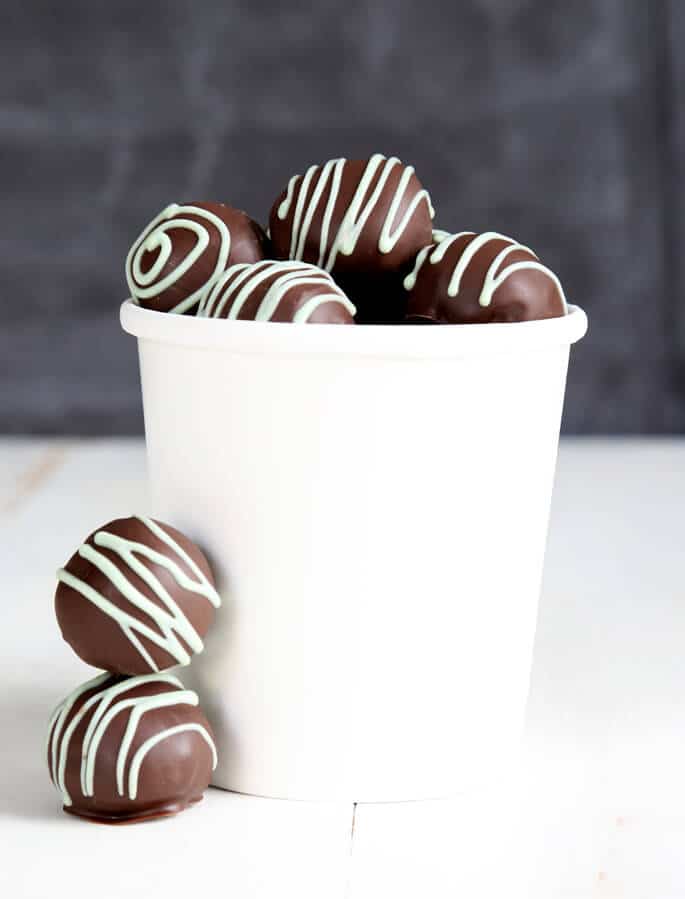 Thin Mints are the very best Girl Scout Cookie. My head knows that there is room for disagreement, but my heart wants all the Thin Mints, all the time. And the heart wants what the heart wants. Not that I'd throw any of the other Girl Scout Cookies out of bed. That's probably why my newest cookbook, Gluten Free Classic Snacks, has all the best recipes for alllll the Girl Scout cookies your heart may desire. And why I couldn't resist making these simple gluten free cookie dough truffles out of my gluten free Thin Mints recipe.
Since Thin Mints are snappy little numbers, the recipe has no eggs—making them the perfect candidate to be raw-cookie-dough truffled.
It also means there's no rolling out dough, no cutting out circles and (clearly) no baking. I urge you to cover them in chocolate glaze, but if you're really just not feeling it, serve them nude. They'll still taste like thin mints. I promise.
In the new book, I tell you all of my tricks and tips for rolling out all sorts of cookie dough, how to do it with ease, how to avoid the "wrinkles" that rolling out dough in parchment paper sometimes means, and plenty more wisdom. But this time, just this once, throw those rules out the window. Go on. Truffle your thin mints! You'll be so glad you did.
Thin Mint-Style Gluten Free Cookie Dough Truffles
Ingredients
For the truffles
5 tablespoons (70 g) unsalted butter, chopped
4 ounces semi-sweet chocolate, chopped
1/4 teaspoon pure vanilla extract
1/2 teaspoon pure peppermint extract
3/4 cup (105 g) all purpose gluten free flour (I used Better Batter)
1/4 teaspoon xanthan gum (omit if your blend already contains it)
1/2 cup (40 g) unsweetened cocoa powder (Dutch-processed works best—if you use natural unsweetened cocoa powder, add 1/8 teaspoon baking soda)
1/2 teaspoon kosher salt
1/2 cup (100 g) granulated sugar
Warm water by the 1/4-teaspoonful, as necessary
For the chocolate glaze
8 ounces dark chocolate, chopped
2 tablespoons (28 g) virgin coconut oil
1/4 to 1/2 teaspoon pure peppermint extract, to taste
1 ounce white chocolate, chopped
Green gel food coloring, as desired
Instructions
First, make the cookie dough. In a medium-size, microwave-safe bowl, place the butter and chocolate and melt in the microwave in 30-second increments at 70% power, stirring in between. Stir in the vanilla and peppermint extracts, and set the bowl aside. In a large bowl, place the flour, cocoa powder, salt, and sugar, and whisk to combine well. Create a well in the center of the dry ingredients, add the melted chocolate mixture, and mix to combine. Knead the dough to- gether, adding water by the quarter-teaspoonful as necessary to bring the dough together and make sure that it is pliable, and not stiff.

Shape the truffles. Line a large baking sheet with parchment paper and set it aside. Using a small ice-cream scoop (a #70 scoop is perfect) or two spoons, scoop out mounds of the cookie dough and place about 1-apart. Roll each mound of dough tightly into a round between your palms and replace on the baking sheet. Allow to sit at room temperature until the truffles are firm (about an hour). This will make it much easier to dip the truffles in the chocolate glaze. You can skip this step, but the truffles may fall apart during dipping.

Prepare the glaze and dip the truffles. In a medium-size, microwave-safe bowl, place the chocolate and coconut oil and microwave in 30-second increments at 70% power, stirring in between. Add the peppermint extract, and mix to incorporate. Allow the chocolate to sit at room temperature until it begins to thicken a bit. Immerse the truffles, one at a time, in the glaze. Press down on the truffle with the tines of a fork, then flip it gently in the chocolate. Pull it out of the chocolate by slipping the fork under it and bobbing the truffle on the surface of the chocolate a few times before pulling it along the edge of the bowl and carefully placing it on the prepared baking sheet. Allow the chocolate glaze to set at room temperature. In a small, microwave-safe bowl, place the white chocolate and microwave for 30-seconds at 60% power. Stir in the green food coloring to incorporate it well. Drizzle the white chocolate over the glazed truffles, and allow it to set at room temperature (it will just take a moment) before serving.

Adapted from the Thin Mints Girl Scout Cookies recipe in Gluten Free Classic Snacks (a version of which is also here on the blog).