These peanut butter energy bites are delicious, satisfying and so easy to make. Homemade, they cost about 20¢ each—and might cost you about $1.79 each to buy (no joke).
If your family is always hungry, like mine seems to be, these bites are the perfect snack to have around. They're even great for breakfast on the go.
A simple recipe we cherish
I'd been making these peanut butter energy bites for months and months (and bringing them everywhere with me) before I even thought about sharing the recipe with anyone. They're so dead simple that when people asked for the recipe, I just recited it from memory as best I could.
I mostly make them using hemp seeds, which are so protein-packed it's ridiculous. But since when I first started making them, no one could reasonably be expected to find hemp seeds, I figured the recipe wasn't really worth sharing.
But then, as often happens, I spied with my little eye a package of hulled hemp seeds at my local Trader Joe's. And just like that, it was time to share!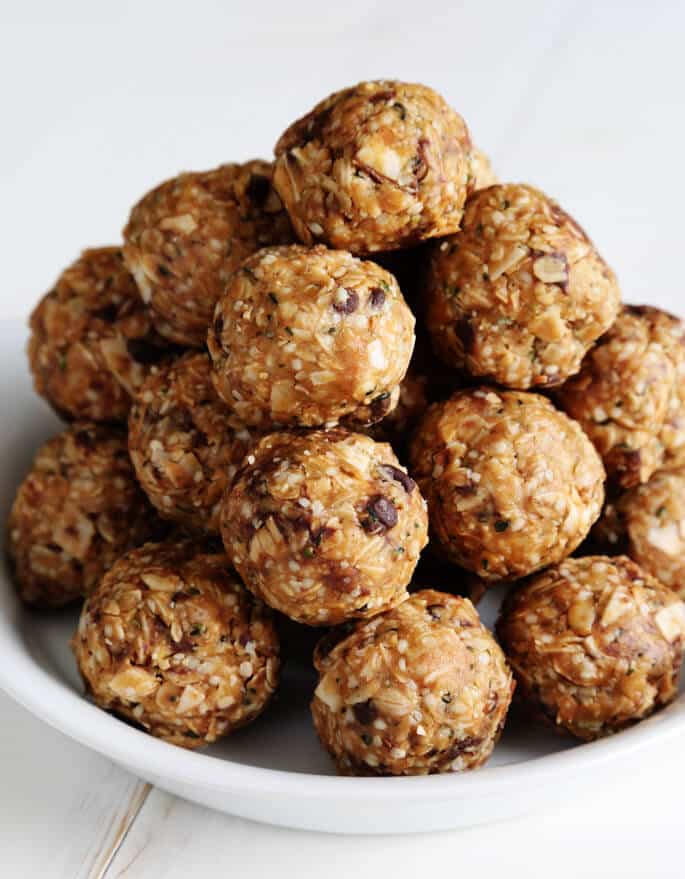 What's special about this snack?
I'm not exaggerating them I tell you that I make these energy bites every month of the year. The large glass jar you see in the photo above (and in the video) is one that I keep stocked with snacks (okay, sometimes cookies) as often as I can. And my whole family really misses these energy bites when the last one in the jar is eaten!
There really aren't many ingredients in these bites, but even though they do have sugar (honey is sugar, after all), the oats, coconut, and seeds are pure health food. Just one bite is super satisfying, enough to get me through the afternoon slump.
For my kids, who are still hitting growth spurts that empty out the cupboards regularly, 3 bites are usually enough to tide them over. And they beat a handful of GF Oreos any day!
As an alternative to the bite-sized energy snack situation, I also have the perfect recipe for homemade protein bars. They're made with oats and protein powder, and there are lots of different flavor variations. Somehow, they have the texture of a brownie.
This recipe is no-bake (if you want it to be)
This really is a no-bake recipe when you make it as written. But I cannot tell a lie: I almost always toast the oats, coconut, and seeds in a 300°F oven for about 15 minutes at the start.
You may not want to put on the oven for something that should be no-bake. But I have my oven on every single day of the year (occupational hazard) anyway, summertime included.
Toasting the oats, coconut, and seeds really does intensify and deepen the flavors. But if the oven simply isn't an option, you could also try toasting them on the stovetop in a cast-iron skillet just until they smell fragrant.
How to make these peanut butter energy bites
Whether you choose to toast the bulky ingredients (oats, coconut, seeds) or not, all this recipe requires is that you place those ingredients, along with some salt and oat flour (just oats ground in a food processor or blender—I never buy oat flour!) in a large bowl. Then, add the peanut butter and honey, and mix.
The mixture will be quite thick. Just keep mixing and pressing down the mixture with the back of a spoon to moisten the bulky ingredients with the peanut butter and honey. You want everything to be thick and not soft so that the energy bites hold together well and hold their shape after you portion and roll them tightly.
Then, allow everything to cool down to room temperature (especially if you've toasted the oats, etc. first) before adding the few miniature chocolate chips. Otherwise, the chips will melt right into the bites when you mix them in, and won't hold their shape.
I like using miniature chocolate chips, since just a few ounces of them go a long, long way. Every single bite will have plenty of chips, but not too many that we took something healthy and made it into candy.
Then, portion them with an ice cream scoop or your fingers, and roll tightly between your palms. Place them in the refrigerator to chill, then pile them into a container with a lid. They're ready whenever you or your always hungry family is!
Ingredients and substitutions
Peanut butter: If you can't have peanut butter, most any other nut butter will do. Almond butter is the perfect substitute, and cashew butter will make a more neutral-flavored energy bite.
The drippy, natural kind is really too soft and won't hold the bites together very well. Go for the "no stir" kind, in which the oil doesn't separate at room temperature.
Honey: If you want to make these vegan or just don't like honey, you can use a combination of half maple syrup, half unsulphured molasses (like Grandma's brand). Maple syrup alone is too thin and not sticky enough to replace honey.
Oats: I also have a grain-free version, if the oats are a no-no for you. They're full of protein, too, just without the grains.
Certified gluten free oats are appropriate on a gluten free diet in the United States. If you'd prefer to make this recipe and would like to replace the oats because you can't have them or don't feel comfortable eating them, try replacing the old fashioned rolled oats with beaten rice and the oat flour with quinoa flakes.
We've already had a complete discussion of substitutions for oats in baking. Have a look if you're curious!
Seeds: I buy shelled hemp seeds at my local Trader Joe's market. If you don't live near a Trader Joe's or just don't shop there and you can't find hemp seeds, try chia seeds, hulled sunflower seeds, flax seeds, or pumpkin seeds.
Pumpkin seeds are much larger, so they'd need to be chopped before adding them to the mixture. Flax seeds do tend to have a very strong flavor, so make sure your family is on board before using them in this recipe. There are plenty of other possibilities.
Peanut Butter Energy Bites
Ingredients
2 cups (200 g) (certified gluten free) old fashioned rolled oats
2 cups (80 g) unsweetened coconut flakes
1 cup (160 g) hulled raw hemp seeds (can substitute chia seeds, hulled sunflower seeds, flax seeds or pumpkin seeds)
1/2 cup (60 g) (certified gluten free) oat flour
1/2 teaspoon kosher salt
1 1/2 cups (384 g) smooth peanut butter
1/2 cup (168 g) honey
1 teaspoon pure vanilla extract or your favorite flavoring (we really like McCormick brand butter flavoring)
4 ounces miniature chocolate chips
Instructions
Line a large, rimmed baking sheet with parchment paper and set it aside. In a large bowl, place the oats, coconut flakes, hemp seeds, oat flour, and salt, and mix to combine well. Set the bowl aside. If you would like to intensify the flavor of the whole oats, coconut, and seeds, place them all together on a lined baking sheet in a single layer and toast them in a 300°F oven (or toaster oven, in batches) for about 15 minutes, stirring once. Then, transfer them to a large bowl, add the salt, and proceed with the recipe as written.

Create a well in the center of the dry ingredients, add the peanut butter, honey, and vanilla extract or other flavoring, and mix until well-combined. Allow the mixture to cool for at least 10 minutes, and then add the miniature chocolate chips. Mix until the chips are evenly distributed throughout. If you add the chips when the mixture is hot, the chips will all melt.

Scoop the mixture by the heaping tablespoon onto the prepared baking sheet (a #50 ice cream scoop works perfectly). You should have about 36 portions. Roll each portion tightly into a ball between your palms. Place the baking sheet in the refrigerator to chill until firm. Serve chilled. They will hold their shape at room temperature, but I prefer them chilled. Transfer the bites to a large container with a lid, and store in the refrigerator for anytime snacking.

Originally published on the blog in 2015. Some photos, video, and some text new. Recipe mostly the same (oat flour added).