These Paleo rolls are crusty on the outside, chewy on the inside and have the taste of real bread.
If it doesn't have a real crust, it just doesn't taste like bread. These Paleo rolls even make an excellent sandwich.
It's not an exaggeration to say that I have spent hundreds of dollars on ingredients leading up to this recipe. I don't consider that money wasted. I fed it all to my family (sorry family!).
My oldest can't seem to get enough almond flour and almonds in any form every invented (score!), so I hit that pretty hard with her. Anyway, recipe failures are a cost of doing business!
I finally hit on exactly the right recipe—and decided that I could make it even better. I went on to ruin the recipe, instead, exactly 3 different ways.
I won't bore you with all the details. But I can say from personal experience that making substitutions in this recipe is not recommended!
Even more importantly, I do not recommend modifying the method at all. At least not until you have made it precisely as written once. It works like this.
If you try to handle the dough too much or try to add more starch to shape it that way instead of with wet hands, you will be burdened with tough rolls that are dense inside and can't seem to bake all the way through no matter how charred they are on the outside.
Looking for gluten free bread that isn't Paleo but still doesn't use rice flour? This Gluten and Rice Free Multigrain Bread recipe from Allergy Free Alaska looks very intriguing. Sometimes, you don't need Paleo, just rice-free!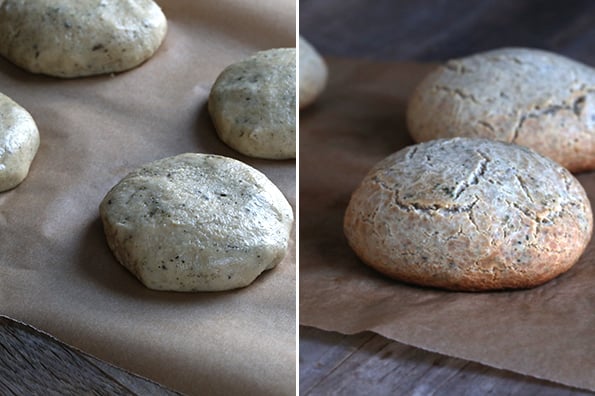 I've taken some heat in the past when I make Paleo recipes as the ingredients tend to be expensive. But since I have such a deep reservoir of recipes here on the blog and in my cookbooks, I use the blog to experiment.
As far as Paleo recipes go, though, this one is on the cheaper side. There isn't a lot of almond flour in the recipe (just 1/2 cup total), and the starches are much less expensive.
I do specify that not all tapioca starches are created equal, and if you try this recipe with tapioca starch from Bob's Red Mill or your local Asian market, there is a good chance that the recipe won't work and/or won't taste very good. Those products are hit or miss, and more miss than hit.
But the rewards are great here, if you're willing to give these a go. And what's more, once you have the ingredients, these rolls are ready in a flash.
I love these so much that I make them just for myself sometimes. That's something I really never do, as there are always cookbooks to be written and blog recipes to develop, not to mention children to be fed. But these are that good.
Paleo Rolls
Yield:
4 to 6 rolls, depending upon size
Ingredients
1 1/2 cups (180 g) tapioca starch/flour (I can only recommend this flour from Authentic Foods or Nuts.com)
4 tablespoons (32 g) coconut flour
1 tablespoon (6 g) chia flour (I just grind chia seeds as finely as possible)
4 tablespoons (32 g) arrowroot starch/powder
1/2 cup (56 g) blanched almond flour
1 teaspoon kosher salt
1 tablespoon dried herbs, to taste (optional)
1/2 cup (4 fl. oz.) unsweetened nondairy milk
4 tablespoons (48 g) Spectrum nonhydrogenated vegetable shortening
1 tablespoon (21 g) honey
2 eggs (100 g, weighed out of shell) at room temperature, beaten
Instructions
Preheat your oven to 350°F. Line a rimmed baking sheet with unbleached parchment paper and set it aside. In a large bowl, place the tapioca starch/flour, coconut flour, chia flour, arrowroot starch/powder, almond flour, salt and (optional) dried herbs, and whisk to combine well. Set the bowl aside.

In a small, heavy-bottom saucepan, heat the milk and shortening until the shortening is melted and the mixture is simmering. Create a well in the center of the dry ingredients, add the milk and shortening mixture, then the honey, and mix to combine. The mixture will the thick. Allow to cool briefly until no longer hot to the touch. Add the beaten eggs, and mix to combine. The mixture will be thick and soft.

With wet hands and using a light touch, divide the dough into 4 to 6 equal pieces, shape each into a disk about 1-inch high, and place the rolls about 2 inches apart from one another on the prepared baking sheet. Do not add more flour to shape, and do not handle the dough too much or your rolls will be dense.

Place in the center of the preheated oven and bake until the rolls are puffed, golden brown around the edges and very light brown on top (20 to 30 minutes, depending upon size). A toothpick inserted in the center of a roll should come out clean. Remove the rolls from the oven and allow to cool on the baking sheet for 10 minutes before slicing and serving. The rolls freeze very well and can be defrosted at room temperature or in the toaster, sliced. I recommend slicing the rolls in half before freezing if you intend to use them that way after defrosting.