Moist and tender homemade gluten free corn muffins made with sour cream and packed with sweet fresh corn kernels. Make the most of summer's sweetest vegetable!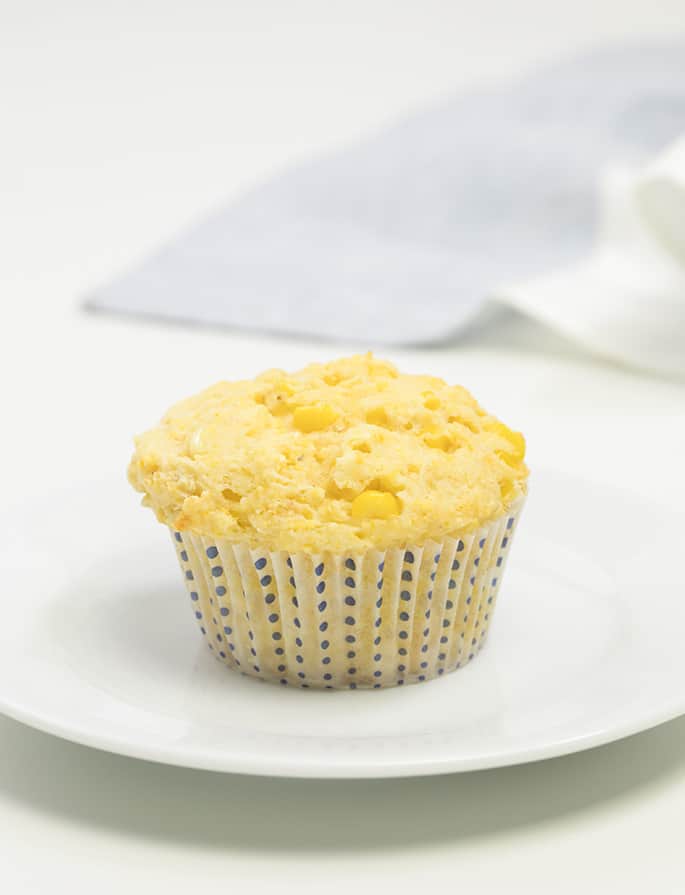 This is no ho-hum recipe for gluten free corn muffins. These are the corn muffins you make late in the summertime when sweet corn is at its peak.
The sour cream (or ricotta cheese) in the batter lends these muffins such moistness and texture. Add to that the kernels of raw corn, right off the cob, and just the right balance of stone ground yellow cornmeal and flour. It makes for creamy muffins that have just the right amount of texture and bite.
These muffins are very different from my old fashioned cornbread, which uses only cornmeal, no flour. That's a much more rustic recipe than these fluffy little muffins.
This is the sort of muffin batter that you make right in one bowl. I don't even bother to mix the wet ingredients separately (even the eggs!) before adding them to the whisked dry ingredients. I've made the batter both ways, and I can't tell the difference either way.
You can make these without fresh corn—as long as you don't use canned corn. If you can't use fresh, use frozen corn, defrosted just enough to break it up and get rid of the ice. It's easier if you buy it frozen in a bag, not a box.
But if you can use fresh, the raw kernels are so tender and sweet that you can eat them raw. I never really understood why anyone would microwave or boil corn at this time of year since it's ready to eat right off the cob. Of course, grilling corn is a completely different story.
Ingredients and Substitutions
Dairy: When I first made these muffins back in 2011 (!), I used ricotta cheese in place of sour cream. I thought it was a magical muffin ingredient. It was lovely, but sour cream is just as lovely. And it's easier to replace sour cream with a nondairy substitute (like store bought dairy free sour cream) than it is ricotta cheese.
The butter in these muffins can be replaced with Earth Balance vegan buttery sticks. My favorite nondairy milk for this recipe is unsweetened almond milk, but any nondairy milk will work as long as it's not nonfat.
Eggs: Two "chia eggs" (a chia egg is simply 1 tablespoon ground chia seeds mixed with 1 tablespoon lukewarm water and allowed to gel) should work in place of the two eggs in this recipe, but I haven't tried that. You'll have to experiment!
Now click play ▶ to watch me make the best of summer's sweet corn!