This smooth, spreadable and fragrant fruit butter is ideal for making chewy pumpkin chocolate chip cookies that aren't light and fluffy. That's an impossible task when baking with straight-up pumpkin.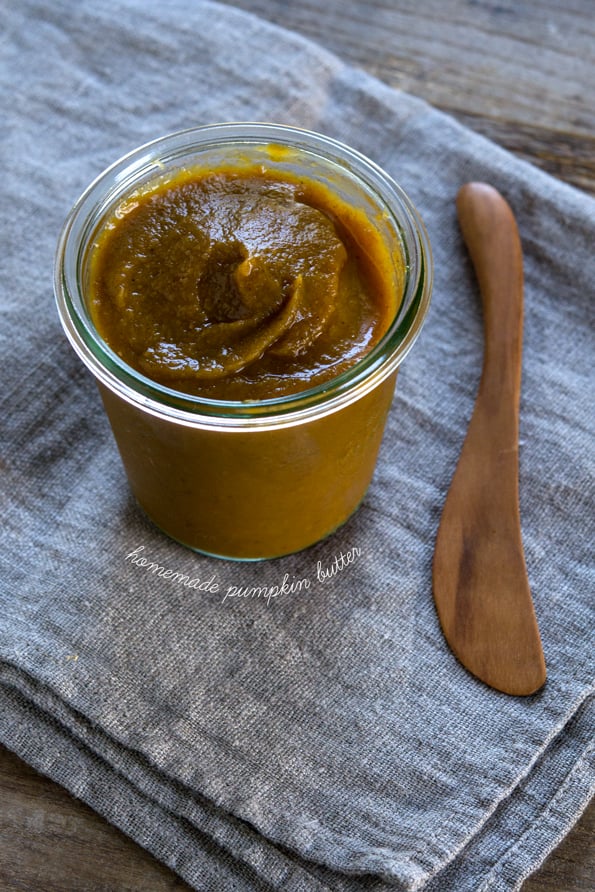 I've included instructions for roasting a whole pumpkin and making that into butter, or using canned pumpkin puree in its place. I've done both and they're both delicious in their own special way.
I find these fabulous sugar pumpkins at Trader Joe's for $2 each, and they're really easy to roast. And then… toast those pumpkin seeds (instructions below in the recipe). They're ridiculously good for you, and kids l-o-v-e them.
At great long last, here's how I make pumpkin butter. Now get baking!
Homemade Pumpkin Butter
Yield:
About 4 cups pumpkin butter
Ingredients
1 (2 1/2 to 3 pound) sugar/baking pumpkin or 2 28-ounce cans pumpkin puree
1/2 cup (168 g) pure maple syrup
3/4 cup (6 fluid ounces) apple cider or apple juice
2 teaspoons pumpkin pie spice*
1/4 teaspoon kosher salt
*To make your own pumpkin pie spice, combine 1 teaspoon ground cinnamon + 1/2 teaspoon ground ginger + 1/4 teaspoon ground allspice, 1/4 teaspoon ground cloves + 1/8 teaspoon ground nutmeg.
Instructions
If using a regular sugar/baking pumpkin, preheat your oven to 375°F. Remove the stem and, with a large, sharp knife, cut the pumpkin in half through the middle. Scoop out all of the seeds (dry them, toss them with plenty of kosher salt, spread them in an even layer and toast them in a dry cast iron skillet over medium heat or in a 300°F oven until lightly golden brown and fragrant) and place the pumpkin halves, cut side down, on a parchment-lined baking sheet. Place in the center of the preheated oven and bake until the pumpkin halves are fork-tender and the flesh has begun to shrink away from the skin (about 45 minutes). Remove from the oven and allow to cool before scooping out the flesh and pureeing in a blender or food processor until smooth.

In a large heavy-bottom stockpot, combine the pumpkin puree with the maple syrup, apple cider (or juice), pumpkin pie spice, and salt. Mix to combine well and then simmer over medium heat, stirring frequently, until reduced by about half and darkened in color (at least 30 minutes, depending upon the moisture content of your pumpkin puree). Stirring will keep the mixture for splattering, as will cooking in a large pot.

Allow to cool completely before baking with it. Store in an airtight container in the refrigerator until ready to use.