Light, delicate and simple, these gluten free oatmeal lace cookies are the perfect cookie to enjoy with a tall glass of iced tea on a hot summer day or a warm cup of cocoa by the fire.
Even after all these years of blogging (over 5!), and all these gluten free oatmeal cookies, I just can't believe that I never shared a recipe for gluten free oatmeal lace cookies with you.
They're so ridiculously simple, but like all of the simplest recipes, the right ingredients in the right proportions are key—and so is chilling the dough before you bake it. I have tried these cookies in every possible way, and I have only had true, repeatable success in this one particular way. I have made them both with and without all purpose gluten free flour (yes, you definitely need it!), with less butter and with more, with oat flour and without (definitely without!).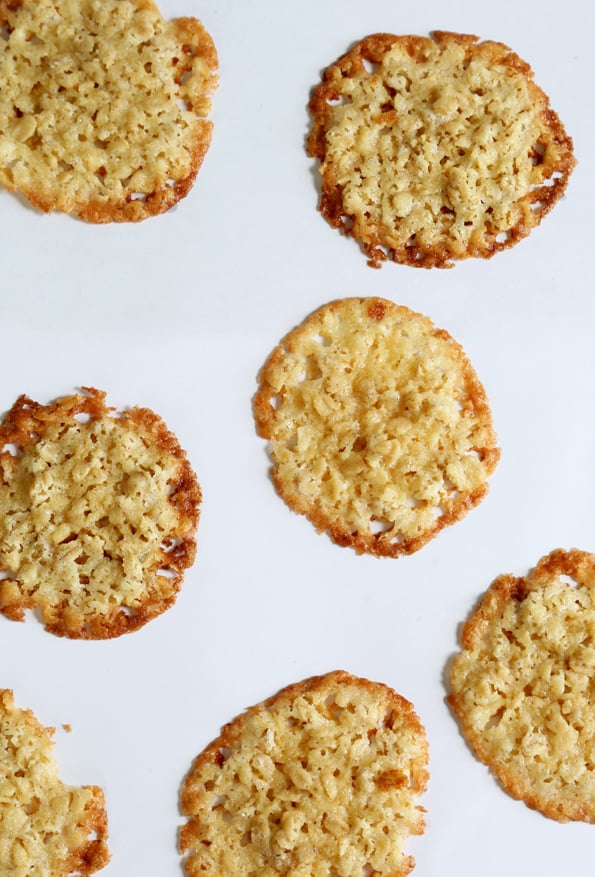 So if you'd like to play with the recipe, please feel free! But proceed with caution. :)
Gluten Free Oatmeal Lace Cookies
Yield:
About 2 dozen cookies
Ingredients
2 cups (200 g) certified gluten free old-fashioned rolled oats
1/2 cup (70 g) all purpose gluten free flour (I used Better Batter)
1/4 teaspoon xanthan gum (omit if your blend already contains it)
1/2 teaspoon kosher salt
1 cup (200 g) granulated sugar
16 tablespoons (224 g) unsalted butter, at room temperature
1 1/2 teaspoons pure vanilla extract
1 egg (50 g, weighed out of shell) at room temperature, beaten
Instructions
Preheat your oven to 325°F. Line rimmed baking sheets with unbleached parchment paper and set them aside.

In a large bowl, place the oats, flour, xanthan gum, salt and sugar, and whisk to combine well. Create a well in the center of the dry ingredients and add the butter, vanilla and egg, mixing to combine after each addition. The dough will be quite soft. Place the dough by the heaping teaspoonful about 2-inches apart on the prepared baking sheets. Place in the refrigerator until the dough is firm (about 10 minutes—if you're in a rush, use the freezer). Remove from the refrigerator and roll each mound of dough into a ball and flatten into a 1/2-inch disk, still 2-inches apart from one another.

Place in the center of the preheated oven and bake until the cookies are browned around the edges and set in the center (about 10 minutes). Allow to cool on the baking sheet until firm. It isn't possible to move them when they first come out of the oven.