How to wrap and bake the perfect gluten free pigs in a blanket, for the Superbowl or for anytime. Everyone's favorite appetizer.
It's hard not to appreciate the beauty of a simple weenie wrapped in pizza dough. Who can resist? After much, much too much trial and error for such simple fare, I have concluded that wrapping the pigs in triangle-shaped dough is way overrated.
It does tend to look pretty, but it becomes quite a chore to get all the triangles the same size and shape. And believe it or not, there is a an optimal shape (long and thin, sharply tapered triangles that are rolled rather thickly works best). So I settled on rectangles and never looked back.
The pigs look so cozy in their blankets, don't they?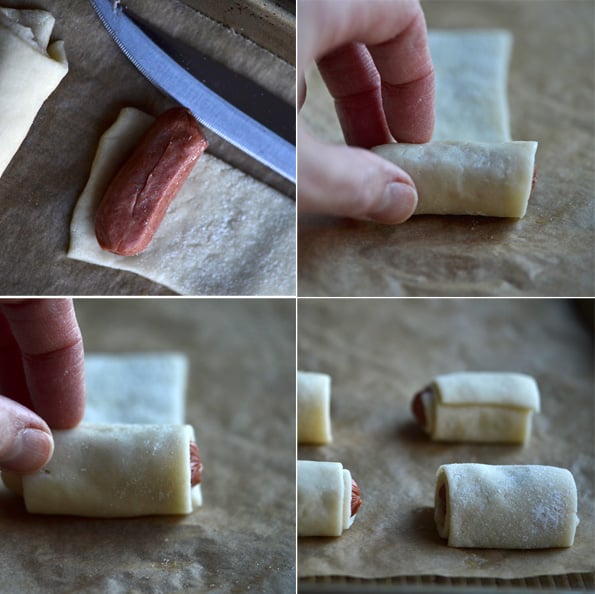 Semi-Pro Tip: Slice halfway into each pig along the length before rolling it in its blanket. That way, the steam that builds up in the pigs when they are in the oven can escape and they don't burst out of the blankets.
I used my regular, tried and true gluten free pizza crust recipe from my First Cookbook for the dough this time, since that's what you'll have, too. It worked a treat.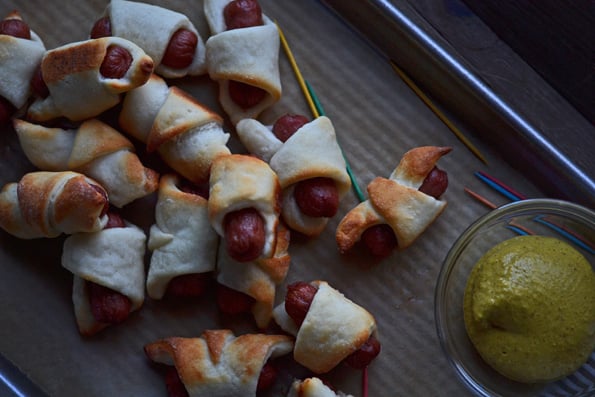 Pigs in a blanket. They may not be the fanciest gluten-free Superbowl (or anytime) finger food, but they're always the biggest crowd pleaser!
Gluten Free Finger Food! Pigs in a Blanket
Ingredients
2 cups (280 g) all purpose gluten free flour blend (I used Better Batter)
1 1/2 teaspoons xanthan gum (omit if your blend already contains it)
1 tablespoon active dry yeast
1 teaspoon (4 g) granulated sugar
3/4 teaspoon kosher salt
3/4 cup (6 fl. oz.) warm water (about 100°F)
3 tablespoons (63 g) extra-virgin olive oil (plus more for drizzling)
16 gluten-free cocktail weenies (about 8 ounces)
Instructions
Make the pizza dough. In a medium-size bowl or the bowl of your stand mixer, place the flour, xanthan gum, yeast, sugar, and salt and whisk to combine well. To the flour mixture, add the 3 tablespoons of olive oil and the water in a steady stream, mix with a spoon or fork to combine, or mix with the paddle attachment of your stand mixer on low speed. Stir or mix constantly while streaming in the water and continue stirring until the mixture begins to come together. If the dough seems super sticky, add some more flour a tablespoon at a time, and stir or pulse to combine. Press the dough into a disk.

Place the dough in another medium-size bowl and drizzle it with olive oil. Turn the dough to coat it with oil. This will prevent a crust from forming on the dough while it is rising. Cover the bowl with plastic wrap and place it in a warm, draft-free area to rise until doubled in volume (about 1 hour).

Shape the dough. Preheat your oven to 400°F. Line a rimmed baking sheet with unbleached parchment paper and set it aside. Once the dough has finished rising, divide it into 4 pieces of roughly equal size, and with floured hands shape each piece into a ball. Place one ball of dough at a time (covering the other two with a moist towel), on a well-floured surface, and dust the dough liberally with extra flour. Roll into a rectangle 8 inches long by 6 inches wide, and between 1/8 inch and 1/4 inch thick, dusting with flour if the dough becomes sticky. With a sharp knife or pastry wheel, slice the rectangle into 4 smaller rectangles, each 2 inches wide by 6 inches long. Repeat with the remaining 3 balls of pizza dough.

Assemble the pigs in a blanket. With a sharp knife, slash each weenie on one side, along its length about halfway through the weenie. This is to allow steam to escape while the pigs bake. Take the first rectangle of dough, place a weenie on a short side right at the edge, and roll the weenie up tightly in the dough. Press the edge against the weenie to seal, and place the pig and blanket on the prepared baking sheet. Repeat with the remaining rectangles and weenies, and place them about 1 inch apart from one another on the baking sheet.

Bake the pigs in a blanket. Place the baking sheet in the center of the preheated oven and bake until the dough is brown around the edges and lightly brown on top, about 10 minutes. Remove from the oven, and allow to cool briefly before serving.

Pizza dough recipe adapted rom the book Gluten-Free on a Shoestring: 125 Easy Recipes for Eating Well on the Cheap, by Nicole Hunn. Excerpted by arrangement with Da Capo Lifelong, a member of the Perseus Books Group.  Copyright © 2011.