I'm not about to spend hours decorating a gorgeous cake that looks like the Easter Bunny Himself or anything. But these sweet little gluten free Easter Chick Cupcakes are easy enough that we can all make them.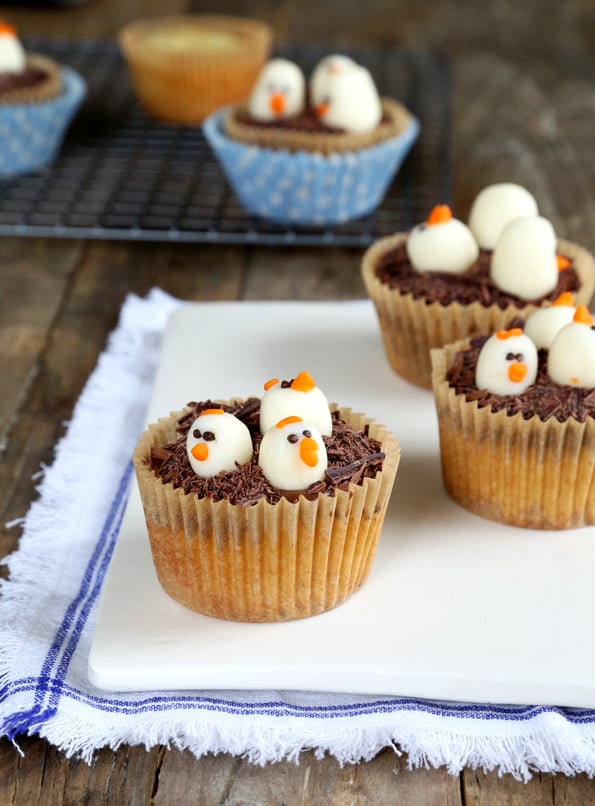 Now, I'm no cake decorator. I have never felt drawn to making those sweet little cupcake Easter baskets (something about the candy you use to make the handle just … leaves me cold). But I have been dreaming for years of a truly easy way of making cute little chicks to put atop some sweet little gluten free vanilla cupcakes for a fun gluten free Easter treat.
You know those speckled candy eggs you can buy this time of year? Well, they're malt. Not exactly gluten free. Enter the perfect gluten free vanilla cupcake … and super easy modeling chocolate. And you can even make the chicks ahead of time (it's actually kind of good to have them dry out a bit before decorating with them, if you're so inclined).
I promise they're just so easy to put together. And it's really nice to learn how to make and work with modeling chocolate. It's similar to fondant, but it's more stiff and easier to shape into figures like these little baby chicks.
Since I know you're going to want to know how to do this without light corn syrup, I have to say that I haven't tried to make modeling chocolate with anything else.
I suspect that you might be able to make it with a rich simple syrup, with a dash of cream of tartar added for stability, but I don't know because I haven't tried it. As always, feel free to experiment!