If you have ever wondered if you could make gluten free croissants at home—whether you could really do it—this recipe should settle the issue once and for all. You can do it. You should do it. Here's how, step by step.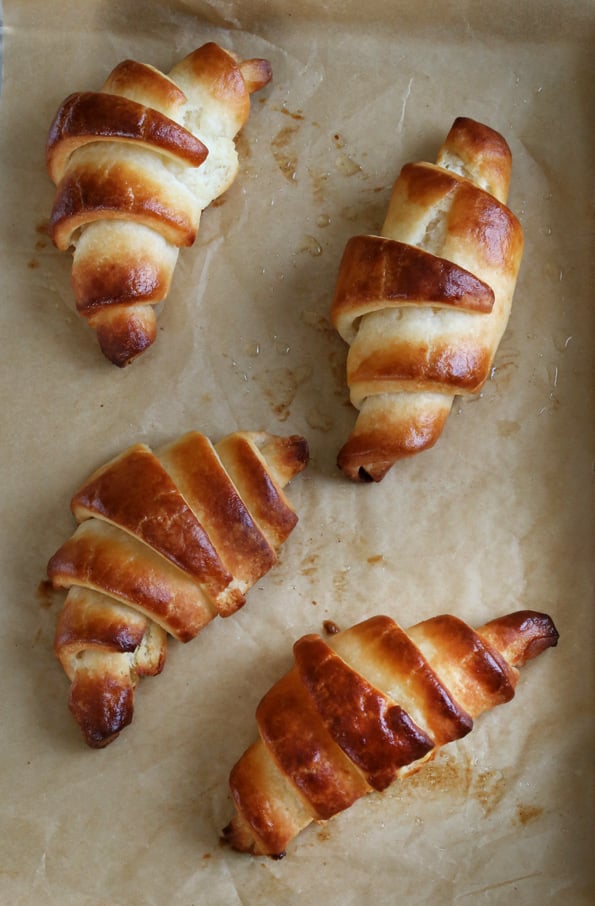 These croissants the absolute real Frenchie-style, unbelievably melt-in-your-mouth flaky deal, but they're actually quite easy to do. Yes—that's right. I said that traditional, yeasted croissants are easy. The number of step by step photos you see below is not because it's hard to make these beautiful pastries happen. It's because I know you might fret over the whole business, so I thought some hand-holding was in order. That's all!
Believe it or not, traditional gluten free croissants are one of the most common recipes requests I have received over all the years of writing this blog. It's not like it's every day that I'm positively buried with requests from readers simply dying to make their own croissants, though. It's more like a steady drip-drip-drip of requests over the years. Over time I've mostly pointed readers in the direction of these custard-filled danishes from years ago, since danishes are made from yeasted puff pastry, which is really what croissant dough is. I've also suggested to readers that they just use my recipe for gluten free puff pastry (no yeast involved), and call it a day. After all that recipe has plenty of step-by-step photos. Traditional croissants are, indeed, made with what is essentially a yeasted puff pastry dough, making these the most delicate and flaky of pastries as they get lift both from yeast and from "laminated" dough (lamination is simply the process by which you encase layer after layer of cold butter in layer after layer of pastry dough). That's the only time you'll hear any "fancy" terms, though, in this whole business. Period full stop.
Read through the instructions, and stare at the step by step photos. Follow the temperature instructions to the letter (sometimes ingredients and doughs are room temperature, sometimes (usually) they're cold), and remember that pastry dough is much less a matter of chemistry than it is a matter of architecture. Layers and layers of butter surrounded by layers and layers of flour. The yeast gives these an extra lift over puff pastry, but really the general puff pastry architecture is what does the heavy-lifting of creating the flakiness we crave. Think of it like this: unlike flour, butter expands as it warms. When the butter layers (created in the "turns" described below) are properly chilled, they hit the heat of the oven and puff up, forcing the flour layers up and out. You'll see. 😗