The "2 ingredient" bread dough made famous by Weight Watchers is a shortcut way to make easy gluten free cinnamon rolls that taste like the yeasted kind and make any morning special.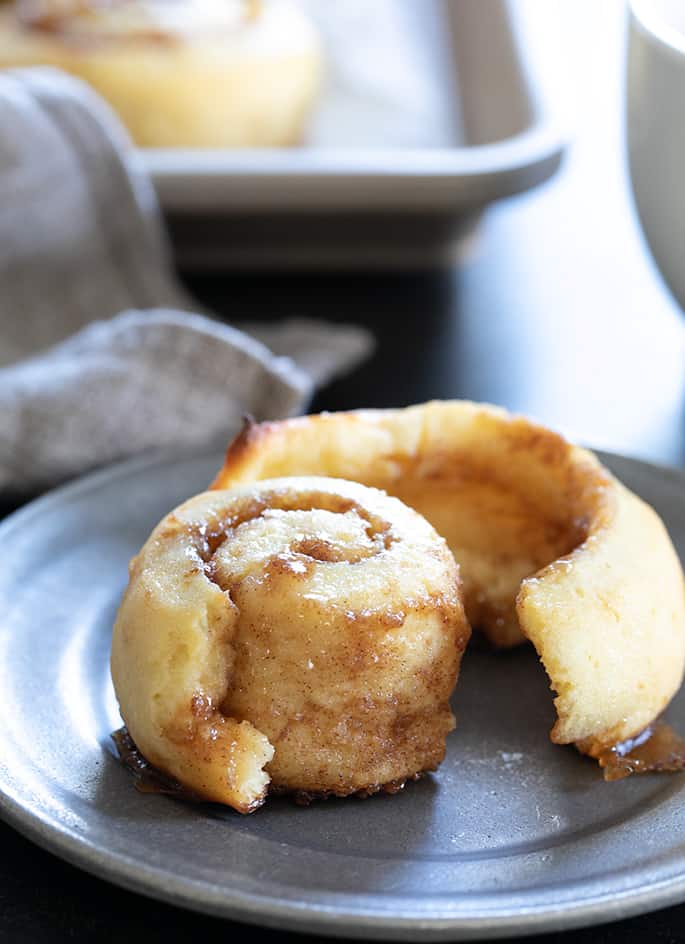 Gluten free breakfast on the go
I have a long-abiding love for gluten free breakfast ideas, especially ones that you can grab and take on the go. But I've been stocking my freezer for busy mornings for so long that I had begun to take it for granted and not think it was anything special. Until recently…
This past holiday season, my family and I spent a beautiful week at an all-inclusive Caribbean resort. We knew ahead of time that they were able to accommodate my gluten free son's diet.
We weren't prepared for how limited his options would be—and how poor the quality would be. I guess we should have just been grateful that they could feed him safely at all.
But I had thought we were beyond that. He struggled quite a bit with watching everyone else eat at least a variety—including baked goods for every meal.
I guess I was reminded all over again that our gluten free food should be at least as good as the conventional food, if not better. And variety is also really important, because it makes you feel cared for and nourished.
I'm grateful to be able to do that for my son, and hopeful that the rest of the world will catch up so when he leaves the nest, he always feels "normal."
How to make these cinnamon rolls sugar-free
The dough for these 30-minute gluten free cinnamon rolls is based upon the "2 ingredient" Weight Watchers bread dough, the one we first used to make gluten free bagels. It's referred to as "2 ingredient" dough because the original recipe is made with self-rising all purpose flour and plain nonfat Greek-style yogurt.
The tang of the plain yogurt mimics the flavor of yeast development at a fraction of the bother and time of yeasted rolls. The Greek-style yogurt also has the perfect moisture balance to create a soft dough that still holds its shape.
This recipe is not designed to be quite as WW-friendly, since it has added flour to make the dough stiffer, and, more importantly, a brown sugar and cinnamon filling. But you can most definitely make these cinnamon rolls with a sugar replacement.
My favorite granulated sugar replacement is Lankato monk fruit granulated sugar replacement, and I think it would work beautifully here. You don't really need to bother with a brown sugar replacement, as the cinnamon is the dominant flavor here in the filling.
Use a light touch to shape
When making this bread dough, as when making any gluten free bread dough at all, it's best to have a light touch especially when adding additional flour for shaping. It is a rather forgiving dough, but this particular recipe already has more flour than usual.
Whenever you add extra flour, you lower the hydration ratio of the dough, which can lead to tougher bread. That's especially true when you're making a fat-free bread dough like this one.
This dough works best when all of the ingredients, and therefore the dough, are quite cold. So you should find that you don't need a significant amount of additional flour to shape it.
Try sprinkling a very small amount of additional flour sparingly but widely, rubbing it between your thumb and forefinger as you move your hand over the dough.
Ingredients and substitutions
Dairy
I haven't tried this exact recipe with plain nondairy yogurt, such as So Delicious brand, but I have tried that substitution on our Weight Watchers Gluten Free bagel recipe and was successful. Please click through to that post for all the information I have about making these sort of recipes with nondairy (non-Greek-style) plain yogurt.
Eggs
The full egg in this recipe adds richness and tenderness to the dough. If you can't have eggs, it can be replaced.
You can try replacing it with a "chia egg" (1 tablespoon ground white chia seeds + 1 tablespoon lukewarm water, mixed and allowed to gel). I would also replace 1 tablespoon of the Greek-style yogurt with 1 tablespoon of unsalted butter, though, to replace some of the richness of the egg white.
Corn
The cornstarch in the filling helps keep it from leaking out of the rolls during baking. You can easily replace it with an all purpose gluten free flour or any other sort of gluten free starch you can imagine.
Shortening
The small amount of shortening that is spread in a thin layer over the top of the rectangle of dough is there to help the filling stick to the dough. The low moisture content of shortening helps prevent the filling from leaking out during baking. You can try replacing it with virgin coconut oil, but the filling does tend to leak more.
Sugar
Please see the full discussion above about the brown sugar in the filling of these easy gluten free cinnamon rolls.