I know it's not really still asparagus season, but there are still gorgeous stalks of this lovely vegetable available in all the grocery stores I haunt every week (occupational hazard!). And of course you could replace the asparagus in this easy gluten free asparagus tart with green beans, which are solidly in season right now at least in NY. This sort of easy, open tart is traditionally made with puff pastry, which if you are so inclined you can absolutely make and use. But more and more, I'm realizing that a solid recipe for gluten free biscuits is really all we need when it comes to pastry.
The result may not be juuuuuust as flaky as puff pastry, but it sure seems like a solid layered flake to me.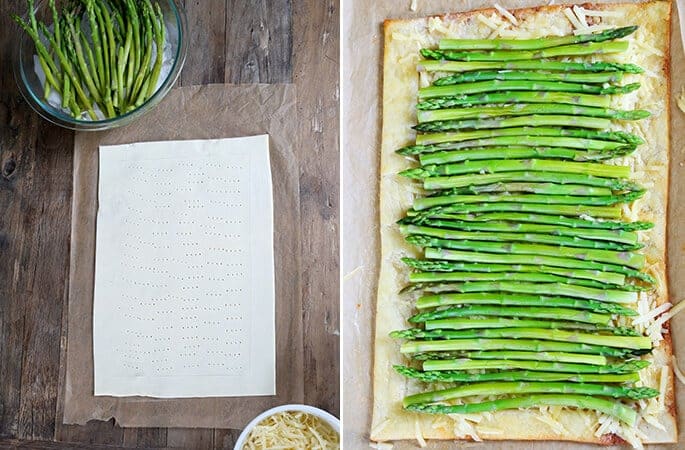 When working with pastry dough, gluten free or not, just remember that it's all about architecture and temperature. The layers come from large pieces of fat (here in the form of butter, but Spectrum nonhydrogenated vegetable shortening works well, too) being surrounded by layers of flour. If the pieces of butter are large enough, even if they melt a bit as you work the dough, they'll firm up when you chill the dough again before baking.
For my dairy-free friends, your biggest hurdle will be all that cheese that the asparagus is nestled into. If you have a dairy-free cheese that you like, by all means use that. If not, don't hate me, but I keep wondering if a layer of mayonnaise might work in its place. And for the pastry, I'd go with shortening all the way. I use Spectrum brand nonhydrogenated shortening, which is solid at room temperature and generally my favorite substitute for butter when structure is important. You can't make pastry dough with Earth Balance buttery sticks, as they simply have too much moisture. If you try to make this dairy-free, let us know how it goes!
Easy Gluten Free Asparagus Tart
Ingredients
1 recipe gluten free biscuit dough (I used the Extra Flaky Buttermilk Biscuits from page 227 of GFOAS Bakes Bread, but the Gluten Free Biscuits from the blog would work just fine, too—try using buttermilk in place of milk or cream), chilled
1 1/2 pounds fresh asparagus, trimmed to about 8 inches long each
6 ounces Gruyere cheese, grated (or extra-sharp white cheddar cheese)
1 tablespoon (14 g) extra virgin olive oil
Kosher salt, for sprinkling
Freshly ground black pepper, for sprinkling
Instructions
Preheat your oven to 375°F. Line a large rimmed baking sheet with unbleached parchment paper and set it aside.

Prepare the biscuit dough according to the recipe instructions. Place it on a lightly floured surface, sprinkle it with extra flour and roll it out into a rectangle about 14-inches long x 10-inches wide, and a bit more than 1/8-inch thick. Carefully place the pastry on the lined baking sheet, and trim the edges until they're square with a sharp knife or pizza or pastry wheel. While rolling and folding the biscuit dough, sprinkle with enough additional gluten free flour that you end up with a smooth dough. If using the recipe for Extra Flaky Buttermilk Biscuits from GFOAS Bakes Bread, you should expect to use up to another 1/4 cup (35 g) Gluten Free Pastry Flour. If using the biscuit recipe from the blog, you should expect to use another 2 to 3 tablespoons (18 to 24 grams) all purpose gluten free flour.

Shape, chill and blind bake the pastry. Score the rolled out pastry with a sharp paring knife in a 1-inch border all around the perimeter of the rectangle. Using the tines of a fork, pierce the rest of the surface of the dough inside the border in 1/2-inch intervals. This will create a "crust" around the edge during baking. Place the pastry in the freezer for 10 minutes or until firm. Remove from the freezer, place in the preheated oven and bake for 12 minutes or until lightly golden brown.

Prepare the asparagus. Bring a medium-size pot of salted water to a boil, and place the trimmed asparagus in the pot. Return to a boil, and allow the asparagus to cook for 2 minutes or until very bright green. Remove the asparagus from the water and place immediately over an ice bath until cool. Remove the asparagus from the ice bath and pat dry.

Top and finish baking. Remove the pastry from the oven and top the portion inside the border evenly with the grated cheese, then arrange the blanched asparagus in a single layer along the width, alternating tips and ends. Drizzle the asparagus with the olive oil, then sprinkle to taste with salt and pepper. Return the tart to the oven and bake until the asparagus is tender and the edges of the tart are deep golden brown (about another 15 minutes). Remove from the oven and slice into 6 to 8 squares with a sharp knife or pizza or pastry wheel before serving.

Adapted from Martha Stewart.