I know it's not really still asparagus season, but there are still gorgeous stalks of this lovely vegetable available in all the grocery stores I haunt every week (occupational hazard!). And of course you could replace the asparagus in this easy gluten free asparagus tart with green beans, which are solidly in season right now at least in NY. This sort of easy, open tart is traditionally made with puff pastry, which if you are so inclined you can absolutely make and use. But more and more, I'm realizing that a solid recipe for gluten free biscuits is really all we need when it comes to pastry.
The result may not be juuuuuust as flaky as puff pastry, but it sure seems like a solid layered flake to me.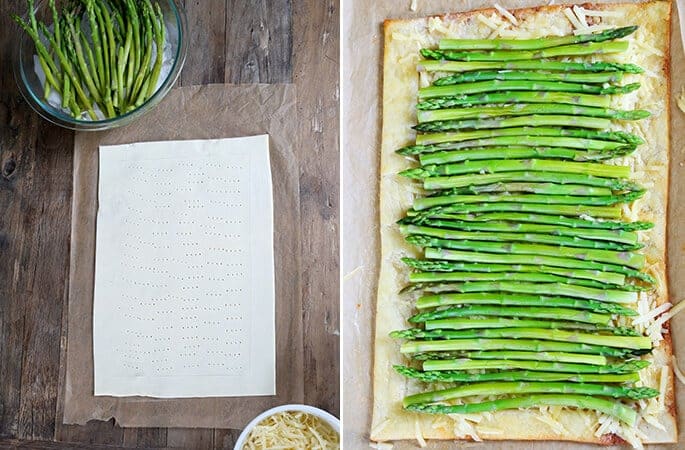 When working with pastry dough, gluten free or not, just remember that it's all about architecture and temperature. The layers come from large pieces of fat (here in the form of butter, but Spectrum nonhydrogenated vegetable shortening works well, too) being surrounded by layers of flour. If the pieces of butter are large enough, even if they melt a bit as you work the dough, they'll firm up when you chill the dough again before baking.
For my dairy-free friends, your biggest hurdle will be all that cheese that the asparagus is nestled into. If you have a dairy-free cheese that you like, by all means use that. If not, don't hate me, but I keep wondering if a layer of mayonnaise might work in its place. And for the pastry, I'd go with shortening all the way. I use Spectrum brand nonhydrogenated shortening, which is solid at room temperature and generally my favorite substitute for butter when structure is important. You can't make pastry dough with Earth Balance buttery sticks, as they simply have too much moisture. If you try to make this dairy-free, let us know how it goes!