Homemade crunchy pumpkin peanut butter gluten free dog treats have just 4 ingredients and make a great hostess gift for your friends with furry friends!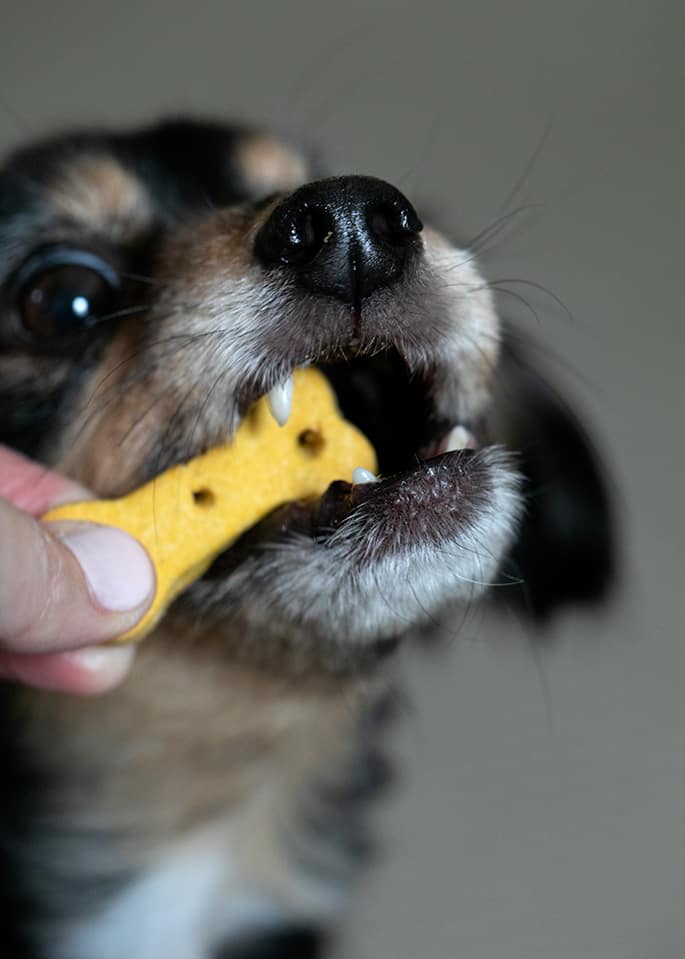 Why make your own gluten free dog treats at all?
Meet my dogs ???
I have 3 dogs. They're all rescues, and their names are Ralphie (the little guy in the photo just above), Friday (the black dog in the photo below), and Gracie (in the video; she was on a field trip the day I took the still photos!). Since I work from home, they are my only coworkers, my mostly companions. My heart.
They are not well-trained. They are extremely food-motivated, especially since there are so many of them so they know if they don't eat something, someone else will. They are sweet (mostly) and loving (always) and my house never smells bad because I'd rather die.
When we do and don't treat our dogs
We don't give them many treats, because I'm neurotic about making them fat. That is never a word that I would use to discuss anyone else in my house, for better or for worse.
I grew up with an unhealthy relationship with food and I have two daughters who are perfect whatever their bodies look like. "Fat" is not a word we like to use at all. But my veterinarian tells me what my dogs' healthy weights should be, and I consider it my responsibility to keep them healthy.
My husband's new office is dog-friendly, so he's been bringing the dogs to work one at a time. They take the commuter train, sleep on a very fluffy bed his coworker bought for them, and they get some treats. They're in heaven.
If my dogs are going to get treats, I'd much rather know exactly what is in them and make sure they're all healthy ingredients. No binders, no additives, no colors. Just pumpkin, peanut butter, eggs, and bean flour.
Plus, they get really excited when they can smell that their homemade goodies are baking in the oven. And I think that these homemade dog treats make a great host gift for the holidays when your host has a dog. I challenge you to find a cheaper, higher impact, lower cost gift! ?
I make gluten free treats specifically because my whole house is gluten free, and so are my dogs. They lick us all, including my gluten free son, and I never wanted to hinder my son's relationship with his pets.
How do I know that these dog treats taste good to dogs?
I have 3 dogs and they will all eat anything. Because there are 3 of them, and if you don't eat it, someone else will.
When I had one dog (Friday, the big black dog), he would turn up his nose at bananas, even though he's a big food-lover. Ever since we got dog #2 (Gracie, the dog from the video), Friday will kill you for a banana. You get the idea. So how do I know that these aren't the bananas (for Friday) of dog treats?
First of all, my husband (bless) and my youngest (double bless) tried these treats and pronounce them "fine," (HIGH PRAISE FOR A HUMAN EATING A DOG TREAT). Sit with that for a minute.
Second, my lovely neighbor's dog Rosie is an only dog and she doesn't really like treats except for one brand (Greenies). Rosie will not touch a Milkbone. But she ate these crunchy gluten free dog treats hungrily and then she begged for more.
They're good. And they'd make a great holiday hostess gift for anyone with a dog. Also, one of my 2 cats loves them. The other couldn't care less, so do with that what you will…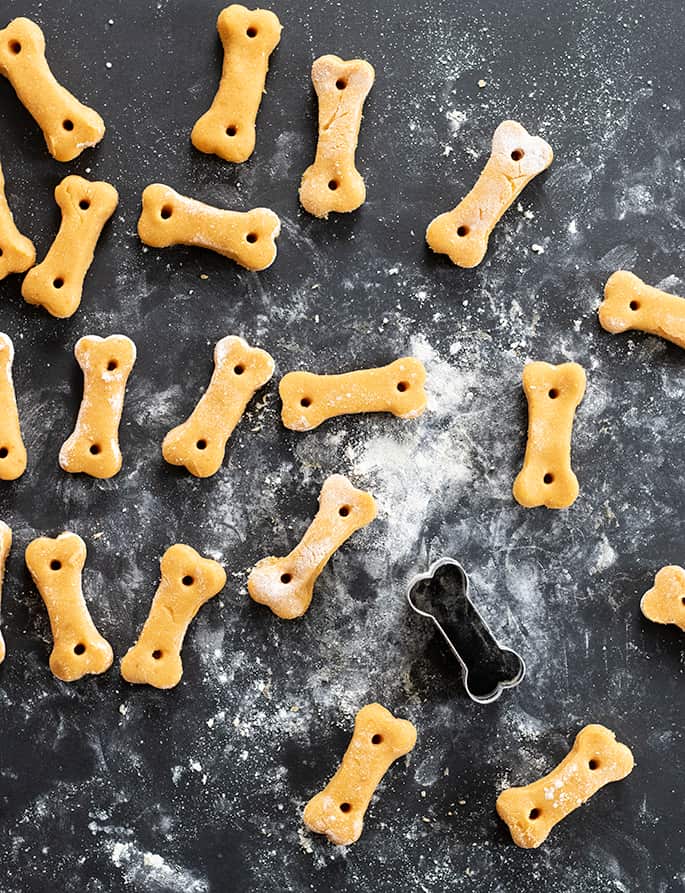 Is gluten free flour safe for dogs?
According to the American Kennel Club, whole grains, peanuts, pumpkin, and eggs are all good for your pup. Simple carbs like white rice aren't bad for your dog, but they're also not good for him.
You could almost certainly make these treats with one of our rice-based all purpose gluten free flour blends, but I'd really recommend against it. Those flour blends aren't nutritious, which is fine as a sometime-food for humans.
This whole blog is packed with tons of sometime foods, and I make no apologies for it! But I don't like to feed things like that to my dogs, since they are just as happy with something that is good for them. And feeding them well is my responsibility alone.
Using a gluten free bean flour blend in these treats
When I first started out in 2004, I made my own bean flour blend with a recipe from Bette Hagman, the Gluten Free Gourmet, the very first gluten free baking pioneer. I was so grateful that I could make anything at all. When I found Bob's Red Mill bean flour blend, now sold as its gluten free all-purpose baking flour, I hit the jackpot since I didn't have to blend my own.
When I first learned the wonders of baking with rice-based all purpose gluten free flour blends way back in 2005, I vowed never to go back to baking with bean flour-based blends. They're healthful, but they don't taste or even smell good during baking.
But since my dogs don't mind at all, and the bean flour blend is cheap and healthy for them, I buy it whenever I'm baking for them. The ingredients are:
garbanzo bean flour
potato starch
tapioca flour
whole grain sorghum flour
fava bean flour
I've searched high and low (online and offline) and I can't find the bean flour blend ratio that I used back then. I'm fairly certain it contained garfava flour (a blend of garbanzo and fava beans), sorghum flour, and potato starch, but I don't remember any more than that. And I've long since given away all of Bette Hagman's cookbooks.
Bob's Red Mill bean flour blend is readily available in the U.S. in nearly every larger grocery store and natural food store. I've found it on the shelves in nearly every city I've ever visited (yes, I look just out of curiosity). If you're outside the U.S., I imagine there's another brand of bean flour-based blend that you can use?
Ingredients and substitutions
These treats are already dairy-free, and have no additives like xanthan gum, or even any baking soda or baking powder. Here are some notes about the ingredients that might be helpful:
Eggs: There are two eggs in this recipe, so you should be able to replace each of them with a "chia egg" (1 tablespoon ground white chia seeds + 1 tablespoon lukewarm water, mixed and allowed to gel). I'm always hesitant to replace a major ingredient in a 4-ingredient recipe, so proceed with caution!
Peanut butter: I used no-stir peanut butter in this recipe (the kind that doesn't separate in the jar), since that's all I ever buy. But this is one instance where I think the drippy, truly all-natural kind would probably work quite well.
Instead of peanut butter, I'm sure you could use another nut butter, like almond butter or cashew butter. For a nut free alternative, try using sunbutter—but expect to have to alter the amount of flour you use.
Bean flour blend: This is one instance where I highly recommend buying Bob's Red Mill brand original gluten free all-purpose baking flour (affiliate link, but feel free to shop around!), their original gluten free flour blend. Their 1:1 flour blend is a rice flour-based blend, but you want the bean flour blend. Scroll up for a complete discussion of using bean flour in this recipe.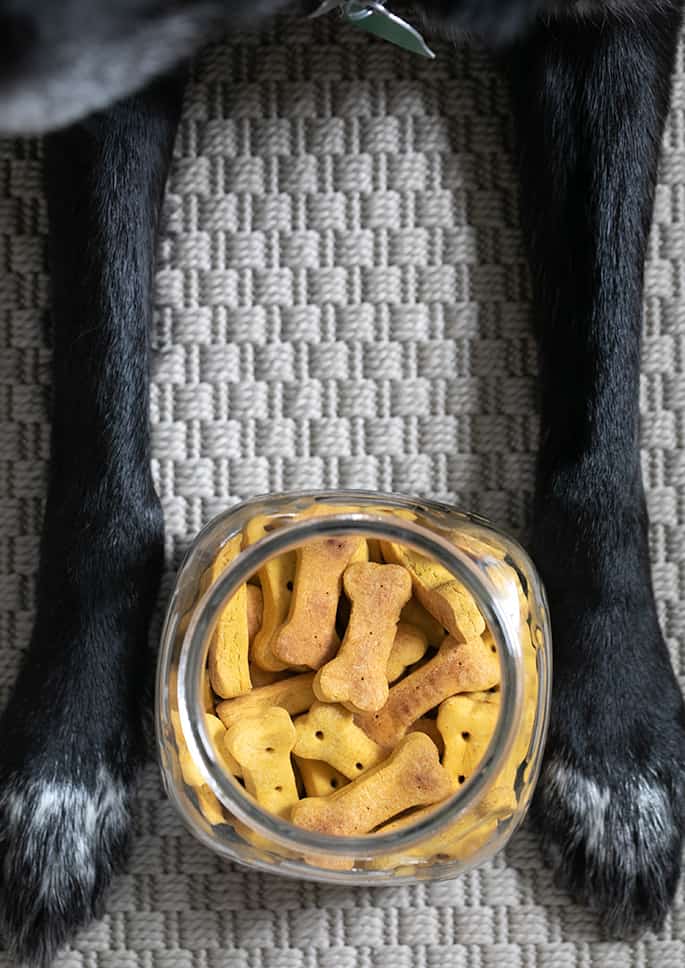 Crunchy Gluten Free Dog Treats
Ingredients
1/3 cup (80 g) canned pumpkin puree
2 tablespoons (32 g) peanut butter
2 eggs (100 g, weighed out of shell), at room temperature
1 1/2 cups (210 g) Bob's Red Mill all purpose gluten free flour (the bean flour blend), plus more for sprinkling
Instructions
Preheat your oven to 350°F. Line a large rimmed baking sheet with unbleached parchment paper and set it aside. 

In a large bowl, place the pumpkin puree, peanut butter, and eggs, and whisk vigorously to combine well. Add the 1 1/2 cups of flour, and mix until well-combined. The mixture will become quite thick and relatively stiff.

Sprinkle a flat surface with more flour, and place the dough on top and sprinkle the top lightly with more flour. Knead until smooth. Roll out the dough into an oval shape about 1/4- to 3/8-inch thick (about 1 cm), moving the dough frequently to avoid sticking, and sprinkling as necessary with more flour. Using a 2-inch wide rectangular (ideally bone-shaped) cookie cutter, cut out shapes and transfer to the prepared baking sheet. They won't spread at all during baking, so they can be relatively close together on the baking sheet. Gather and reroll scraps, and cut out more shapes. Using a toothpick or small dowel, poke two holes on either end of each treat. This will help the treats crisp in the oven.

Place the baking sheet in the center of the preheated oven and bake until lightly golden brown on the edges and set in the center, about 20 minutes. Remove from the oven, and allow to cool on the baking sheet for about 10 minutes. Feed to your dog! Leftovers can be stored in a sealed glass jar at room temperature until someone is a very. good. boy.

Adapted heavily from Damn Delicious.