These gluten free cornmeal pancakes have a really lovely texture and enough flavor that they scarcely need much syrup or butter for serving.
There's nothing like a traditional light and fluffy gluten free pancake, and there are so many ways to make them. But these cornmeal pancakes are a little different. The recipe has way more cornmeal than white flour, but you blend the batter so there's only the slightest chew in each sweet-and-savory bite.
Making the batter in a blender has the added benefit of making these pancakes incredibly easy to make. I've spelled it all out in the recipe below (and the how-to video, too!), but really? I could have just written the instructions like this:
Put all of the ingredients in the order listed in a blender, blend, then pour on a hot buttered skillet, cook, flip, cook and eat. Of course, there's a bit more to it than that. But not a whole lot!
When to flip
You'll know when the pancakes are ready to flip, like you see here, when the underside has set and begun to brown, and the edges on top are set. When you slide your spatula underneath the pancake, it shouldn't pour off the edges.
A quick tip for testing whether a pancake (really any pancake) is ready to flip is to slide your spatula only about a couple centimeters under the very edge of the pancake. If the batter on the top of the pancake starts to run at all, it's not ready to flip. If you flip it then, you'll end up with "feet" on your pancakes as the batter will slide around during transit.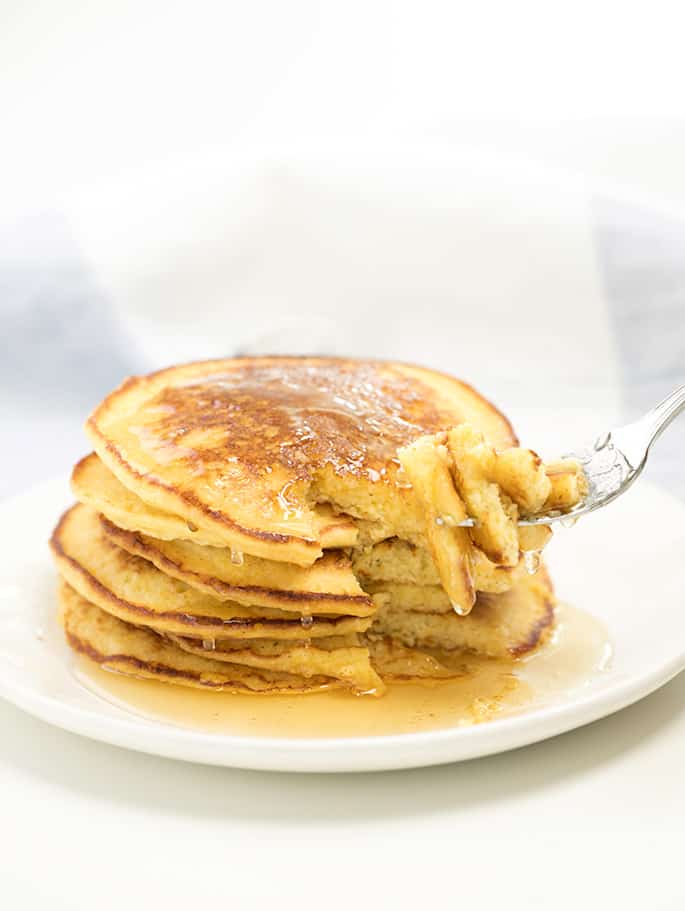 Ingredients and Substitutions
Dairy: These pancakes are super easy to make dairy-free. Just use non-dairy milk (I like unsweetened almond milk best), and Earth Balance buttery sticks in place of butter.
Eggs: Eggs are almost always a bit trickier than dairy to replace. Here, since the recipe is right at my 2-egg threshold for successful egg replacement.
Two "chia eggs" (a chia egg is simply 1 tablespoon ground chia seeds mixed with 1 tablespoon lukewarm water and allowed to gel) should work, but you'll have to experiment.
Here's a quick how-to video where you can watch me make these cornmeal pancakes with my own two hands. They really are that easy!:
Cornmeal Pancakes
Ingredients
1 cup (8 fl. oz.) milk (any kind), at room temperature
2 tablespoons (42 g) honey
3 tablespoons (42 g) unsalted butter, melted and cooled, plus more for greasing
2 eggs (100 g, weighed out of the shell) at room temperature
1 cup (132 g) gluten free coarsely ground yellow cornmeal
1/4 cup + 1 tablespoon (45 g)  all-purpose gluten-free flour (I like Better Batter here)
1/8 teaspoon xanthan gum (omit if your blend already contains it)
1 1/2 teaspoons baking powder
1/4 teaspoon kosher salt
Instructions
Preheat a large cast iron or nonstick skillet over medium heat, or heat a griddle according to the manufacturer's directions.

In a blender, place the milk, honey, melted butter, eggs, cornmeal, flour, xanthan gum, baking powder, and salt. Blend until smooth. The batter should be pourable.

Grease the hot skillet or pan with about 1 tablespoon of unsalted butter. Pour or ladle the pancake batter on the hot skillet surface, taking care not to crowd the skillet or pan. Allow the pancakes to cook until bubbles begin to appear and the surface appears dry around the edges (1 to 2 minutes). Flip the pancakes and continue cooking for another minute, or until the underside is lightly browned. These pancakes cook more quickly than traditional flour pancakes. Remove the cooked pancakes and repeat with the remaining batter.

If you'd like, while you finish the batch, you can keep the cooked pancakes warm in a 200°F oven on a parchment lined baking sheet. Serve immediately with your favorite pancake toppings.

This recipe was originally published on the blog in 2012 (!). The photos and video are all new, the text is mostly new, and the recipe was tweaked to make the pancakes a bit fluffier.