This classic gluten free vanilla sheet cake is the (nearly) one bowl, super simple vanilla cake with an amazingly tender crumb. It's perfect for any celebration but doesn't look like you went overboard.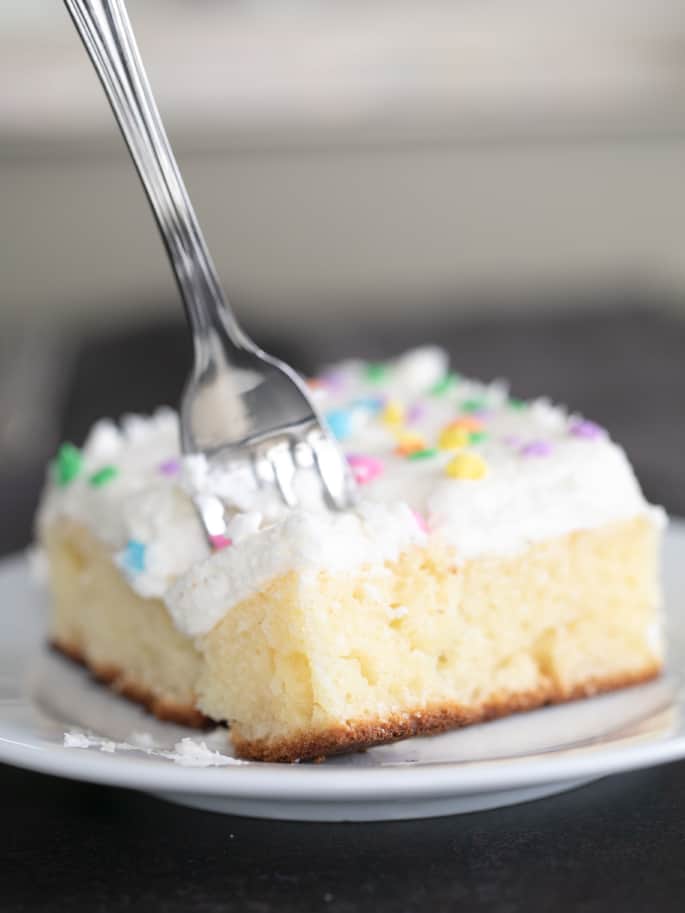 Why do we need another gluten free vanilla cake recipe?
If you're new around here, you may not know that we already have a recipe for the very best gluten free yellow cake. And even a recipe for the perfect gluten free white cake, for when you need a completely blank canvas. So now everyone is wondering … why we need another vanilla cake recipe.
I'm glad you asked. Those vanilla cake recipes really are perfect in every single way, from the sweet (but not too sweet) vanilla taste, to open, airy crumb texture, to fork-tender moistness. But they require sifting (they really do), and they're made for an 8- or 9-inch round (or perhaps square) baking pan.
And then I volunteered to make a simple sheet cake for my youngest daughter's 8th-grade graduation (don't get me started on these big graduations when there's social promotion through the 8th grade ?). As I paged through all 5 of my cookbooks and made my way through the cake category here on the blog, I found that nothing really quite fit.
When you want to be low key about your celebration ?
A layer cake like our gluten free birthday cake (funfetti-style!) is often the perfect celebration cake. But it makes a bit more of a dramatic presentation. That isn't always appropriate.
At my daughter's 8th-grade graduation dinner, which was held at a local restaurant that handles gluten free food really well (important for my gluten free son and a gluten free friend of my daughter's), we were already serving almost everyone a sheet cake that my husband bought from a wholesale club. It was your classic buttercream-frosted sheet cake.
My son is extremely sensitive to being singled out for anything, for better or for worse (good thing he doesn't read my blog!), and if I showed up with a 9-inch round layer cake, he'd want to disappear. Instead, I wanted to be able to mimic what everyone else was eating, and a 9-inch x 13-inch sheet cake was the perfect compromise.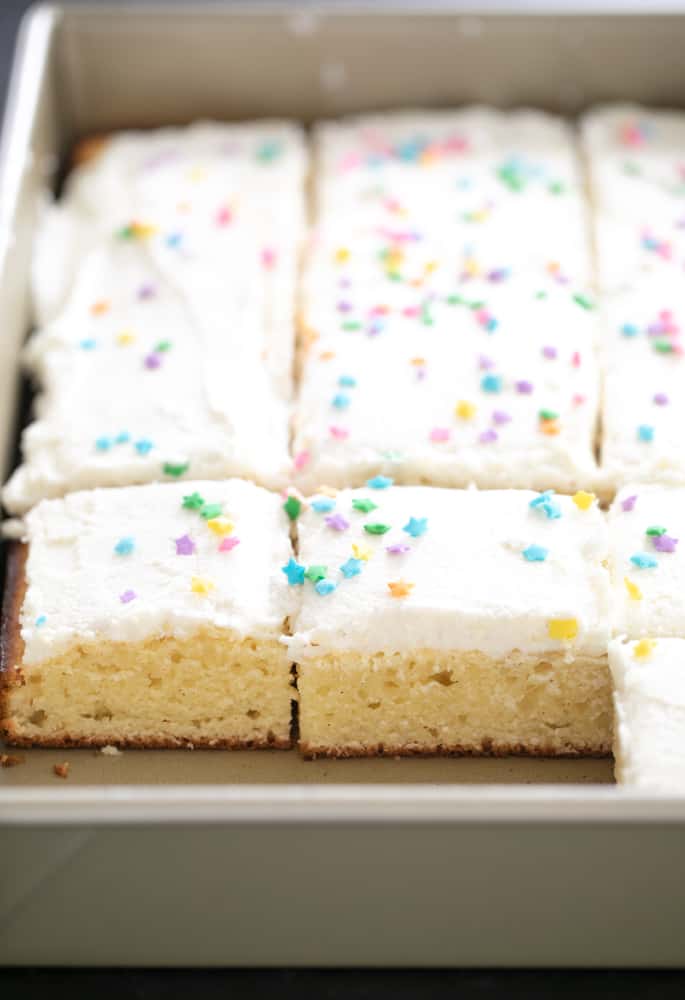 How to make this basic vanilla sheet cake
This gluten free vanilla sheet cake is so simple, it can even be made in one bowl—and there's no need to sift the ingredients. It's meant to be a slightly more dense cake, but still has a very tender crumb and great flavor.
To make this cake, my preferred method is to whisk together the dry ingredients (the gluten free flour and xanthan gum, cornstarch, baking powder, and salt), and then set them aside. Most of the wet ingredients (the melted butter, sugar, eggs, and vanilla) are beaten in a large bowl, and then the flour mixture is added in two parts, alternating with the buttermilk.
To make the cake in one bowl, simply beat the butter, sugar, eggs, and vanilla very, very well in a large bowl. Then, add the dry ingredients one at a time, beat until just combined, then add the buttermilk and beat again until just combined. The cake doesn't rise quite as high, which leads to a slightly more dense crumb. But the cake still tastes great.
You can, of course, skip the step of sugaring the bottom and sides of the pan, but it does help give the cake some subtle flavor and visual interest. The sugar creates a really lovely crust on the edges and bottom.
If you need to travel with your cake
To make my life easier (with apologies to the environment, but I recycle, buy responsibly most of the time, and compost food scraps I promise!), for the celebration dinner, I baked this cake in a disposable aluminum container with a lid.
I found that I even liked the way the caked baked better in the flimsy aluminum 9-inch x 13-inch baking pan since the edges stayed very pale. And I added more sugar to coat the bottom of the pan. I felt confident that it wouldn't burn in a pan that was such a poor conductor of heat.
Ingredients and substitutions
Dairy-free: In place of melted and cooled butter in the cake recipe, you can successfully make this cake using a neutral oil like canola, vegetable, or grapeseed oil. You can also melt and cool an equal amount, by weight, of Spectrum nonhydrogenated vegetable oil.
Keep in mind, though, that without the butter for flavor, the cake has a very, very mild flavor. It doesn't taste oily, like cakes made with oil sometimes can, but it just doesn't taste like much of anything at all.
If you're not using butter, I recommend using vanilla bean paste in place of vanilla extract, or adding some real vanilla seeds for a more complex flavor. You can also try using almond extract for a stronger, deep flavor. In place of buttermilk in the cake, you can use half plain nondairy yogurt and half unsweetened almond milk.
In the frosting, you can easily use Spectrum nonhydrogenated vegetable shortening. For flavor, I recommend using the butter flavor, or adding more vanilla extract or seeds. And the milk used can easily be replaced with unsweetened almond milk.
Egg-free: I'm afraid you simply can't make this cake without eggs. It calls for 3 whole eggs and 1 egg yolk, which is just too many eggs to replace successfully. If you need an egg-free vanilla cake, try our recipe for gluten free vanilla crazy cake. It's also naturally dairy free!
Decorations: I wanted to add a tiny bit of celebration ?to the cake, so I added some Betty Crocker star-shaped sprinkles. They're made in the U.S. by Signature Brands, and according to the company, all of their products are gluten free.
Of course, you could use multi-colored nonpareils or nothing at all to keep it super low-key and not embarrass your gluten free kid even a little bit. But what fun is that? ?
Classic Gluten Free Vanilla Sheet Cake
Yield:
1 9-inch x 13-inch cake
Ingredients
For the cake
1 3/4 cups (245 g) all purpose gluten free flour (I used Better Batter)
3/4 teaspoon xanthan gum (omit if your blend already contains it)
1/2 cup (72 g) cornstarch
1 heaping teaspoon (about 1 1/8 teaspoons) baking powder
1/2 teaspoon kosher salt
9 tablespoons (126 g) unsalted butter, melted and cooled
1 1/3 cups (267 g) granulated sugar, plus more for sprinkling
3 eggs (150 g, weighed out of shell) + 1 egg yolk (25 g), at room temperature
1 tablespoon pure vanilla extract
9 fluid ounces buttermilk, at room temperature
For the frosting
8 tablespoons (112 g) unsalted butter, at soft room temperature
1 teaspoon pure vanilla extract
3 cups (345 g) confectioners' sugar
1/4 teaspoon kosher salt
2 to 3 teaspoons milk, at room temperature
Gluten free sprinkles, for decorating (optional) (all of Signature Foods products are gluten free, and they make Betty Crocker sprinkles in the U.S.)
Instructions
Preheat your oven to 350°F. Grease a standard 9-inch x 13-inch rectangular baking pan, sprinkle the bottom and sides lightly with granulated sugar, and tap the pan to evenly distribute the sugar around evenly. Set the pan aside.

In a small bowl, place the flour, xanthan gum, cornstarch, baking powder, and salt, and whisk to combine. Set the bowl aside. In a large bowl with a hand mixer or the bowl of a stand mixer fitted with the paddle attachment, place the butter, sugar, eggs and yolk, and vanilla, and beat until very smooth (about 2 minutes). Add half of the dry ingredients, and beat until just combined. Add half of the buttermilk, and beat until just combined. Add the remaining dry ingredients and then the buttermilk, beating until just combined after each addition. The batter should be smooth and fall off the beater in ribbons. Pour the mixture into the prepared baking pan, and shake into an even layer. Bang the pan squarely on the bottom on a flat surface to break any trapped air bubbles. Place the pan in the center of the preheated oven and bake for 22 to 25 minutes, or until the edges are golden brown and the cake springs back when pressed gently in the center. Remove from the oven and allow to cool for 10 minutes in the pan before transferring, top side up, to a wire rack to cool completely.

While the cake is cooling, make the frosting. In a large bowl with a hand mixer or the bowl of a stand mixer fitted with the paddle attachment, place the butter and vanilla, and beat on medium-high speed until light and fluffy (about 3 minutes). Scrape down the sides of the bowl, add 2 cups (230 g) of the confectioners' sugar, and beat slowly until the sugar is absorbed into the butter. Turn up the speed to high and continue to beat until smooth. Add the remaining 1/2 cup of confectioners' sugar, and 2 teaspoons of milk, and beat slowly, then on high speed, until light and fluffy. Add more milk as necessary, beating until smooth, to achieve the proper fluffy-but-somewhat stiff texture.

Once the cake has cooled completely, return it to the baking pan, spread the frosting in a single, even layer on top of the cooled cake. Sprinkle evenly with the optional sprinkles. Slice into 12 evenlys-sized squares in the pan and serve.

Adapted from The Kitchn.