This rich, creamy vegan alfredo sauce is made with cashews and coconut milk, and no nutritional yeast. It even reheats beautifully, and has become a new staple in my house!
Why vegan?
Ever since having children, I've been pretty conscious of the food I buy and serve—even before my son's celiac disease made gluten free food a necessity. We are not a vegan family, but I don't serve a ton of meat, and it certainly isn't every night. I buy consciously raised (if you're vegan, you don't think meat can ever be "ethically raised," which I understand and respect) meat, and try to minimize how much I buy and serve in general.
A number of months ago, though, we discovered what we believe is a dairy allergy in my oldest child. She loooooves cheese and all things dairy, so this has been quite a shift. The whole family isn't dairy free, but I believe in serving one meal to everyone in the family for so many reasons. And I want whatever I give my daughter to be as delicious as what everyone else is eating as well.
My other daughter is a big-time animal lover (as am I), and we both fully anticipate going vegan at some point in the future. We already won't eat pork of any kind, since we currently have a favorite pig on a nearby rescue farm. Don't ask.
All this means that I've been making a lot more sometimes vegan, often dairy-free food, and trying to perfect vegan alternatives to my daughter's favorite foods. This vegan alfredo sauce is definitely a big step in the right direction! So many dairy-free and vegan versions of creamy sauces, like vegan mac and "cheese," taste entirely like something else. One vegan mac and cheese recipe that I made for my daughter was declared "fine, but it tastes like soup."
This genius recipe tastes like actual alfredo sauce, for real. It's from my friend Alisa's new book, Eat Dairy Free: Your Essential Cookbook for Everyday Meals, Snacks, and Sweets. That's an affiliate link and if you click I'll be compensated with a few pennies at no extra cost to you, but of course feel free to shop at your local bookstore. Just be sure to check out this amazing book!
Alisa's blog, Godairyfree, is one I've referred to so many times on this blog, as I have long considered her to be the quintessential source for all things dairy-free. If I'm not sure if a particular brand is reliable, or if something is going to taste good, I turn to Alisa.
This new book is packed with 100 amazing dairy free recipes, each with fully-tested options for gluten-free, egg-free, peanut-free, and soy-free. About 90% of the book is tree nut-free, and about 3/4 is either vegan or has a vegan option. Alisa isn't gluten free, but her husband eats gluten free and she's always catered to gluten free needs.
This recipe, as written in the cookbook, is for Easy Chicken Alfredo (page 184!), and the "Vegan Option" at the bottom of the page is what I followed for making this recipe, in fact, vegan. I've included her original chicken-containing instructions below, though, if you'd like to go that way.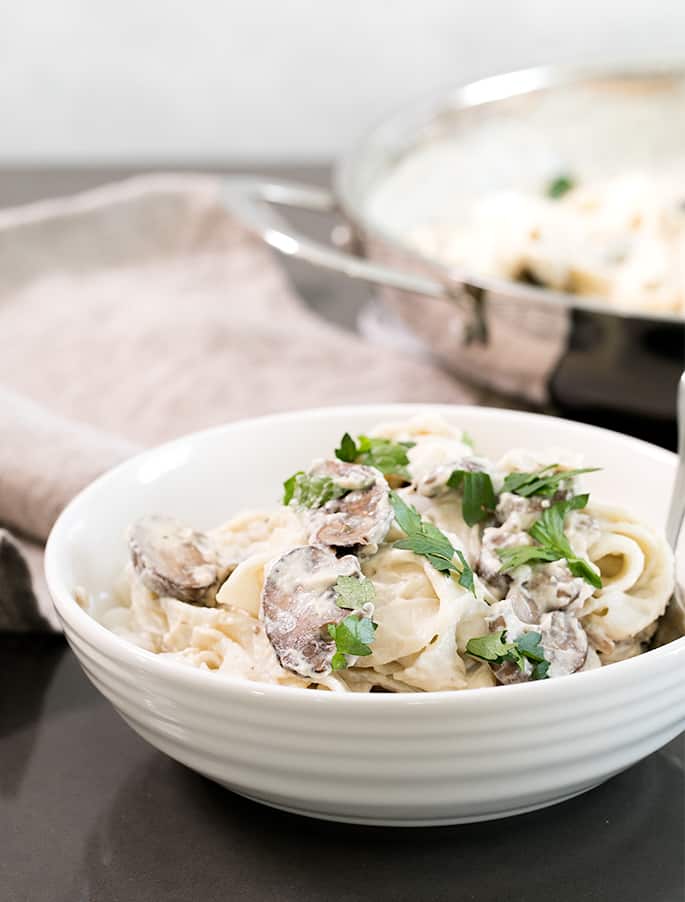 Ingredients and substitutions
Coconut-free: Since there is only 1/4 cup coconut milk, this recipe doesn't taste like coconuts to me at all. But if you really don't care for anything made from coconuts, you can try using almond milk. I'd reduce it on the stovetop a bit, though, so it's thicker and more the consistency of coconut milk.
Nut-free: The cashews in this recipe do a wonderful job of creating creaminess and thickness without adding much flavor of their own. I can't think of a substitute that isn't itself another nut, like blanched almonds. Perhaps sunflower seeds would work?
Mushrooms: You can simply leave the mushrooms out. If you do, I'd add about 1 tablespoon of my gum-free gluten free flour blend to the sauce since it helps to thicken the mixture.
If you're not vegan and only want this recipe for its dairy-free-ness, Alisa's original recipe is actually for chicken alfredo. Just substitute 1 pound of boneless, skinless chicken breast, cut into 1-inch cubes for the mushrooms and cook the chicken in the oil in the hot skillet for about 5 minutes, searing on all sides before proceeding with the recipe as written.
Watch this quick 1-minute video of vegan alfredo sauce
Just push play ▶️ below and see just how easy this sauce is.
Thank you, Alisa, for this amazing book and for the work you do to make dairy-free food accessible and enjoyable. You're a true gem!