If you're looking for easy finger food for dinner, or just an on-the-go snack, these gluten free soft breadsticks are just the thing. Stuff them with whatever you like!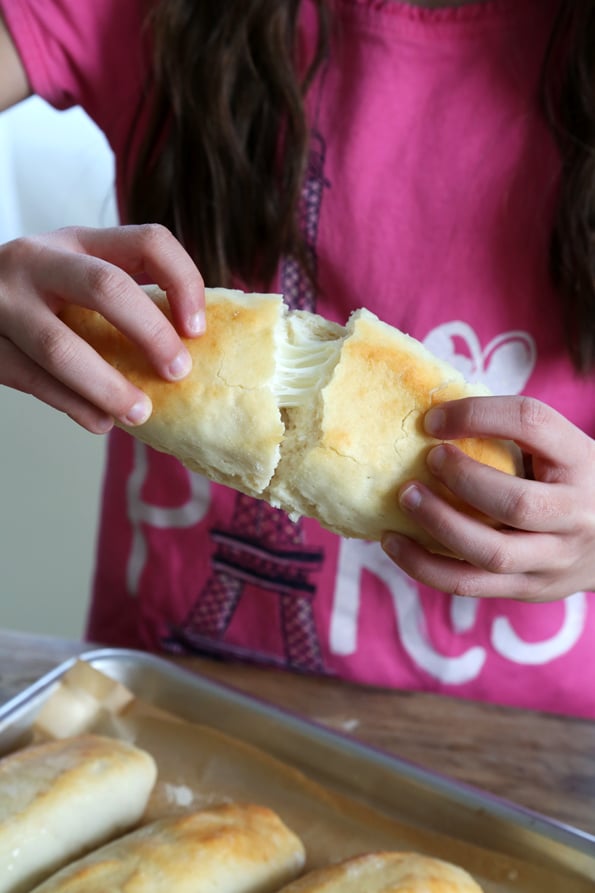 Ever since GFOAS Bakes Bread came out, I've been repeatedly baking my way through the book. Obsessively. And before it came out, well, same thing. There's always a "reason."
Sometimes, it's as simple as wanting to make sure that I have some bread (or bread dough) that I can turn to if the day gets away from me and before I know it, it's a dinnertime scramble. If I have a bucket of pizza dough in the refrigerator, I can have a super speedy quick dinner on the table in about 15 to 20 minutes.
Other times, I'm trying to make sure that Ultratex 3 really does work in place of Expandex in the proportions that I have decided upon—in every single recipe. More often than not, though, I'm playing with the different doughs, and seeing how I can use them in new and exciting ways.
Today, I bring you … stuffed gluten free soft breadsticks. Stuffed with what, you ask? Well, with whatever you like!
So far, I've stuffed these gluten free soft breadsticks with hot dogs, and with cheese. One big win followed by another.
Followed by some very happy children, most of which have already decided that THIS is what they would like to eat for their respective birthdays.
This super versatile dough is based upon the Soft Olive Garden-Style Gluten Free Garlic Butter Breadsticks from page 177 of Bakes Bread. It has no starter, and has only one rise so if you have about an hour and change for the dough to rise while you take care of other things around the house, you can have it tonight.
There has been quite a bit of grumbling about how most of the doughs in the book require at least an overnight refrigerator rise before you can work with them. I figure a lot of that comes from unfamiliarity with the slow rise that most yeast bread dough benefits from to develop real, artisan bread yeasty flavor.
No mind, though. Once you get into the swing of it, you can fill buckets with dough on Sunday, and eat fresh gluten free bread all week long. You'll get the hang of it. But for now, these gluten free soft breadsticks are a nice way to begin.
They rise beautifully, but rising times for all yeast bread will vary depending upon the environment in your kitchen/home. Overproofing does not refer to the amount of time it takes to rise, but to how much the dough has risen.
You can't overproof if the dough is rising more slowly than you expect and you're just being patient in allowing it to double. Patience is a virtue in yeast baking as in life, after all.
This dough is quite easy to work with, but like all the doughs in the book they are easiest to shape when they're cold. If you'd like to make things even easier on yourself, make the dough tonight and use it tomorrow.
Or make it tonight, give it a spin in a sealed container in the refrigerator for 30 minutes and then shape it. You absolutely don't have to do that, though.
Either way, you'll be rewarded with soft, doughy stuffed soft gluten free breadsticks just waiting for you to dig in. Finger food for dinner!