Celebrate Shrove Tuesday (or any day!) in true New Orleans-style with these truly authentic, soft and fluffy gluten free beignets.
Have you ever been to New Orleans for Mardi Gras? I actually have, and it was super overwhelming. And I'm not even sure I had a beignet.
I went when I was in college in upstate New York. I literally hopped in a van with about 7 other young women and drove down to The Big Easy.
We got a flat tire along the way, maybe somewhere in Alabama. I remember the flat tire, and the ride—but I have no memory of how we got it changed. I'm sure none of us had AAA! But we finally made it, and I'm sorry to say that I don't think the food was what drew us there.
Well, if I'm being totally honest, what drew me there was a guy I was dating (!) who was a native. And he and his native-born friends were not so into Mardi Gras.
So it was years later that I remember ever having a beignet—and I could kick myself for not having one in NoLa! Gluten free beignets are really just a type of gluten free donut (and are, in fact, adapted from the recipe for Glazed Yeast-Raised Donuts from Gluten Free on a Shoestring Bakes Bread).
But they're even more yeasty, and (clearly) have no hole. They start out as squares of dough, rolled flat, and they puff up like crazy in the frying oil. It's a sight to behold!
Mardi Gras is coming, and these New Orleans-Style Gluten Free Beignets … are here to remind you of one thing: If they can make it with gluten, we can make it without!
See how they start out as thin little, not-very-exciting-looking squares of gluten free dough? Look what a quick spin in the fryer does!
Okay, and a generous dusting of confectioners' sugar doesn't hurt either…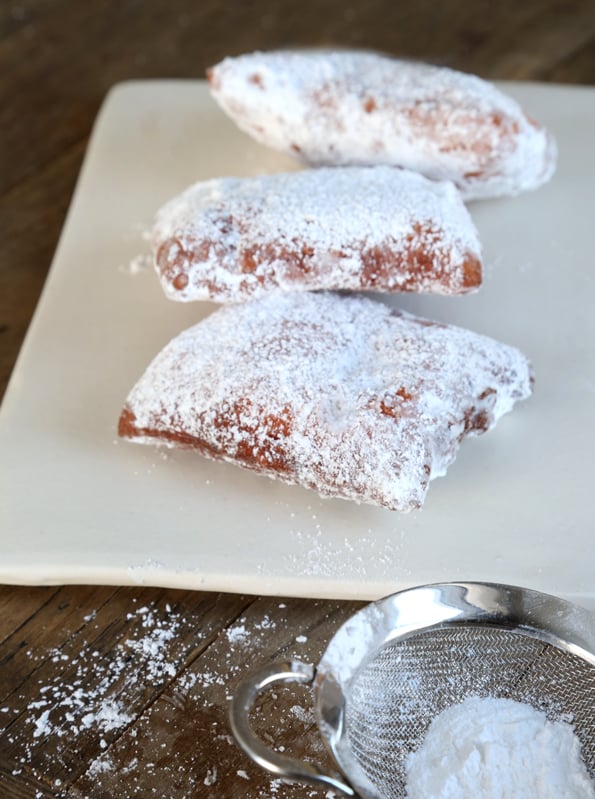 I'm afraid that my words just cannot convey how delicious these tender, yeasty little super-puffy beignets are. Whether you make it to Mardi Gras or not (for me, that would be a "not"), there's no reason you can't eat like it.
Oh, the pleasures of a warm beignet with a cuppa Joe. And be smarter than I ever was back in college—don't forget the food is the most important part of any holiday!
Let the good times roll!