Celebrate Mardi Gras (or any day!) in true New Orleans-style with these truly authentic, soft and fluffy gluten free beignets.
Gluten free beignets are really just a type of gluten free donut (and are, in fact, adapted from the recipe for Glazed Yeast-Raised Donuts from Gluten Free on a Shoestring Bakes Bread), but they're even more yeasty, and (clearly) have no hole. They start out as squares of dough, rolled flat, and they puff up like crazy in the frying oil.
Mardi Gras is coming, and these New Orleans-Style Gluten Free Beignets … are here to remind you of one thing: If they can make it with gluten, we can make it without!
See how they start out as thin little, not-very-exciting-looking squares of gluten free dough? Look what a quick spin in the fryer does! Okay, and a generous dusting of confectioners' sugar.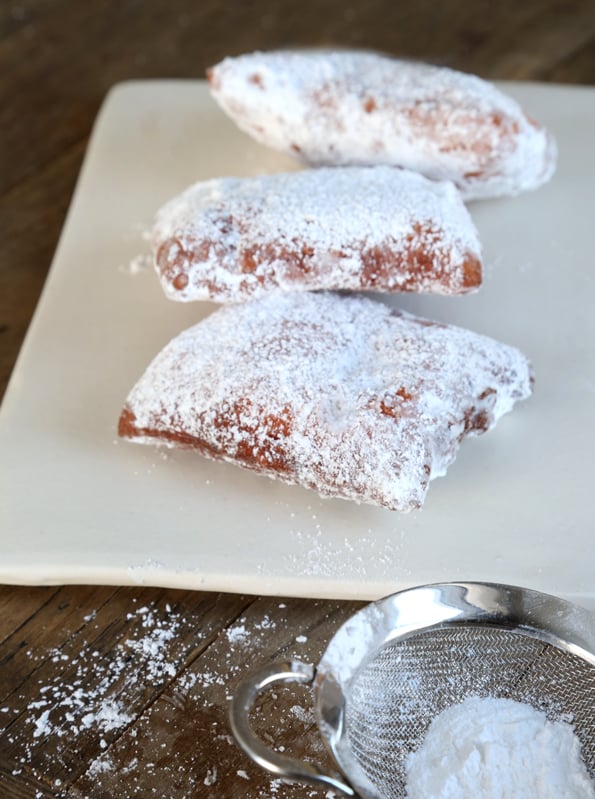 I'm afraid that my words just cannot convey how delicious these tender, yeasty little super-puffy beignets are. Whether you make it to Mardi Gras or not (for me, that would be a "not"), there's no reason you can't eat like it.
Oh, the pleasures of a warm beignet with a cuppa Joe. Let the good times roll!