If you've ever wondered how to make frozen yogurt at home, and if you could just freeze Greek yogurt in an ice cream machine and enjoy, this strawberry recipe is for you!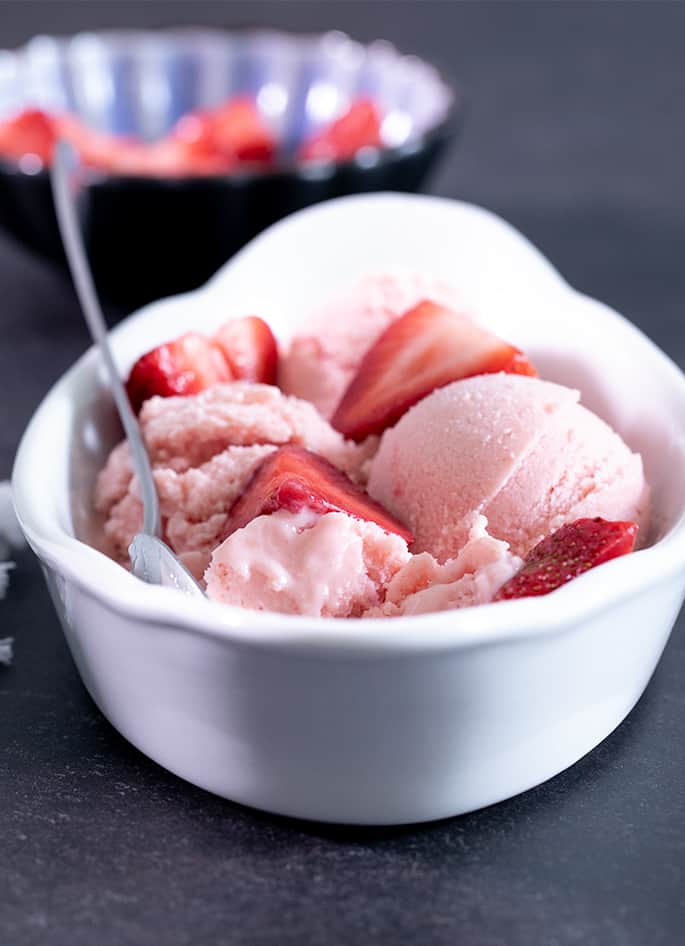 This strawberry frozen yogurt is creamy, smooth, lightly sweet and super easy to make. Just blend some fruit, applesauce, plain yogurt, a bit of sugar and some honey, then freeze. Some gelatin helps keep it smooth, too.
The honey and gelatin help keep ice crystals from forming. It's perfect right out of the machine but it's more firmly scoopable after freezing for a couple of hours.
Can you just freeze Greek yogurt and eat it?
Is it just me, or have you wondered if you can freeze Greek yogurt and eat it? Or if frozen yogurt can be made from "regular" yogurt? I'm hoping I'm not the only one!
If you just put Greek yogurt in your ice cream machine, especially if it was sweetened and flavored, you could eat it right out of the machine. It would be a bit icy, but as long as you eat it immediately you won't mind too much. You can't store it in the freezer, though, as it will just be a big block of ice.
This frozen yogurt recipe is made with sugar, honey (since it's better at preventing ice crystals than granulated sugar), and a bit of gelatin. Those additions aren't much more difficult than just throwing some yogurt in an ice cream machine, but they make a world of difference in end result.
Do you really need an ice cream machine?
In a word? No. You can make homemade frozen yogurt without an ice cream machine at all. I even did that, and only used two ingredients (Greek yogurt + honey). I think a similar method would work with this recipe, although it wouldn't be as creamy. Oh, and I've also made an amazing Pinkberry copycat recipe that is a personal favorite (but has a lot more sugar).
I have had a standard Cuisinart freeze-the-bowl ice cream machine for the longest time, but I have avoided using it for almost just as long. I don't like the fact that you can't make more than 1 pint of ice cream at a time since the bowl must be fully frozen each time.
I also find that a ton of the mixture gets frozen solid to the walls of the bowl no matter what I do. Instead, I've perfected the art of the no-churn homemade ice cream. I did finally get a compression ice cream machine since you can make batch after batch with only a 10-minute break in between.
What does an ice cream machine, well, do?
An ice cream machine does two things at once: freezes the mixture and churns it. The purpose is to add air but reduce the formation of ice crystals. The more ingredients in your yogurt or cream mixture that don't freeze solid, the lower the chance of ice crystals at all. Fat and sugar don't freeze solid.
The heavy cream that forms the base of ice cream is almost entirely fat, which doesn't freeze solid. When making frozen yogurt, there isn't any cream, so an ice cream machine is ideal.
I felt like I was ready to move on from high-fat, high-sugar no-churn ice creams. If you're curious, the machine I have is the 2.1 quart upright "Whynter" brand machine and I really love it. It's not cheap, but I shopped around for a good price (and waited it out).
Ingredients and substitutions
Dairy-free: The big one—can you make this frozen yogurt recipe with dairy-free yogurt? The truth is that I haven't tried it yet, but I suspect that yes, you can. Using store-bought Greek yogurt isn't ideal, actually, since it has additives like any processed food.
If you're up for it, I'd recommend draining a whole bunch of plain dairy-free yogurt until it's the consistency of Greek yogurt. Then, proceed with the recipe as written.
Vegan: If you'd like to make this recipe vegan, you'll first need to make it dairy-free (see just above), and then gelatin-free and honey-free. Honey can be replaced with an equal amount of light corn syrup.
Agar-agar is often a good vegan substitute for gelatin, but I don't know enough to help you figure out how to work with it. The gelatin in this recipe is optional, but it really does help to prevent ice crystals from forming. You can try replacing it with 1 teaspoon of xanthan gum, which works only not quite as well.
Sugars: You can reduce the sugar in this recipe, but it will be icier as sugar helps keep ice crystals from forming. You may be able to replace the granulated sugar with granulated erythritol, and the honey with Lankato monkfruit liquid sweetener. I haven't tried either of those substitutes, though, so you'll have to experiment!
Strawberries: Any pureed berry will do, and frozen works just as well as fresh. In fact, if your strawberries aren't very fragrant and flavorful, you might consider defrosting some frozen strawberries instead.
Applesauce: The jarred smooth and unsweetened applesauce provides reliable and natural sweetness to this recipe. It also has less total moisture than pureed berries.
If you'd like to eliminate the applesauce, I'd recommend doubling the strawberries but cooking them down to remove some of the moisture. Cool completely before proceeding with the recipe, since you never want to churn anything warm into anything frozen.
How To Make Strawberry Frozen Yogurt
Ingredients
1 cup (256 g) smooth unsweetened applesauce
1 teaspoon (4 g) powdered unflavored gelatin (optional)
1 pound (16 ounces) fresh strawberries, washed, patted dry and hulled
14 ounces plain unsweetened Greek yogurt (0% for Weight Watchers-friendly)
1/3 cup (67 g) granulated sugar
2 tablespoons (42 g) honey
Special equipment: 1 1/2 to 2 quart ice cream machine/maker (bowl already frozen if necessary)
Instructions
In a small bowl, place about 2 tablespoons of the applesauce and the optional gelatin, and mix to combine. Set the gelatin aside to allow it to bloom in the applesauce (it will swell). In a blender or food processor, place the strawberries and blend until smooth. Add the remaining applesauce, bloomed (optional) gelatin, yogurt, sugar and honey, and blend until very smooth.

Pour the mixture into the (prepared) bowl of your ice cream machine, and churn according to the manufacturer's directions until thickened to the consistency of soft-serve ice cream. Enjoy immediately, or transfer to a freezer-safe container and freeze for about 2 hours until more firmly scoopable.

If freezing for longer, allow the frozen yogurt to sit at room temperature for about 30 minutes before serving. It will be easier to scoop.

Adapted from Genius Kitchen.