This super simple recipe for gluten free Japanese milk bread makes the softest recipe for batter-style gluten free bread you've ever seen—or tasted!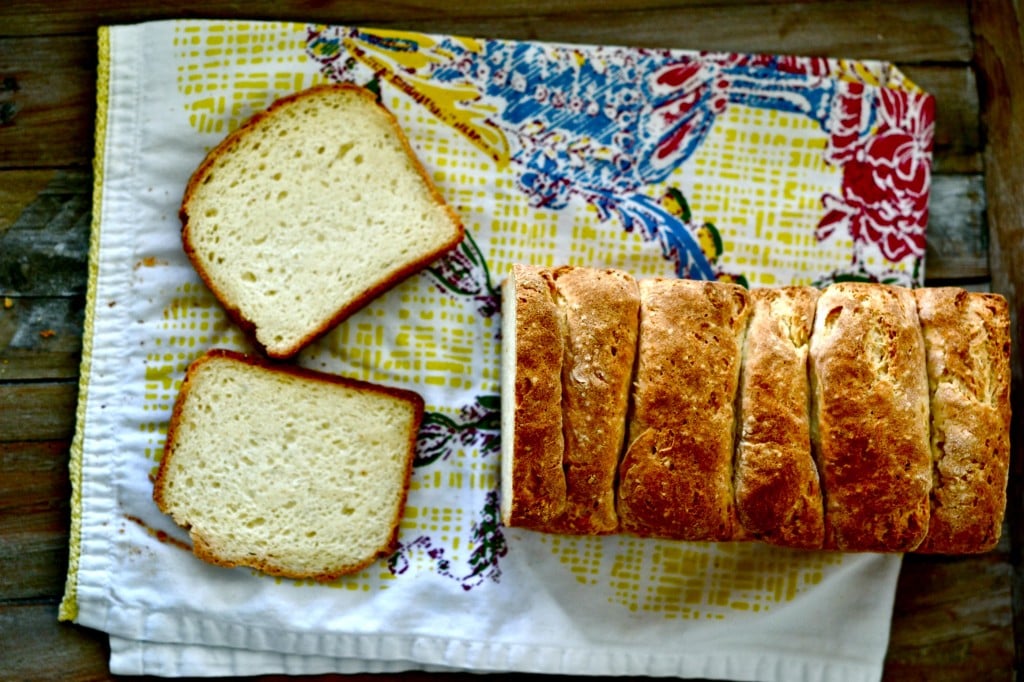 Have you ever heard of Japanese Water Roux (Tangzhong)? As a card-carrying member of the Food Dorks Academy, I love learning what other cultures do to make bread. And then I hunker down and bury myself in figuring out how to make it into gluten free bread for us. I might not be the most fun at parties any more.
But if you make this supersoft gluten free bread that stays fresh forever, you might just see that I'm tons of fun in the kitchen. And by might, I mean will. And by fun I mean hands-off-my-bread-get-your-own. I learned about this from someone else's virtual kitchen.
I adapted it from The 350 Degree Oven: Adventures in Mika's Kitchen. She assembles her dough differently, and I'm sure more authentically. What do I know? I've never been to Japan. My method of assembling the loaf is a bit simpler, since I'm fairly certain that I'm a bit simpler than Mika. And by simple I mean … simple.
This is what it looks like. I don't really know what else to say. I think I just teared up a little.
To make the water roux, place about 1/3 cup all purpose gluten free flour and 1 cup water in a small saucepan and whisked to combine well. Cook it over medium-high heat, whisking constantly, and after almost exactly 2 minutes (yes, I timed it ), it thickened quite a lot.
Once you see the whisk leaving tracks in its wake, it's done. Remove it from the heat right away. You don't want to overcook it. Then, let it cool.
 put it in this here container, and refrigerated it. It makes enough for 2 loaves of bread (140g water roux per loaf), and I'm definitely going to be making more gluten-free bread with this stuff. It's magic!
The dough is shaggy. And tacky to the touch. But you'll dust it with more flour and pat it out into a rectangle, then divide it into 6 pieces.
Then roll each piece out into a disk about 1/2 inch thick. After that, gently fold each disk over on itself from short side to short side.
Loosely stack the folded pieces of dough in a loaf pan. Make sure you don't pack the dough in there, or it won't bake evenly and you may have raw bits here in there in the dough even after it's baked. You want the air to be able to circulate everywhere.
Spray the loaf with warm water, cover the pan with plastic wrap and place the pan in a warm, draft-free place to rise until it's about 150% its original size.