This is about to knock your gluten free socks off: a loaf of super soft gluten free bread that is easy to make, and doesn't intimidate (I'm here for you!). BOOM!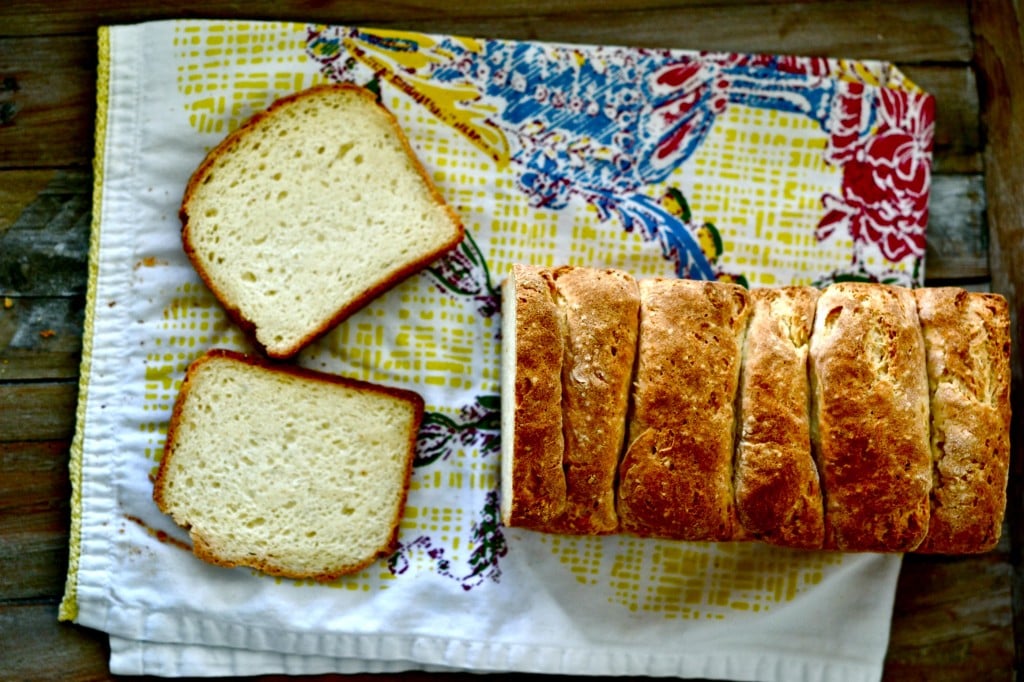 Have you ever heard of Japanese Water Roux (Tangzhong)? As a card-carrying member of the Food Dorks Academy, I love learning what other cultures do to make bread. And then I hunker down and bury myself in figuring out how to make it into gluten free bread for us. I might not be the most fun at parties any more.
But if you make this supersoft gluten free bread that stays fresh forever, you might just see that I'm tons of fun in the kitchen. And by might, I mean will. And by fun I mean hands-off-my-bread-get-your-own. I learned about this from someone else's virtual kitchen. I adapted it from The 350 Degree Oven: Adventures in Mika's Kitchen. She assembles her dough differently, and I'm sure more authentically. What do I know? I've never been to Japan. My method of assembling the loaf is a bit simpler, since I'm fairly certain that I'm a bit simpler than Mika. And by simple I mean … simple.
This is what it looks like. I don't really know what else to say. I think I just teared up a little.
To make the water roux, I placed 47 grams (about 1/3 cup) all-purpose gluten-free flour and 1 cup water in a small saucepan and whisked to combine well. Then I cooked it over medium-high heat, whisking constantly, and after almost exactly 2 minutes (yes, I timed it – please refer to dork designation above), it thickened quite a lot. One you see the whisk leaving tracks in its wake, it's done. Remove it from the heat pronto, pardner.
Then let it cool. I put it in this here container, and refrigerated it. It makes enough for 2 loaves of bread (140g water roux per loaf), and I'm definitely going to be making more gluten-free bread with this stuff. It's magic!
The dough is shaggy. And tacky to the touch. But you'll dust it with more flour and pat it out into a rectangle, then divide it into 6 pieces.
Then roll each piece out into a disk about 1/2 inch thick. After that, gently fold each disk over on itself from short side to short side.
* I once had an editor — not my esteemed book editor whom I adore — tell me that the word "shaggy" is not a proper term for describing bread dough. No one will understand what you mean! I don't like that particular editor. Admittedly, you did not need to know that, but I think I needed to tell it to you. Apologies.
Loosely stack the folded pieces of dough in a loaf pan. Make sure you don't pack the dough in there, or it won't bake evenly and you may have raw bits here in there in the dough even after it's baked. You want the air to be able to circulate everywhere.
Spray the loaf with warm water, cover the pan with plastic wrap and place the pan in a warm, draft-free place to rise until it's about 150% its original size.
| | |
| --- | --- |
| Softest Gluten-Free Bread: Japanese Milk Bread | |
Author:
Super soft & tender gluten-free bread made with a Japanese water roux
Ingredients
3 cups (420g) high-quality all-purpose gluten-free flour, plus more by the tablespoon if necessary (and extra for dusting)
1 1/2 teaspoons xanthan gum (omit if your blend already contains it)
1/4 teaspoon cream of tartar
4 tablespoons (48g) sugar
2 1/2 teaspoons instant (or rapid-rise or breadmaker) yeast
1/2 teaspoon kosher salt
1 teaspoon apple cider vinegar
1 extra-large egg plus 1 extra-large egg white
1 cup warm milk (low-fat is fine, nonfat is not), about 100 degrees F
4 tablespoons unsalted butter, melted and cooled
1/2 c (140g) water roux (half the yield of the recipe referred to earlier)*
Instructions
Grease a loaf pan that is no larger than 9 x 5 inches and set it aside.
In the bowl of your stand mixer fitted with the paddle attachment, place 3 cups flour, xanthan gum, cream of tartar, sugar and yeast, and whisk with a separate handheld whisk to combine well. Add the kosher salt, and whisk once again to combine. Add the vinegar, eggs, milk, butter and water roux, mixing well after each addition with the mixer on low speed. Once the dry ingredients have been incorporated into the wet ingredients, turn the mixer up to high speed and allow to mix for about 5 minutes. Cover with a tea towel in case any loose bits of dough fly out of the mixing bowl.
The dough should be shaggy and tacky to the touch. If it is wet, add more flour by the tablespoon and mix to combine well until it is no longer truly wet. Turn the dough out onto a lightly floured surface, dust the top with flour, and pat into a rectangle about 1/2 inch thick.
Divide the dough into 6 equal pieces. Dust each piece with flour, and roll lightly or pat out into a flat disk about 1/2 inch thick (see photo), sprinkling with flour if there are sticky spots. Fold each disk loosely in half from one short end to the other (see photo). You don't want to compress the dough at all.
Stand the prepared loaf pan on one short side, and begin to stack the folded pieces of dough one behind the other, the rounded (folded) part facing up (see photo). Handle the dough gently, still taking care not to compress the dough at all. You want it to have room to rise, and to expand in the oven so it bakes evenly.
Right the loaf pan on its bottom, spray the dough lightly with warm water, and cover the pan loosely with plastic wrap. Place in a warm, draft-free location to rise (I use a Brod & Taylor home proofer – see the sidebar) until it has reached about 150% of its original volume. While the dough is rising, preheat your oven to 350 degrees F (for a softer crust, heat the oven to only 325 degrees F, and bake a few minutes longer).
Once the dough has finished rising, remove the plastic wrap and place in the center of the preheated oven. Bake for about 25 minutes or until lightly browned. Remove the bread from the loaf pan and transfer to a rimmed baking sheet. Return the bread on the baking sheet to the oven and continue to bake until the loaf is firm to the touch and sounds hollow when thumped, another 10 to 15 minutes.
Remove from the oven and transfer to a wire rack to cool completely before slicing and serving.
Notes
*The water roux is made by combining 1/3 cup (47g) all-purpose gluten-free flour with 1 cup tepid water in a small saucepan. Whisk to combine. Cook, whisking constantly, over medium-high heat for about 2 minutes, or until the mixture has thickened to where the whisk leaves a trail visible behind it (see photo). Allow to cool completely. It will yield approximately 280 grams, enough water roux for 2 loaves of bread. Store leftover roux in an airtight container in the refrigerator for 2 to 3 days.
Adapted from The 350 Degree Oven: Adventures in Mika's Kitchen (http://bit.ly/A2Uc4Q)
Love,
Me