[pinit] Gluten-Free on a Shoestring Bakes Bread is my first full-color book. It's true! Believe it or not, when I wrote my first book, I tried to get my then-editor to agree to a book with no photos. I wanted a book filled with hand-drawn illustrations (mostly because I didn't know which was my elbow and which was my …). Thankfully, my editor explained why that wasn't a great idea. By my second book, I was begging for full color, instead of a photo insert. Except I had, like, no juice. My literary agent, who has plenty of juice in the industry, just couldn't make it happen on account of my lack of juice (if it can be done, she'll make it happen—it just couldn't be done). But when it came time for the Gluten Free Bread Revolution, the tide had started to turn.* Today I'm sharing with you another favorite recipe from the book: gluten free English Muffin Bread. Light, tender and soft, with a soft crust that you can sink your teeth into, this bread is something truly special—and there's no long refrigerator rise, so it's ready in just a few hours (most of them not active time).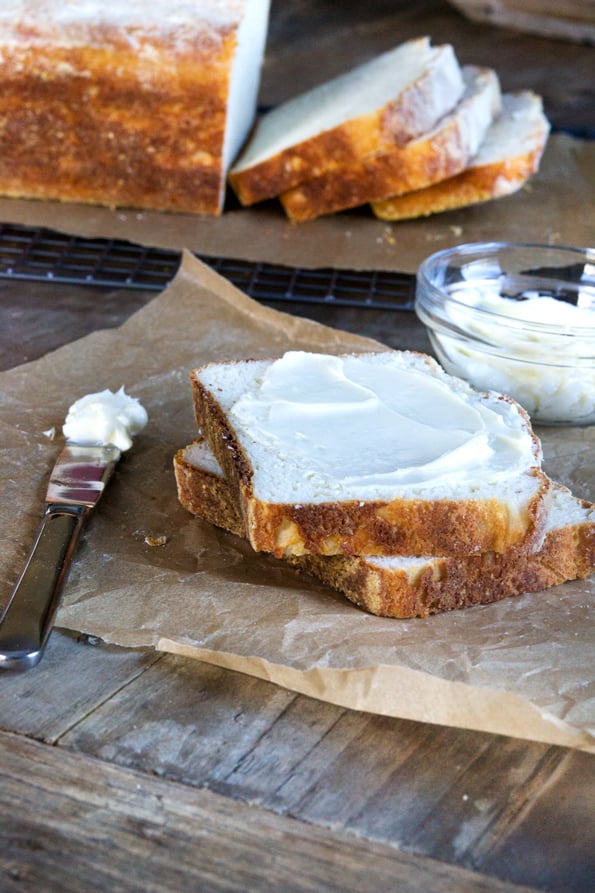 *Okay, getting a full-color cookbook made? It actually it didn't work like that at all. It was more like, okay, this is a line in the sand. The definitive gluten free bread book has to have tons of photos throughout. We have to be able to show that gluten free bread will never be the same. We have to be able to show the step-by-steps. It has to happen, or we'll pack up our toys and go elsewhere. That's how it happened. First they said, "um, no." And we said, "okee dokee" (but much less nice under my breath). And they said, okay, fine. We'll do it. But we'll only pay for some of the photos. So … the rest was on me. And I paid through the nose! But honestly? I don't regret a single day, or a single dollar. (Don't ask my husband if he feels the same though!) I'm all in on this one. ALL IN! This bread is different than any other gluten free bread you've ever made—or had.
More than a couple of you have reported shedding a tear when you first saw it, or when you first smelled it, or tasted it (better yet). When I finally hit on the basic formula that served as the basis for these new recipes, I definitely cried–and shoved the bread into the face of pretty much everyone I knew. Look! It stretches! It lasts! It tastes like BREAD!
This gluten free English Muffin Bread is an interesting example of yeast bread: it is a very wet dough that you don't really shape in the "traditional" sense. But that's not because it's gluten free. That's because of the nature of English Muffin Bread. It has a first rise, but it's super short because a super wet yeast dough will double fast. Then, all that's left is to deflate it, then scrape it into a loaf pan and smooth the top, then dust it with more flour. Don't skip that step! It creates a 'cloak' for the dough to rise into, and creates a more even rise.
You will be amazed by how quickly it doubles in size. And look how smooth!
And in just about 35 minutes, you'll have an amazing loaf of soft and tender gluten free bread. Just promise me you'll let it cool completely before you slice into it? This loaf in particular, with its high moisture content, must cool before being sliced. And to store it, slice it thickly (because it's amazing that way!), and place a small piece of parchment or waxed paper between each slice and the next before bagging and freezing. This is good practice with any bread that is high in moisture like this one, so the slices don't stick to one another as they freeze. It's not necessary with most of the other breads in the new book.
Without further ado, gluten free English Muffin Bread for all!