Light, tender and soft, with a soft crust, this gluten free English muffin bread is the easy white sandwich bread you've been searching for!
A great yeasted gluten free bread recipe for beginners
If you've been thinking of baking some gluten free bread, and you're not sure where to begin, start with this recipe. There's no real shaping, as it's a batter dough by nature.
Plus there's no long refrigerator rise, so in just a couple hours you're ready to slice into a nice warm loaf of fresh bread. Only a few minutes of that time are even active.
If you're concerned about baking yeast bread, read my top 10 secrets to baking the best gluten free bread first. But regardless, this is a great recipe for beginning yeast bread bakers.
This gluten free English muffin bread is by nature a wet dough. So not only does it rise quickly, but it will rise even if it's in a drier environment. It's still possible to dry it out enough that it won't rise, but there's a bigger margin for error.
It's a relatively wet dough by nature, and one that you don't really shape in the "traditional" sense. But that's not because it's gluten free. It's just the nature of English Muffin Bread.
It's a super wet yeast dough, and moisture makes it double fast. Then, all that's left is to scrape it into a loaf pan, smooth the top, cover it and let it rise.
Yeast bread baking can be nerve-wracking
Whenever I ask readers on my email list about their biggest struggle with gluten free baking, I get hundreds of responses. And a few themes often emerge.
One of those themes was about your struggles with gluten free bread. And, like in conventional bread baking, the problem was most often with getting the bread to rise properly. It can be so frustrating!
Baking yeast bread is very environment-dependent. So when I bake bread in the wintertime, it takes a bit longer to rise since the air is not only a bit colder, but quite a bit drier. If you live in a very dry climate year-round, you may even have to add a bit more moisture to your bread dough.
One of the most common problems with baking bread in general (and a big part of my Bread FAQs) is dough that has dried out. If you let it rise without covering it, the dough will lose too much moisture and won't rise properly.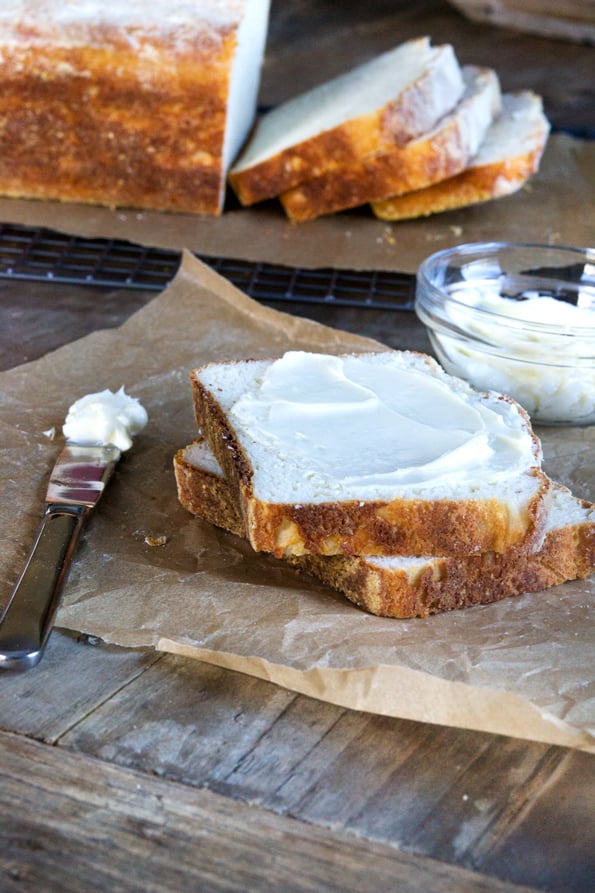 How to store this bread after baking
To store it, slice it thickly, and place a small piece of parchment or waxed paper between each slice and the next. Then, place everything in a freezer-safe bag, draw as much of the air out of the bag as possible, then place the bag in the freezer.
This is good practice with any bread that is high in moisture like this one, so the slices don't stick to one another as they freeze. It's not necessary with most of the other breads, though.
With bread flour or without bread flour
When I first developed a recipe for gluten free English muffin bread, it was for my very first cookbook. The flour blend I used and recommended was Better Batter, my old stand-by all purpose gluten free flour blend. It was and is a great loaf of gluten free bread.
Then, I wrote my third cookbook, Gluten Free on a Shoestring Bakes Bread and began experimenting with gluten free bread flour (which is essentially Better Batter + Expandex modified tapioca starch + whey protein isolate). I developed a modified English muffin bread recipe that is made with that gluten free bread flour. That recipe is included here.
The bread made with bread flour is a bit more chewy, and the dough has more flavor since there is short first rise, followed by a longer rise in the loaf pan. Both recipes works great. The choice is yours…
Ingredients and substitutions (and equipment)
Dairy
If you're dairy free, please use the "all purpose flour recipe," without bread flour, which necessarily has dairy in the form of whey protein isolate. The only thing you'll have to replace is the milk.
In place of cow's milk, you can use your favorite unsweetened nondairy milk. I like unsweetened almond milk. Just don't use canned coconut milk, which is too thick.
Egg white
If you can't have eggs and you're willing, I recommend using the bread flour recipe. It's a simpler recipe overall, since it doesn't need cream of tartar, cider vinegar, egg white or oil.
Vinegar
In place of apple cider vinegar, which activates the baking soda and helps the bread rise, you can try using white wine vinegar or white balsamic vinegar. The bread flour recipe doesn't call for vinegar at all, if that's important to you.
Stand mixer
If you don't have a stand mixer, you'll still need to beat this bread dough quite well. Second best to a stand mixer would be a food processor fitted with the steel blade.
If you don't have either machine, try using a hand mixer with dough hooks, if you have them. Or beaters, if you don't. Keep beating until the mixture begins to look slightly "whipped" like air has been incorporated into it.