Get this tested recipe for gluten free fruit pizza: a sugar cookie crust topped with whipped cream cheese frosting, decorated with fresh fruit.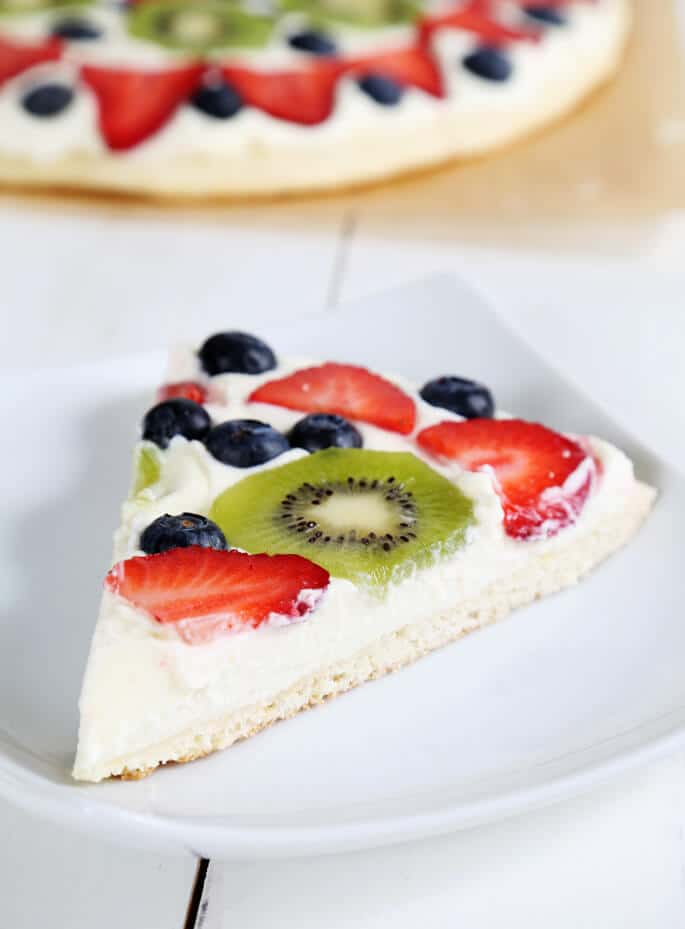 Imagine it's spring…
You know those days when it almost feels like spring? When nearly all of the snow from a long, long winter has melted and your kids could even play basketball outside for a while. Shrieks and screams that can drive me to near-madness when the children are inside are downright adorable when they're outside.
Good strawberries, the kind that are actually red inside and not a million dollars a pound, are even showing up in the grocery store. Hooray! Time to celebrate with an impressive-looking-but-super-easy gluten free fruit pizza.

Tips for making a beautiful fruit pizza that slices cleanly
The cookie crust of this fruit pizza does bake quickly, but be careful not to underbake it. If the "pizza" crust is under-baked, it will be flimsy and may crack as you handle it. For the cleanest slice, chill the filled and decorated pizza before serving and serve it chilled.
To avoid even a slightly fallen strawberry or crushed blueberry completely, focus on each slice individually. Simply bake and fill the crust, then decorate each slice with fruit after slicing the whole pizza with the bare filling alone.
Finally, don't go overboard on the fruit decorations. If you crowd the filling with too much fruit, slicing becomes much more difficult and the effect is ruined. Plus, you'll want to decorate with slicing in mind, leaving room for your pizza wheel to do its work.
Ingredients and substitutions
Dairy: It is certainly possible to make the cookie "pizza" crust in this recipe without dairy by replacing the butter. My favorite nondairy butter replacement is Melt or Miyoko's Kitchen brand vegan butter.
The filling contains quite a bit of dairy that is harder to replace: cream cheese and heavy whipping cream. You may be able to replace the heavy whipping cream with coconut cream, but I haven't tried a dairy-free alternative cream cheese that tastes authentic to me.
I'd be more inclined to try one of the newer dairy-free frozen alternative whipped toppings like So Delicious brand and others make as a filling. It will need to be kept very cold, though, for serving.
Egg: Since there's only one egg in the crust recipe, one "chia egg" (1 tablespoon ground white chia seeds + 1 tablespoon lukewarm water, mixed and allowed to gel) should work well in its place.
Corn: If you're avoiding corn, just make sure that your confectioners' sugar is corn-free. Cornstarch is often added to help prevent clumping.
Gluten Free Fruit Pizza
Yield:
1 11-inch fruit pizza
Ingredients
For the cookie crust
1 3/4 cups (245 g) all purpose gluten free flour (I used Better Batter)
3/4 teaspoon xanthan gum (omit if your blend already contains it)
1/2 teaspoon baking powder
1/2 teaspoon kosher salt
1/2 cup (100 g) granulated sugar
1/2 cup (58 g) confectioners' sugar
7 tablespoons (98 g) unsalted butter, at room temperature
1 egg (60 g, weighed out of shell) at room temperature, beaten
2 teaspoons pure vanilla extract
Lukewarm water by the half-teaspoonful, as necessary
Whipped Cream Cheese Filling
1 cup (8 fluid ounces) heavy whipping cream, chilled
1/2 cup (58 g) confectioners' sugar
8 ounces cream cheese, at room temperature
1 teaspoon pure vanilla extract
1/8 teaspoon kosher salt
For the Fruit Topping
8 ounces fresh strawberries, hulled and sliced about 1/4-inch thick
2 fresh kiwis, peeled and sliced about 1/4-inch thick
4 ounces fresh blueberries
Instructions
Preheat your oven to 350°F. Line a 12-inch pizza pan (or large baking sheet) with unbleached parchment paper and set it aside.

First, make the cookie dough. In a large bowl, place the flour, xanthan gum, baking powder, salt, granulated sugar and confectioners' sugar, and whisk to combine well. Create a well in the center of the dry ingredients and add the butter, egg and vanilla, mixing to combine after each addition. The dough should come together and be thick but not stiff. If it is stiff, add water by the quarter teaspoonful, mixing to combine after each addition, until the dough reaches the proper consistency.

Shape and bake the crust. Place the cookie dough between two sheets of unbleached parchment paper and roll it out into a round about 3/8-inch thick and about 11-inches in diameter. If your pizza pan is smaller, trim the circle to fit the pan. Place the shaped dough on the prepared pizza pan or baking sheet, and place it in the refrigerator for 30 minutes or the freezer for less than 10 minutes to chill until firm. Remove the top sheet of parchment paper and place the pan in the center of the preheated oven. Bake for 8 to 10 minutes, or until the crust is very lightly golden brown on the underside and set all the way to the center. Remove from the oven and allow the crust to cool completely on the pan. The cookie crust can be made days (or even weeks) ahead of time, cooled, and then wrapped tightly and frozen. Defrost at room temperature and continue with the recipe.

Make the filling. Transfer 2 tablespoons of the cream to a small bowl and set it aside. In the bowl of a stand mixer fitted with the whisk attachment or a large bowl with a handheld mixer, place the remaining cream and beat on medium-high speed until soft peaks form. Add the confectioners' sugar, and continue to beat until stiff, glossy peaks form. Transfer the whipped cream to a separate, large bowl and place in the refrigerator to chill. In the same bowl, place the cream cheese, vanilla, salt and reserved 2 tablespoons cream. With the whisk attachment, whip the cream cheese mixture on medium-high speed until light and fluffy. Remove the whipped cream from the refrigerator and add half of the whipped cream mixture to the cream cheese mixture, and whisk to combine. Add the remaining whipped cream, and fold it into the filling carefully until combined.

Assemble the pizza. Place the filling on top of the cooled cookie crust, and spread into an even layer. Decorate the top with the fruit in whatever pattern you like. Slice and serve immediately, or, for a cleaner slice, place the assembled fruit pizza in the refrigerator for about an hour to allow the filling to set.