In these final stages of prep of my next cookbook, Gluten Free Classic Snacks (it's going to print in just 10 days!!), I've been doing what I always do before a book launch: baking my way through it, of course! It calms my nerves (the recipes really do work perfectly!) and allows me to tweak the recipes a teeny tiny bit here and there (shouldn't the Little Debbie-style Cosmic Brownies have, like, 1/8 teaspoon more salt, to bring out the rich chocolate flavor?). It's a good thing that, at this late date, it's mostly out of my hands since I'm probably about 2 tweaks away from total insanity—and my publisher would kill me if I made any changes now. But I'm still baking from the book here and there, as I can't seem to help myself when I go through the proofs and ooooh and ahhhhh over all the gorgeous photos of every imaginable packaged snack under the sun. This book has got to be The Best Thing that ever happened to my children. They're in snack heaven! As you know, Chapter 4 of the book is crackers and other savory, crunchy snacks. When I found myself staring at a nice, big batch of Gluten Free Keebler Town House-Style crackers (page 175),* I knew the time had finally come to make gluten free chicken fried chicken. Tender, moist and buttery, and honestly so ridiculously easy (and not even messy!), this is the chicken your family wants this weekend.
*Just so we're 100% clear, Keebler does not make gluten free crackers of any kind! I do—and so will you when you get your copy of Gluten Free Classic Snacks!
Shallow-frying isn't the healthiest thing in the world to do (actually, deep frying is more healthful, since the food absorbs less oil), but it's just so easy and not nearly as much of an undertaking as a deep fry (not that I don't adore a good deep fry).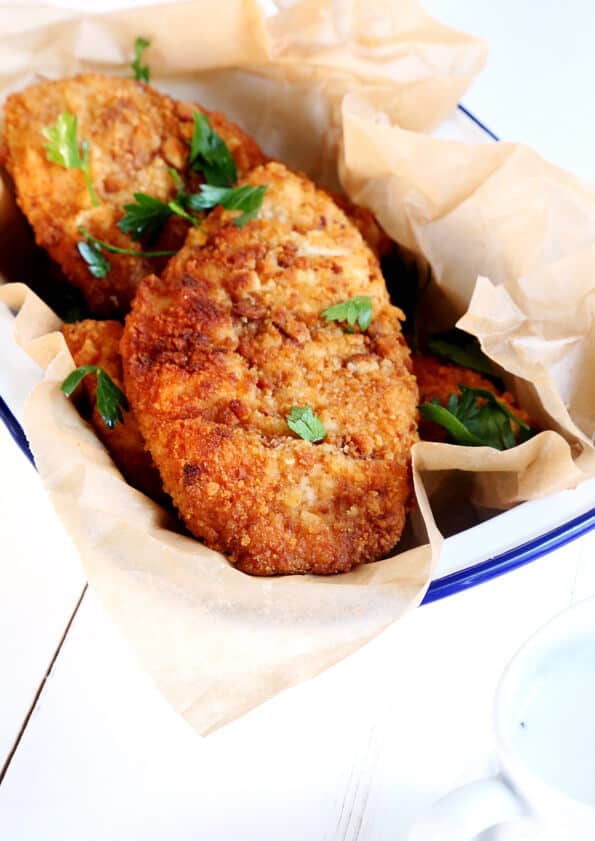 I've got all sorts of tips and tricks for how to keep the gorgeous cracker coating firmly in place on your chicken breasts. You want that nice, thick crust, don't you??
The step by steps are mostly for show here. It's just easy peasy. They're also a way to show off those homemade Keebler Town House style crackers, too. Keebler elves are so right.** They are uncommonly good! **(remember—you make them, not Keebler, when you get your copy of Gluten Free Classic Snacks!)
Slice through that crispy, crunchy, buttery crust to find the most tender white chicken breast you've ever tasted. The cream gravy is a nice, authentic touch of southern cuisine, but really? You don't need it. You can see for yourself that it's perfect—just the way it is. Like you! ;)