In these final stages of prep of my next cookbook, Gluten Free Classic Snacks (it's going to print in just 10 days!!), I've been doing what I always do before a book launch: baking my way through it, of course! It calms my nerves (the recipes really do work perfectly!) and allows me to tweak the recipes a teeny tiny bit here and there (shouldn't the Little Debbie-style Cosmic Brownies have, like, 1/8 teaspoon more salt, to bring out the rich chocolate flavor?). It's a good thing that, at this late date, it's mostly out of my hands since I'm probably about 2 tweaks away from total insanity—and my publisher would kill me if I made any changes now. But I'm still baking from the book here and there, as I can't seem to help myself when I go through the proofs and ooooh and ahhhhh over all the gorgeous photos of every imaginable packaged snack under the sun. This book has got to be The Best Thing that ever happened to my children. They're in snack heaven! As you know, Chapter 4 of the book is crackers and other savory, crunchy snacks. When I found myself staring at a nice, big batch of Gluten Free Keebler Town House-Style crackers (page 175),* I knew the time had finally come to make gluten free chicken fried chicken. Tender, moist and buttery, and honestly so ridiculously easy (and not even messy!), this is the chicken your family wants this weekend.
*Just so we're 100% clear, Keebler does not make gluten free crackers of any kind! I do—and so will you when you get your copy of Gluten Free Classic Snacks!
Shallow-frying isn't the healthiest thing in the world to do (actually, deep frying is more healthful, since the food absorbs less oil), but it's just so easy and not nearly as much of an undertaking as a deep fry (not that I don't adore a good deep fry).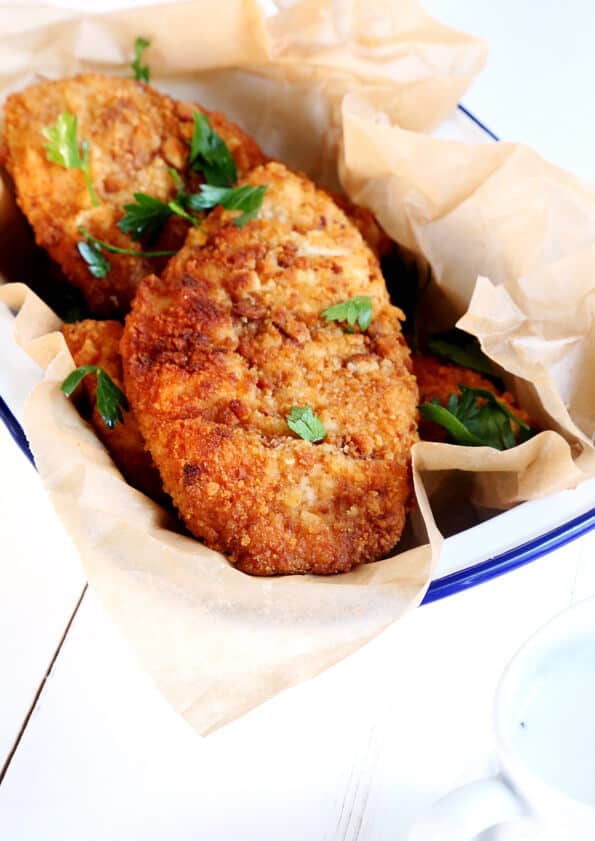 I've got all sorts of tips and tricks for how to keep the gorgeous cracker coating firmly in place on your chicken breasts. You want that nice, thick crust, don't you??
The step by steps are mostly for show here. It's just easy peasy. They're also a way to show off those homemade Keebler Town House style crackers, too. Keebler elves are so right.** They are uncommonly good! **(remember—you make them, not Keebler, when you get your copy of Gluten Free Classic Snacks!)
Slice through that crispy, crunchy, buttery crust to find the most tender white chicken breast you've ever tasted. The cream gravy is a nice, authentic touch of southern cuisine, but really? You don't need it. You can see for yourself that it's perfect—just the way it is. Like you! ;)
Gluten Free Chicken Fried Chicken
Ingredients
For the chicken
1 1/2 pounds skinless, boneless chicken breasts (about 5 thinly-cut breasts)
1/4 cup (36 g) superfine gluten free sweet rice flour or rice flour (or basic gum-free blend)
2 eggs (160 g, weighed out of shell) at room temperature, beaten
2 tablespoons milk (any kind), at room temperature
1 teaspoon garlic powder
1/2 teaspoon mustard powder
1/2 teaspoon kosher salt
1/4 teaspoon freshly ground black pepper
3 to 4 cups gluten free crackers (I used the recipe for Gluten Free Keebler Town House-Style crackers from Gluten Free Classic Snacks; the Parmesan snack crackers from the blog would work great, too)
Oil for frying (I used a combination of canola oil and nonhydrogenated vegetable shortening)
For the cream gravy
1 1/2 tablespoons (21 g) pan oil (or rendered bacon fat or other flavorful fat)
2 1/2 tablespoons (21 g) basic gluten free gum-free flour blend (14 g superfine white rice flour + 5 g potato starch + 2 g tapioca starch/flour) or superfine gluten free sweet rice flour
1/2 teaspoon kosher salt, plus more to taste
1/4 teaspoon freshly ground black pepper, plus more to taste
1/4 teaspoon mustard powder, plus more to taste
1 cup (8 fluid ounces) milk (any kind), plus more by the tablespoonful
Instructions
Prep the chicken. Place the chicken breasts in a large, zip-top bag, add the sweet rice flour and close the top securely. Shake the bag to coat all sides of every chicken breast in the flour. Set the bag aside. Preheat your oven to 350°F and line a large rimmed baking sheet with parchment paper. Set the baking sheet aside.

Coat the chicken. In a medium-size shallow bowl or pan, place the eggs, milk, garlic powder, mustard powder, salt and pepper, and beat to combine well. Into a separate, medium-size bowl or pan, crush the crackers with your hands so that there are only a few slightly larger pieces. Set up a dipping station by placing the chicken breasts, then the egg mixture, and finally the crushed crackers, all right next to one another. Place a large piece of bleached parchment paper on top of a cutting board or other flat surface next to the crushed crackers. Open the plastic zip-top bag and, using a fork, remove one piece of flour-coated chicken and dip it in the egg mixture on both sides. Remove the chicken from the egg mixture with the fork, and allow any excess to drip off before placing it in on top of the crushed crackers. Using a separate fork, press the chicken down firmly into the crackers so that the crumbs adhere to the chicken on all sides. Remove the chicken from the crackers with the fork, and place on the parchment paper. Repeat with the remaining pieces of chicken. Allow the chicken to sit for at least 10 minutes so the coating begins to form a thicker paste on the breasts.

Fry the chicken. Place about 1/2-inch of oil in a large, heavy-bottom skillet over medium heat until the oil shimmers. The oil is ready when a large cracker crumb placed in it bubbles up gently and browns slowly and evenly. If the cracker burns, the oil is too hot. If it doesn't bubble, it's too cold. Once the oil has reached the proper temperature (about 350°F, but it is difficult to determine the temperature of oil that is that shallow), place as many pieces of chicken as can fit in the skillet without crowding at all (in a 12-inch skillet, I fit 3 pieces). Fry for 4 minutes completely undisturbed before carefully flipping the breasts over. Fry for another 4 minutes or until evenly golden brown all over. Remove the chicken to a paper towel-lined plate, and repeat with the remaining chicken. Transfer the pieces of chicken to the prepared baking sheet, at least 1-inch apart from one another.

Finish the chicken in the oven. Place the chicken in the oven and bake for about 10 minutes, or until the chicken is opaque throughout.

Make the cream gravy. While the chicken is finishing in the oven, place the oil or bacon fat in a medium-size, heavy-bottom saucepan over medium-low heat. Add the flour, salt, pepper and mustard powder, and whisk to combine. The mixture will clump. Continue to whisk until well-combined. Add the milk in a slow trickle, whisking constantly and working out any lumps that form. Continue to cook, stirring occasionally, until the mixture thickens (about 6 minutes). Remove from the heat and add more seasoning to taste. Add more milk by the tablespoon if necessary to thin the gravy to your preferred consistency. Serve the chicken with the cream gravy immediately.

Adapted from allrecipes.com.