Every box of holiday cookies needs a star. These gluten free snowman sugar cookies are the flashy cookies to put at the top of the box. And no one has to know just how easy they are to make!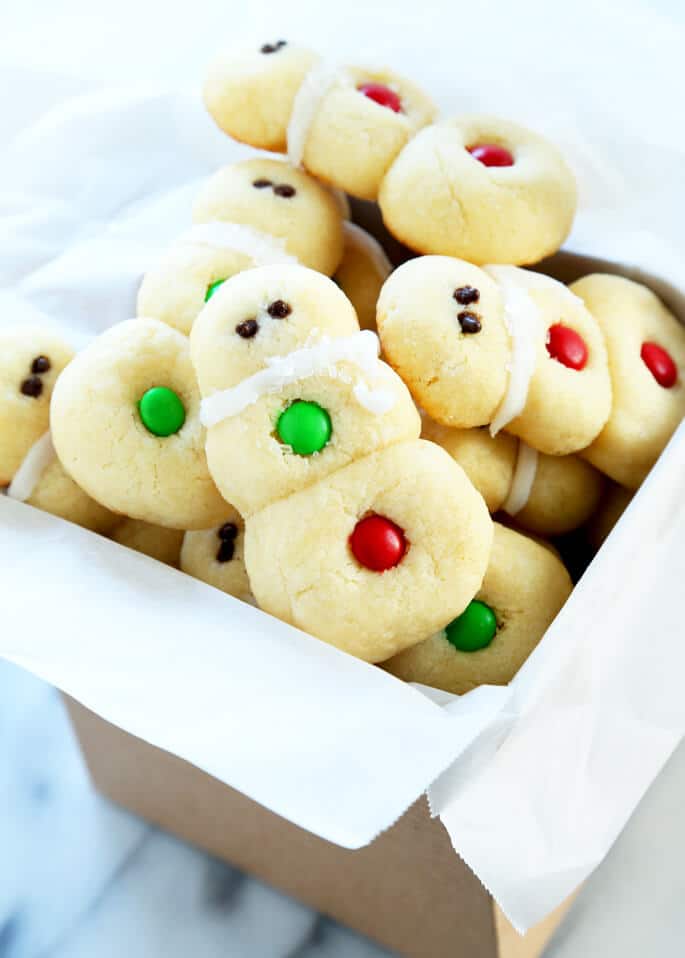 Every year for the holidays, I bake dozen and dozens (and dozens!) of cookies for the hard-working, talented creative people on my husband's team at the advertising agency where he's a creative director. They don't ask for it, of course, and honestly I'm sure it means more to some than to others (I know who my best customers are!).
But I do it year after year because, although he gives each of them a gift card too, hope springs eternal that a handmade gift (by someone who takes cleanliness very, very seriously I promise!) just conveys warmth better than anything else. Especially around the holidays.
Every box of cookies (and every holiday cookie plate) has to have at least one obvious star ?. A diva. This year, it's these adorable gluten free snowman sugar cookies. Luckily, they're super easy to make because I really did mean I'm making many, many dozens of cookies (15 boxes of 'em)!
I like to use chocolate sprinkles for the eyes, but miniature chocolate chips make perfectly fine peepers, too. I tried and tried to find a suitable (edible) snowman hat, but the more creative I got about it, the further we got from being able to call these cookies "easy." And easy is where it's at this time of year!
It did take me more than a couple minute to liberate the red and green miniature M&Ms from the pack of blues, oranges and browns. But if I were you, I'd either pay a small child a generous wage of brown mini M&Ms to find the proper colors for you—or simply decide you're agnostic about the colors altogether.
You can also go a little crazy and tint the simple sugar glaze red or green for the scarves, but I felt better able to whistle while I worked and keep that holiday spirit alive … when I decided not to mess with food coloring. I really can't wait to perch a few of these sweet little snowmen on top of everyone's box of holiday cookies. A little love from the oven never hurt anyone, right?
Easy Gluten Free Snowman Sugar Cookies
Ingredients
For the cookie dough
3 1/2 cups (490 g) all purpose gluten free flour (I used Better Batter)
1 1/2 teaspoons xanthan gum (omit if your blend already contains it)
1 1/2 teaspoons baking powder
3/4 teaspoon kosher salt
1 cup (115 g) confectioners' sugar
1 cup (200 g) granulated sugar
10 tablespoons (140 g) unsalted butter, at room temperature
10 tablespoons (120 g) vegetable shortening (I use Spectrum nonhydrogenated vegetable shortening), melted and cooled
2 eggs (100 g, weighed out of shell)
1 tablespoon pure vanilla extract
For decorating
Chocolate sprinkles (Cake Mate & Betty Crocker brand nonpareils are gluten free in the U.S.)
Red and green Miniature M&Ms (gluten free in the U.S.)
Glaze for scarves
1 cup (115 g) confectioners' sugar
1 1/2 teaspoons milk (any kind), plus more by the 1/4 teaspoonful if necessary
Instructions
Preheat your oven to 325°F. Line rimmed baking sheets with unbleached parchment paper and set aside.


Make the cookie dough. In a large bowl, place the flour, xanthan gum, baking powder, salt, confectioners' sugar and granulated sugar, and whisk to combine well. Create a well in the center of the dry ingredients and add the butter, shortening, eggs and vanilla, mixing to combine after each addition. The dough should come together and will be soft.

Shape the snowmen. Divide the dough into approximately 48 pieces, each weighing a bit less than 1 ounce. Divide each piece of dough in half, and roll one half into a ball. Divide the other half of dough into two more pieces, one about 2/3 and one about 1/3 of the remaining dough, and roll each into a ball. Place the balls of dough, touching one another, in a stack on the prepared baking sheet. Press down flat on the balls of dough slightly to force them closer together. Repeat with the remaining cookie dough, placing the stacks about 1 1/2-inches apart from one another. Poke the ends of two chocolate sprinkles in the smallest ball in each stack and press into the dough, for eyes. Place the baking sheets in the freezer for a few minutes until the cookie dough is firm.

Bake the snowmen and decorate. Place the shaped and chilled cookies in the center of the preheated oven, one baking sheet at a time, and bake until the dough is set and the cookies are very lightly brown around the edges (about 12 minutes). Remove from the oven and, working quickly, press one miniature M&M in the center of the middle of the snowman and one in the center of the bottom, as buttons. Allow the cookies to cool completely on the baking sheets.

Make the glaze and finish the cookies. In a small bowl, place the confectioners' sugar, and 1 1/2 teaspoons of milk. Mix well, until a thick paste forms. Add more milk by the 1/4-teaspoon, mixing to combine well, until the glaze falls off the spoon very, very slowly. It should be opaque white in color. Place the glaze in a piping bag fitted with a petal tip or small open piping tip. Pipe a scarf between the top and middle balls of the cooled snowman cookies. Allow to sit until the glaze has set.

Concept from Taste of Home. Cookies adapted from my Drop Sugar Cookies.