These coconut flour brownies are made with coconut sugar, unsweetened chocolate and plenty of cocoa powder for a rich, fudgy brownie—without too many eggs. They'll never guess it's actually healthy!
This post contains one affiliate link to a product, and it's clearly indicated in the text.
Baking with coconut flour
If you've been reading this blog for a little while, you know that I've embraced the "substitution question" that can be the bane of a food blogger's existence. Just scroll down to the bottom of this email and you'll find a laundry list of information about how you can change this recipe to suit your needs and tastes.
But if you're hoping to replace the coconut flour in these coconut flour brownies with quite literally anything else at all in the universe, you're going to end up very unhappy! Baking with coconut flour is a tricky business since coconut flour is a tricky flour.
Coconut flour is made from the meat of a coconut that has been defatted and dried before being ground. It's super high in fiber and low in carbohydrates. I don't know of any other gluten free flour at all that has those qualities.
For those reasons, it's often necessary to pair coconut flour with a starch like tapioca flour, which is still Paleo-legal. That at least means that the Paleo police won't come after me for my light and fluffy coconut flour pancakes.
In baking, coconut flour absorbs a ton of moisture, which means it has a tendency to make baked goods dry and unappetizing. The batter tends to thicken as it stands and gets mixed, too, which means that the photo above is of the raw brownies, but almost looks like it's already been baked.
The "usual" way of handling all the fiber of coconut flour is to add tons of eggs to the batter or dough, since eggs add moisture. But that also means that those baked goods have a tendency to taste "eggy", like an omelet. And only an omelet should taste like, well, like an omelet.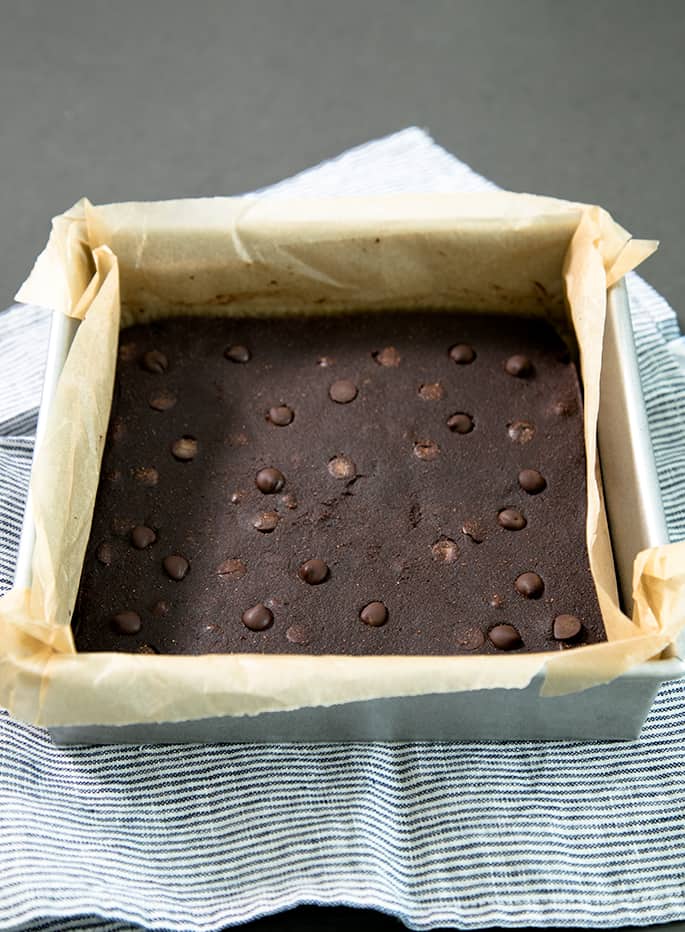 I've been baking a lot with applesauce recently both because of some new vegan recipes and also because of some Weight Watchers-friendly recipes. Applesauce is a great way to deliver moisture to recipes and, in some measure, can stand in for fat in a recipe as well as for eggs a bit.
I've found that applesauce can be a great way to reduce the tendency to add too many eggs to coconut flour recipes. That means that this recipe has less fat than other brownie recipes, like my almond flour brownies recipe.
It also means that it has fewer eggs, making the brownies super fudgy and rich. I tried using an extra egg in the recipe, especially when baking these with a sugar substitute, but the texture was cakey. There's nothing wrong with a cakey brownie, but that just wasn't the goal here.
Remind me to try replacing some of the egg in my Paleo blueberry muffins recipe with applesauce. I think that improve the texture and make them less souffle-like…
Watch this short how-to make coconut flour brownies video
Push play ▶ below and watch me make these brownies. Then, make your own!
Pay special attention to the texture of the batter (which really looks more like dough) if you're making any substitutions as described in the "ingredients and substitutions" section below.
Ingredients and substitutions
Coconut flour: You absolutely cannot replace the coconut flour with any other flour at all. Coconut flour is a tricky, unique flour. Nothing behaves like it, and it behaves like nothing else.
If you can't have coconut flour, try my almond flour brownies and just omit the 1 tablespoon of coconut flour. The brownies will be a bit more fragile, but they'll still taste great.
Virgin coconut oil: You can replace the coconut oil with an equal amount, by weight, of nonhydrogenated vegetable shortening or Melt brand VeganButter replacement. If you can have dairy, try using unsalted butter!
Coconut sugar: You can replace the coconut sugar with another granulated sugar, like light brown sugar (which of course is a refined sugar and not Paleo). I'm afraid you can't replace it with a liquid sweetener, like honey or maple syrup, though.
I did test the recipe with Lankato Monkfruit Sweetener (Classic White) (that's an affiliate link, but please feel free to shop around), which is a granulated blend of erythritol and monkfruit. It's a zero calorie sweetener, so it's a great way to make this recipe much lower carb.
The recipe did work quite well with the Lankato, but I had to add 2 more tablespoons (36 g) unsweetened applesauce to the batter. In my experience, these granulated sugar substitutes have a drying effect.
Eggs: A coconut flour recipe will always call for eggs (unless it's vegan—but that's hard to imagine) as coconut flour absorbs a ton of moisture and eggs help to keep baked goods moist and prevent the batter from becoming too stiff.
There are 3 eggs in this recipe, which is too many to be replaced by a "chia egg" or even a boiled flax egg here. Coconut flour is not an easy bedfellow, I'm afraid! I avoided using even more eggs by including unsweetened applesauce in the recipe, which also added some sweetness so we could keep the sugar relatively low.
Applesauce: The applesauce adds moisture, sweetness and some structure. It's really there primarily to add moisture without adding more eggs, which tends to make a spongy, "eggy" brownie (ew). If you were to replace it with mashed bananas, the brownies would taste … like bananas. I'm afraid I can't think of any proper substitute!
Xanthan gum: You can leave the xanthan gum out of the recipe if you prefer. It helps create the perfect dense, fudgy texture, and helps these brownies stay fresh longer.
Cocoa powder/chocolate: These are brownies! You need both the cocoa powder and the unsweetened chocolate in this recipe or it will have absolutely no richness. No substitutes allowed—except that you can use semi-sweet chocolate if you don't care about the extra (refined) sugar.
You don't have to use Dutch-processed cocoa powder. If you use natural cocoa powder, though, add 1/4 teaspoon baking soda to the recipe.
Chocolate chips: You can leave out the chips, add a few more (not too many!) or substitute in another sort of chip or chopped nut.
Fudgy Coconut Flour Brownies
Ingredients
3 tablespoons (42 g) virgin coconut oil
2 ounces unsweetened chocolate, chopped
3 eggs (150 g, weighed out of shell) at room temperature
1/2 cup (126 g) smooth unsweetened applesauce
1 teaspoon pure vanilla extract
1/2 cup (64 g) coconut flour
1/2 cup (40 g) unsweetened Dutch-processed cocoa powder
1/2 cup (115 g) coconut palm sugar
1/2 teaspoon xanthan gum
1/2 teaspoon kosher salt
3 tablespoons (45 g) dark chocolate dairy-free chips (optional)
Instructions
Preheat your oven to 350°F. Line an 8-inch square baking dish with unbleached parchment paper and set it aside.

In a small, heat-safe bowl, place the coconut oil and unsweetened chocolate. Melt in the microwave in 30-second bursts, mixing in between until smooth, or over a double boiler. Set aside to cool briefly. In a large mixing bowl, place the eggs, applesauce, and vanilla, and beat with a handheld mixer until well-combined. Add the melted oil and chocolate mixture, and beat again until well-combined. Add the coconut flour, cocoa powder, sugar and salt, and mix to combine. The batter will be thick. Add 2 tablespoons of the optional chocolate chips and mix until evenly distributed throughout.

Transfer the batter to the prepared baking dish and, using a small offset spatula or another spreader, smooth the batter into a single, even layer. Scatter the remaining 1 tablespoon of chocolate chips evenly over the top and press gently to help them adhere to the batter.

Place in the center of the preheated oven and bake until mostly firm to the touch, about 20 minutes. The brownies will rise in the oven and then fall as they cool. Do not overbake. Remove from the oven and allow to cool in the pan for 10 minutes before lifting the brownies by the parchment paper and transferring to a wire rack to cool completely. Once cool, slice into 9 or 12 squares with a large, sharp knife.