Super fudgy Paleo brownies, made with plenty of chopped chocolate, almond flour and a touch of coconut flour. They'll be your new favorite—whether you're Paleo or not!
Yes, there is sugar in these brownies, so they're not exactly "health" food. But coconut sugar does have some nutrients, and the recipe calls for significantly less sugar than most brownie recipes. They're still dense and fudgy and super satisfying, which means you're likely to eat less. Believe it or not, I have no problem enjoying these gorgeous brownies in moderation.
I still bake mostly non-Paleo gluten free, with all purpose gluten free flours as the cornerstone of most of my recipes. But these brownies are so good, that unless I'm baking for someone with a nut allergy, these Paleo brownies are my go-to fudgy brownie recipe.
So what's the catch? You really do need to make the batter in a blender or food processor. I have made this recipe by hand, in a bowl with a spoon, and even in the stand mixer, and the batter is a bit grainy. Only a blender or food processor makes the smoothest dough. And the smoothest dough makes for the most gorgeous brownies.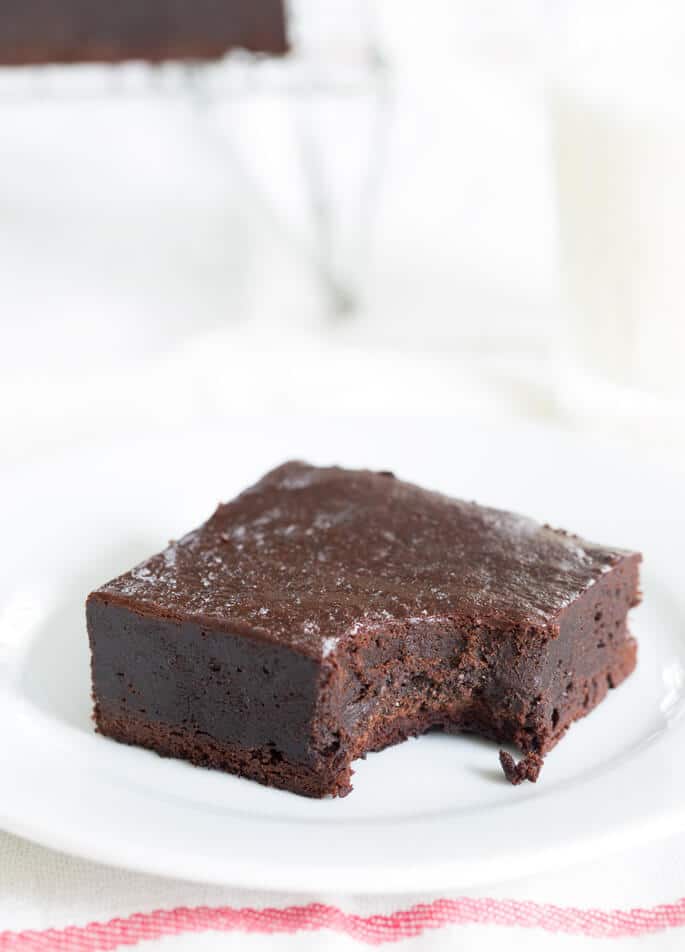 But look at the rewards! Be careful about a too-hot oven, though. Almond flour tends to burn at higher temps, and you want these to stay fudgy. And I know it's only a tablespoon of coconut flour, but it's worth buying some to use in this recipe. I've also made the recipe without it, and they just don't have the same texture. You don't need to buy a ton of coconut flour – I keep it in the refrigerator and it takes me forever to make it through a 1 1/2 pound bag.
Super Fudgy Paleo Brownies
Ingredients
5 ounces dark chocolate, chopped (I like to use a mix of unsweetened chocolate and dark chocolate, for a richer, less sweet brownie)
6 tablespoons (84 g) virgin coconut oil
1/4 cup (84 g) honey
3 eggs (150 g, weighed out of shell) at room temperature
3/4 cup (120 g) coconut sugar
1/2 cup (56 g) blanched almond flour
1 tablespoon (8 g) coconut flour
3/4 cup (60 g) unsweetened cocoa powder (either natural or Dutch-processed)
1/8 teaspoon baking soda (omit if using Dutch-processed cocoa powder)
1/4 teaspoon kosher salt
Instructions
Preheat your oven to 325°F. Grease an 8-inch square baking pan, and then line it with overhung sheets of crisscrossed unbleached parchment paper. Set the pan aside.

Place the chocolate and coconut oil in a small, heat-safe bowl and then place the bowl over a small pan of simmering (not boiling) water, taking care that the bowl doesn't touch the simmering water. Melt the chocolate and shortening, stirring occasionally, until smooth. Remove the bowl from the heat, and allow to cool briefly. Alternatively, the oil and chocolate can be melted in the microwave in 30-second bursts, stirring in between until melted and smooth.

Once the chocolate mixture is no longer hot to the touch, pour it into the bottom of a blender or food processor, and add all of the remaining ingredients, in the order listed. Blend or process until smooth. You may have to scrape down the sides of the machine a few times.

Scrape the brownie batter into the prepared pan, and smooth into an even layer with a wet spatula. Smack the bottom of the pan squarely on the counter a couple times to break any air bubbles trapped inside. Place in the center of the preheated oven and bake for 25 minutes, or until set in the center and firm to the touch. A toothpick may not come out clean. Remove from the oven and allow to cool in the pan for 20 minutes before removing it by holding onto the overhung pieces of parchment paper. Slice into squares and serve. For the cleanest slices, chill the brownies before slicing.

Originally published on the blog in January 2014. Method and ingredients updated slightly, most photos new.