Super fudgy Paleo brownies, made with plenty of chopped chocolate, almond flour and a touch of coconut flour. They'll be your new favorite—whether you're Paleo or not!
Yes, there is sugar in these brownies, so they're not exactly "health" food. But coconut sugar does have some nutrients, and the recipe calls for significantly less sugar than most brownie recipes. They're still dense and fudgy and super satisfying, which means you're likely to eat less. Believe it or not, I have no problem enjoying these gorgeous brownies in moderation.
I still bake mostly non-Paleo gluten free, with all purpose gluten free flours as the cornerstone of most of my recipes. But these brownies are so good, that unless I'm baking for someone with a nut allergy, these Paleo brownies are my go-to fudgy brownie recipe.
So what's the catch? You really do need to make the batter in a blender or food processor. I have made this recipe by hand, in a bowl with a spoon, and even in the stand mixer, and the batter is a bit grainy. Only a blender or food processor makes the smoothest dough. And the smoothest dough makes for the most gorgeous brownies.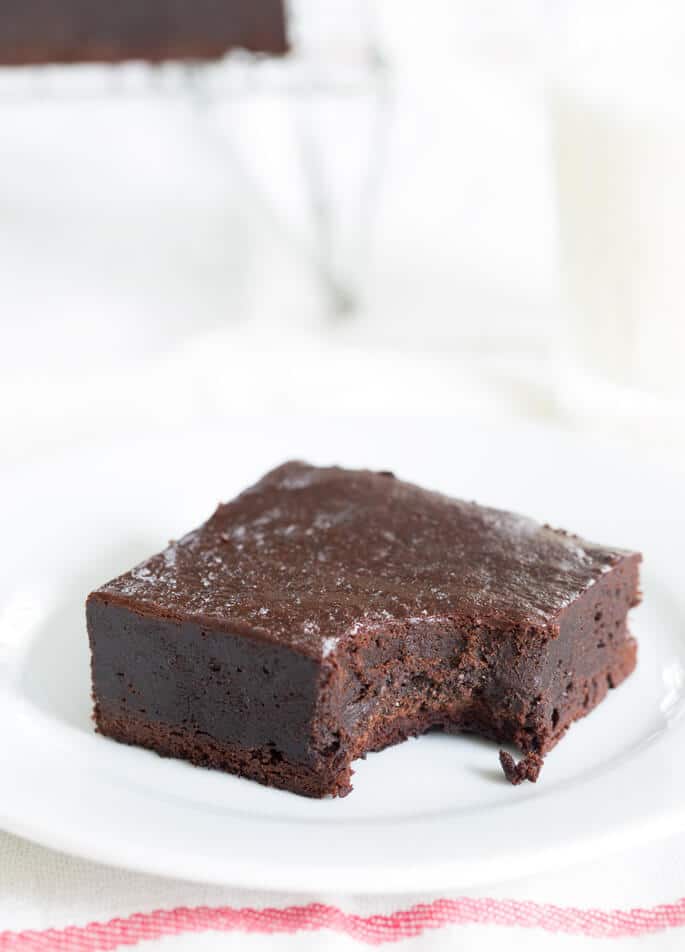 But look at the rewards! Be careful about a too-hot oven, though. Almond flour tends to burn at higher temps, and you want these to stay fudgy. And I know it's only a tablespoon of coconut flour, but it's worth buying some to use in this recipe. I've also made the recipe without it, and they just don't have the same texture. You don't need to buy a ton of coconut flour – I keep it in the refrigerator and it takes me forever to make it through a 1 1/2 pound bag.