These gluten free soft taco tortillas are thinner and more flexible, but still have the flavor and aroma of corn tortillas. The best of both worlds!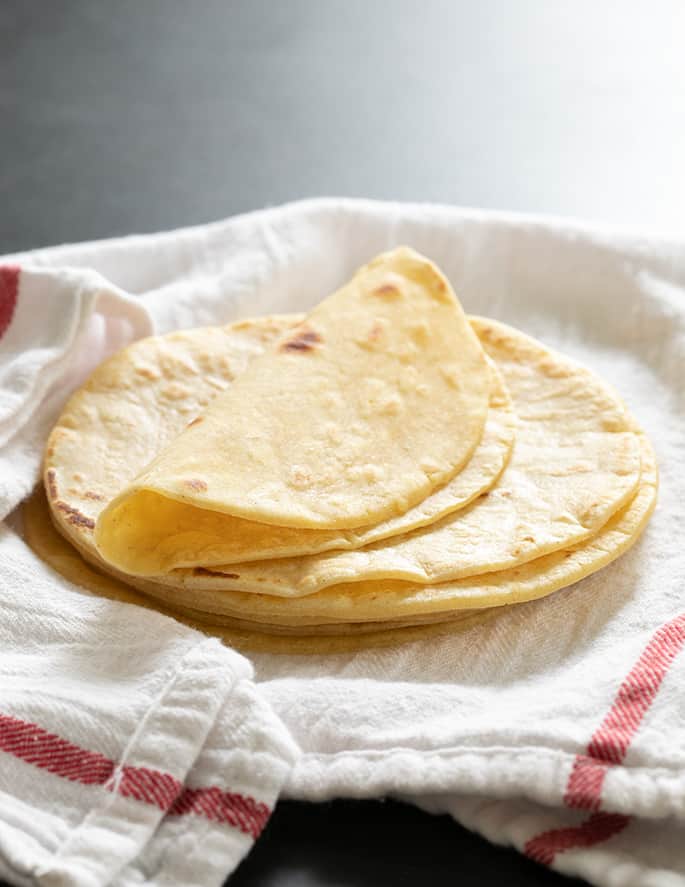 These gluten free soft tacos are a combination of our gluten free flour tortillas and authentic corn tortillas. Rather than using only all-purpose gluten-free flour, we use a combination of that flour and masa harina corn flour.
What makes these gluten free soft taco tortillas special
I like the weight, chewiness and even the authentic aroma of masa harina, a precooked cornmeal. Adding all purpose gluten free flour makes the dough a bit easier to handle. Instead of oil, I used nonhydrogenated vegetable shortening because I like how smooth it makes the dough.
These make a super quick dinner. Fill them with a variety of chopped grilled vegetables, or with leftover grilled chicken or ground beef you brown quickly on the stovetop. There's lot of potential here.
What's your favorite way to eat a soft taco? My favorite way is black bean and corn salsa with tomatoes and freshly grated cheese, in a warm taco right out of the pan.
Ingredients and substitutions
Masa harina corn flour: In place of masa harina corn flour, a precooked cornmeal which is discussed fully in our recipe for pupusas, I have made this recipe successfully using corn flour. In the U.S., corn flour is finely ground cornmeal, and an ingredient we explore fully in our recipe for gluten free cornbread.
Instead of purchasing corn flour as fully ground, you can simply take any coarsely ground cornmeal that you have on hand, and grind it further. I grind a bunch in my personal blender or miniature food processor, and store it as "double ground cornmeal" in my pantry.
Shortening: I use Spectrum brand non-hydrogenated vegetable shortening. It is not Crisco. Instead, it's sustainably sourced and significantly healthier than hydrogenated vegetable shortening.
If you don't have or don't want to use shortening, you can try solid-at-room-temperature virgin coconut oil. If you're concerned about a coconut aroma, see if you can find triple filtered virgin coconut oil, which has absolutely no aroma.