Try this gluten free zucchini pizza, and I promise you'll never turn to another veggie crust. This zucchini crust pizza is foldable like just like real pizza!
Jump to Recipe
This easy recipe for zucchini pizza is made with just 5 ingredients (grated zucchini, 2 cheeses, tapioca starch and an egg), and has the authentic chew that you want in a proper pizza.
Say no to zucchini slices topped with sauce that are nothing like real pizza. This zucchini pizza crust will change the way you look at veggies, pizza, and veggie pizza!
Eat your veggies
In my house, we l-o-v-e cauliflower pizza. And since Trader Joe's now sells frozen cauliflower that has already been riced and blanched, we have no real excuse for not making it often.
I love that it's low carb and delicious, and that even my dyed-in-the-wool, vegetable-hating one adores the taste. But (dare I say it?) this grain free zucchini pizza is, well….
Why this is the best zucchini pizza recipe ever
This zucchini pizza crust is better than cauliflower crust pizza. Like, by a mile. There, I've said it.
Now, it may be that I make this pie differently from the way I make cauliflower pizza, adding some tapioca starch to the mixture.
I'll have to try cauli pizza a different way and let you know. But the taste and the texture of this zucchini pizza has me literally daydreaming about a slice.
Like cauliflower pizza, my zucchini pizza is also relatively low carb, so you can feel a little less guilty about grabbing an extra slice or two. (And if you want a super low carb version, try our low carb zucchini pizza recipe; if you're only looking for a recipe for "regular" pizza, try our gluten free pizza dough.)
When it comes to preparation, it couldn't be an easier: you only need a handful of ingredients, and prep time is about 10 minutes (15 if you could draining the zucchini after you grate it).
Despite being so different than conventional pizza, I promise you, that delicious, classic pizza taste is there. Pizza with a few hidden servings of veggies? Count me in!
Why use zucchini for a pizza crust?
A zucchini pizza base may seem weird, but that's what people surely thought about cauliflower crust pizza, and look how popular that's become!
The truth is, there aren't a lot of veggies that can mimic the taste and texture of zucchini. And when I say taste, what I really mean is hardly no taste. Zucchini has an extremely mild flavor, so it's easy for the pizza sauce, cheese, and other toppings to hide it.
Zucchini also does a wonderful job of contributing to this pizza crust recipe's light, chewy texture. And it's naturally gluten free to boot! If you want to try a veggie pizza crust recipe, this one is definitely the winner.
What about zucchini pizza bites?
What about them, I say! I'm sure you've seen them, disks of sliced zucchini, topped with sauce and cheese, and then baked until they look… just like slices of zucchini with sauce and cheese!
Look, I love zucchini, so I don't have anything against it. But zucchini slices topped like pizza bites are nothing like pizza, and they are a sad alternative if you're hankering for a slice.
Seriously, if you're craving pizza and find yourself desperate enough to try zucchini pizza bites (or zucchini pizza boats, or any other variation that doesn't involve an actual crust), I implore you to pull out the box grater, grab the tapioca starch and a couple of eggs, measure out some cheese, and do so much better.
Tips for making the best zucchini pizza crust
Weigh your zucchini after, not before
Since the moisture in fresh zucchini varies so much from one vegetable to another, ignore the pre-grated weight of your zucchini and just squeeze out all the moisture and weigh the zucchini after you've squeezed it dry. You can measure by volume, but weight measurements are so much more reliable and the only way to be sure you're on target.
Save some zucchini for later
Hate grating and squeezing dry zucchini? Do a ton of it at once, and then pile the dry, shredded zucchini into individual freezer-safe zip top bags and freeze flat. Defrost at room temperature, squeeze out any remaining moisture, and proceed with the zucchini pizza crust recipe—or use it to make gf zucchini bread or gf zucchini cake.
Use freshly-grated cheeses
Pre-shredded and grated cheeses, especially grated semi-hard cheeses like mozzarella, are sold with added starches and other anti-caking agents in the bag or container. These additives prevent the shreds from clumping together. In this recipe, it's best to avoid using pre-shredded and grated cheese if possible, since it calls for the right amount of tapioca starch when using freshly grated cheese.
If you do use pre-grated and shredded cheeses, you can modify the recipe to account for the extra dryness by using less tapioca starch (just add it slowly and use your judgment to stop adding starch before the mixture is too dry to hold together as shown in the photos and in the video). You can also add a light drizzle of extra virgin olive oil, mixing constantly, just until the mixture holds together properly.
How to store leftover zucchini crust pizza
If you've got leftover zucchini pizza, you can store it in the fridge for three days or so. It makes the perfect snack or lunch item, and believe it or not, this pizza might even be better cold the next day than it is hot out of the oven. No joke.
If you do want to reheat your zucchini pizza slices, just place them on a pizza stone or baking sheet, and heat in the oven for a few minutes. If you're only reheating a slice or two, use the toaster oven instead.
In a rush? I don't recommend that you use the microwave to reheat, because just as with traditional pizza, you may end up with limp or soggy slices. But if you're in a pinch, go for it. The pizza will still taste amazing.
Gluten free zucchini pizza: substitutions
Dairy free zucchini pizza
I've been working on a way to make my famed soft tapioca wraps without the cheese (really!) But so far, this zucchini pizza recipe cannot be made cheese-less.
There are so many ways to make and buy dairy free cheese these days, though. There's even my new favorite meltable vegan mozzarella. I'm seriously considering trying that in this recipe.
Many of our other gluten free flatbread recipes don't rely upon cheese. If you can't have dairy, one of those might suit you better.
Our recipe for Paleo Pizza makes a Paleo (non-dairy) version of this recipe seem possible. I think perhaps using more tapioca starch for chew, and some almond flour to replace some fat in the cheese might work.
Take another look at that top photo, though. You can fold a slice of this pizza. And it doesn't just sadly fold over on itself. It really folds. Like a real slice. Of pizza! And you'll love the crisp edges and soft, thin crust, too.
Egg free zucchini pizza
In this gluten free zucchini pizza crust recipe, the eggs serve as a way to bind all the ingredients together. They also impart a richer flavor and help with browning.
You can try to substitute "chia eggs" in this recipe, but I haven't tried it myself to say whether it will work. To make a chia egg, you combine 1 tablespoon of ground white chia seeds and 1 tablespoon of warm water, and then let it sit until it gels.
FAQs
Does a zucchini crust pizza taste good?
I think this zucchini crust pizza tastes amazing! But I think what you're really wondering is how does the zucchini taste? And the honest answer is: Not much like anything at all.
Zucchini is an extremely mild vegetable, so it doesn't take much to overpower its taste. That's perfect when it comes to this zucchini pizza crust recipe because what we all really want to taste is the sauce, cheese, and toppings.
Why do I have to squeeze the moisture out of the zucchini to make this zucchini pizza crust?
You absolutely have to squeeze your zucchini dry for this zucchini pizza recipe to work. Believe me, if you skip the straining part, you're going to end up with gooey pizza dough. You'll immediately see that it's not going to hold together well nor keep its shape. That's because there's way too much moisture.
Draining the water from the zucchini creates a pizza with a nice chew and crisp edges. But it also helps to standardize the ratio of zucchini to the other ingredients in this recipe since some fresh zucchini squash has tons and tons of moisture, and some has less. By draining all the moisture, and measuring it as drained at 250 grams, you'll have the right type and amount of zucchini every time.
Can I make a gluten free zucchini pizza crust in advance?
If you want to shave a few minutes off lunch or dinner preparation, you can definitely make a zucchini crust in advance and freeze it for later.
To get started, simply prepare this zucchini pizza crust recipe as written, through the first 15 minutes of baking, without toppings. After pre-baking it, remove it from the oven and allow it to cool completely.
Once the crust is completely cool, wrap it tightly using aluminum foil, and place it flat in the freezer.
When you're ready to make zucchini pizza, don't worry about defrosting the frozen crust. Simply top it with sauce, cheese, and any other toppings, and then pop it into the oven for about 10 minutes at 450°.
Can I use different cheeses for this zucchini pizza crust recipe?
I caution you against using different cheeses for this pizza crust recipe. I've found that Parmigiano-Reggiano (also known as simply Parmesan cheese) and low-moisture mozzarella cheese offer the perfect balance in taste and structure.
Switching out one or both of these cheeses may not give you the same hearty results, especially if you choose a cheese that has a higher moisture content, such as fresh mozzarella.
Keep in mind that the recipe calls for finely grated Parm and low-moisture shredded mozzarella, and assumes that they aren't pre-shredded. If you use pre-shredded cheeses in a bag, your mixture will be drier since those cheeses have anti-caking agents like cornstarch added to them. You can combat the dryness, though, by using a bit less tapioca starch and/or drizzling in a tiny amount of extra virgin olive oil.
Do I have to pre-bake my zucchini pizza dough?
For best results, you must pre-bake your zucchini pizza dough. Baking the dough ensures even cooking before you add your toppings, and gives you a chance to set the base first.
How do I prevent a soggy zucchini pizza?
For starters, don't skip pre-baking the crust. When topping your zucchini pizza, take care not to over-sauce the crust or use excessively wet ingredients.
Why didn't the bottom of my zucchini pizza crust cook?
The bottom of your zucchini pizza crust won't cook if it doesn't get enough heat. This generally happens when you pop your pizza into a cold oven or onto a pizza pan or stone that didn't heat up with the oven.
Why is my zucchini crust pizza gummy?
If you pull your zucchini pizza from the oven and find that it has a gummy texture, it's likely under-cooked. You may have used wet shredded zucchini, or spread out the mixture too thickly, so it takes longer to bake. Return the pizza to the oven, and allow it to cook for a few more minutes.
What toppings can I put on a zucchini pizza?
You can use virtually any toppings you'd like with your zucchini crust pizza. As with traditional pizza, though, it's best that you use drier ingredients as excess moisture can cause sogginess. My family likes pepperoni with a little fresh basil — absolutely delicious!
If you want to add extra virgin olive oil to your pizza, I suggest drizzling it over the pie after it's finished baking.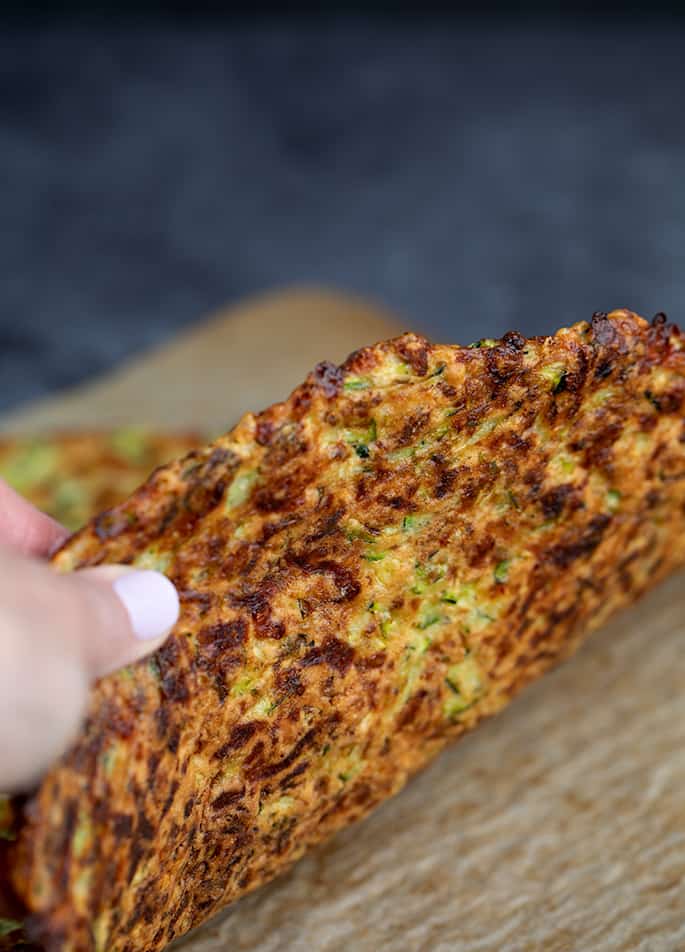 Gluten Free Zucchini Crust Pizza
Zucchini Pizza | Gluten Free Pizza with a Chewy Zucchini Crust
Try this gluten free zucchini pizza, and I promise you'll never turn to another veggie crust. This zucchini crust pizza is foldable like just like real pizza!
Equipment
Standard box grater

Mesh nut milk bag

optional, for draining zucchini
Ingredients
4

cups

(

440

g

)

grated fresh zucchini

(from about 2 medium zucchini) (250 g when squeezed dry) (See Recipe Notes)

2

ounces

Parmigiano-Reggiano cheese

finely grated

8

ounces

low-moisture mozzarella cheese

grated (on a standard-size grater)

2

(

100

g (weighed out of shell)

)

eggs

at room temperature, beaten

⅔

cup

(

80

g

) tapioca starch/flour

(you may need less if your cheeses are pre-grated)

A light drizzling of extra virgin olive oil

(if necessary)(See Recipe Notes)
Optional spices
1

tablespoon

dried oregano

1 ½

teaspoons

dried basil

½

teaspoon

garlic powder
Optional toppings
Additional mozzarella cheese

gluten free pepperoni

sautéed mushrooms
Instructions
Preheat your oven to 450°F. Place a pizza stone or overturned baking sheet in the oven as it preheats. Line a pizza peel or other flat surface (like a large cutting board) with a sheet of unbleached parchment paper, and set it aside.

In a large bowl, place the dry grated zucchini, Parmigiano-Reggiano cheese, mozzarella cheese, eggs, tapioca starch and optional spices.

Mix to combine well. The mixture will be thick but soft.

Transfer the mixture to the parchment paper. With a moistened silicone spatula or large spoon, spread it into a 13-inch round in one even layer.

With wet hands or the side of the spatula or spoon, even the edges around the perimeter.

Slide the pizza on the parchment off the peel or cutting board onto the pizza stone or overturned baking sheet in the oven.

Bake for 15 minutes or until the pizza is an even light golden brown color on top.

Remove the pizza from the oven, spread your desired pizza toppings on top, and return to the oven for another 5 minutes or until any cheese is melted, and the edges are crisp.

Remove the pizza from the oven and allow to set for 2 minutes before slicing into wedges and serving warm.

Any leftover pieces can be covered and refrigerated for at least 3 days and enjoyed cold or refreshed in a warm toaster oven or microwave before serving.
Notes
How much zucchini you will need

.
You'll begin with about 440 grams of shredded fresh zucchini, but the important thing is that your zucchini pizza have 250 grams of drained zucchini. Some zucchini begins with more moisture, so you may need to begin with more freshly grated zucchini to get the full 250 grams, as drained. If yours begins with less moisture, you'll need less zucchini.
About draining grated zucchini

.
I squeeze the liquid out of grated zucchini by placing it, about 2 cups at a time, in a fine mesh bag (like a nut milk bag) or tea towel, closing the bag or rolling up the towel and twisting it to squeeze out all the liquid.
About using packaged shredded cheeses

.
If you use packaged shredded mozzarella or Parm-Reg cheeses, your mixture will be drier than if you freshly-grate your cheeses. Packaged shredded cheeses have added anti-caking agents added to them.
About adding extra virgin olive oil

.
To counteract the dryness if you've used pre-shredded cheeses or more coarsely ground Parm-Reg cheese, you can add a very light drizzle of extra virgin olive oil to the mixture and mix until it holds together well.
Recipe originally published on the blog in 2016. In 2017, video new, some text changed, recipe unchanged. In 2022, recipe tweaked slightly for clarity, some photos new, and many text resources added.