The best part about this gluten free zucchini cake is the tenderness of its crumb, because of all that shredded zucchini. You can't taste the vegetable, but you'll know it's there in every bite.
What makes this gluten free zucchini cake special?
Shredded zucchini adds a particular type of moisture to baked goods that is much more of a blank canvas than, say, mashed banana. I think of zucchini like the tofu of the fruit and vegetable world: it adopts whatever flavor profile you choose.
Often, I add chocolate to zucchini baking recipes. In fact, I have a recipe for gluten free chocolate zucchini cake that is dense, rich, and fudgy. In our gluten free zucchini bread, chocolate chips add texture and flavor.
This recipe is sweet, but not overwhelmingly so. And the mixture of brown sugar and granulated sugar adds some depth of flavor.
Rather than adding chocolate chips to the batter, I prefer to let the incredibly tender crumb of the cake shine. That's part of why I love a super soft cream cheese frosting on top.
How to prepare fresh zucchini for baking
If you've ever baked with zucchini, you know how much moisture they contain. But you may not have realized how much the amount of moisture can vary from one zucchini to another.
When you're cooking with zucchini, whether your particular vegetable zucchini has more moisture or less doesn't matter quite that much. You're probably cooking it on a stovetop, allowing some of that moisture to evaporate anyway.
But during baking, there must be a precise moisture balance every time you make a recipe. So there's one way to level that moisture playing field with your zucchini: shred it, and drain it of as much of the moisture as possible.
The weight of shredded zucchini in this recipe is as drained. That way, if you started off with a paler zucchini that took on a lot of water, and my zucchini is smaller and greener, you may need more zucchini overall.
The easiest way to remove the moisture from zucchini is, while holding on to the stem, grate it on a standard-size box grater. You'll need to begin with nearly double the weight of undrained zucchini than what you'll need drained.
Then, handful by handful, place the zucchini in a mesh nut milk bag or in a flat-weave tea towel, and enclose the shredded vegetable. Then, squeeze as hard as you can over a large bowl or over the kitchen sink.
The cream cheese frosting
I like to serve this lightly sweet, relatively plain, amazingly textured gluten free zucchini cake with super soft, fluffy cream cheese frosting. You'll need to begin with room temperature cream cheese and butter.
When you're planning to make the cake, take the cream cheese and butter for the frosting out of the refrigerator and let them sit on the counter. Unwrap the block of cream cheese, and chop the butter into chunks to help them warm up a bit.
The more confectioners' sugar you add to the frosting, the stiffer it will be. I think that a thick buttercream-style frosting detracts from the perfect texture of the cake, so I like to keep it quite soft.
If you'd rather not use frosting, you can try making a simple confectioners' sugar glaze. Just place confectioners' sugar in a mixing bowl and add water by the drop, mixing until you have a very thick paste. Add more water and mix until the glaze is very thickly pourable.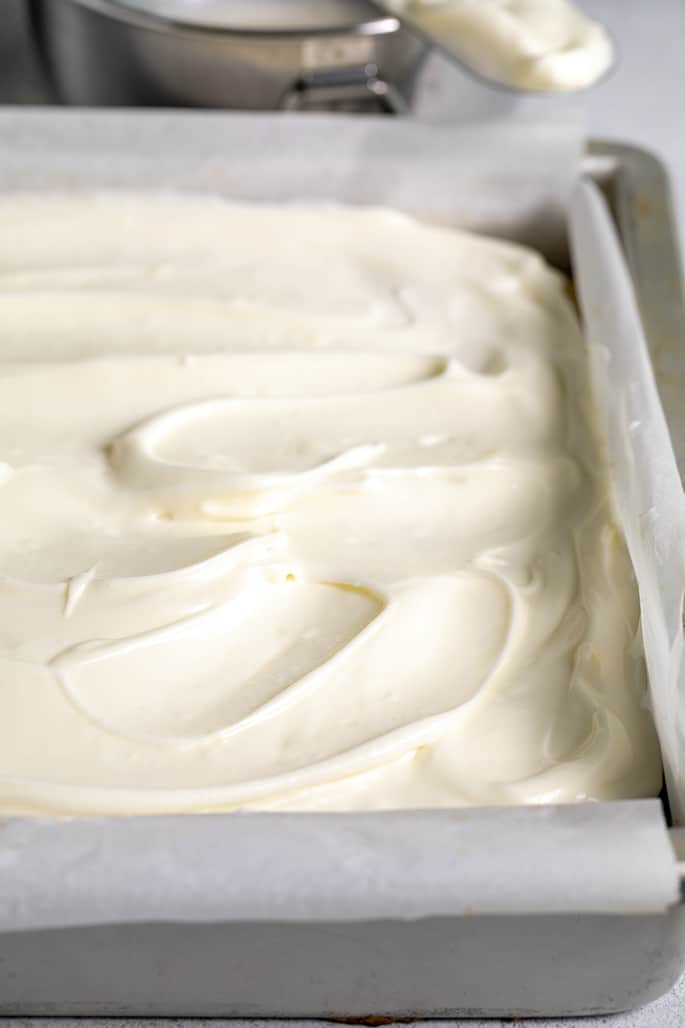 Ingredients and substitutions
Dairy
The dairy in the cake part of this recipe should be relatively easy to replace. The frosting is another story.
For the melted butter in the cake, the best substitute is vegan butter (Melt or Miyoko's Kitchen brand), but I think even Earth Balance buttery sticks would work. For the milk, you can use your favorite unsweetened nondairy milk.
For the cream cheese in the frosting, if you've found a nondairy cream cheese you like, try that. For butter, I'd suggest vegan butter (not Earth Balance). But I have never found a nondairy cream cheese that tastes like the magic that is Philadelphia cream cheese. *chef's kiss*
Eggs
There are two eggs in this recipe. You may be able to replace each of them with a "chia egg" (1 tablespoon ground white chia seeds + 1 tablespoon lukewarm water, mixed and allowed to gel).
Gluten Free Zucchini Cake
Yield:
1 9-inch square cake
Ingredients
For the cake
2 1/8 cups (215 g) drained grated zucchini (See Recipe Notes)
2 cups (280 g) all purpose gluten free flour (I used Better Batter but you can use any of my favorite blends (click the link))
1 teaspoon xanthan gum (omit if your blend already contains it)
1 1/4 teaspoons baking powder
1/4 teaspoon baking soda
1/2 teaspoon kosher salt
1/2 cup (100 g) granulated sugar
1/2 cup (108 g) packed light brown sugar
8 tablespoons (112 g) unsalted butter, melted and cooled
2 eggs (100 g, weighed out of shell) at room temperature, beaten
2 teaspoons pure vanilla extract
1/2 cup (4 fluid ounces) milk (any kind), at room temperature
For the frosting
8 ounces cream cheese, at room temperature
2 tablespoons (28 g) unsalted butter, at room temperature
1 teaspoon pure vanilla extract
1/8 teaspoon kosher salt
1 1/2 to 2 cups (173 to 230 g) confectioners' sugar
Notes
For the zucchini
I began with one medium-large fresh zucchini that weighed about about 400 grams, whole. You'll shred it in a classic-sized box grater, place it in tea towels or a mesh nut milk bag, and squeeze out as much liquid as possible. What remains should be a bit more than 215 grams shredded, drained zucchini.
Instructions
Preheat your oven to 325°F. Line a 9-inch square baking dish and set it aside.

Prepare the zucchini by grating it on a standard size box grater, and wring out as much moisture as you can using a tea towel or mesh nut milk bag. Measure out 215 grams as drained, and set the zucchini aside.

In a large bowl, place the flour blend, xanthan gum, baking powder, baking soda, salt, and granulated sugar, and whisk to combine well. Add the brown sugar and 215 grams of grated and prepared zucchini. Mix to combine, breaking all the lumps in the brown sugar, and any clumps in the grated zucchini.

Add the melted butter, beaten eggs, vanilla, and milk, and mix to combine. The batter will be thick but relatively soft. Transfer the batter to the prepared pan, and smooth into an even layer with a wet silicone or offset spatula.

Place the pan in the center of the preheated oven and bake for about 32 minutes, or until the cake springs back when pressed gently in the center. It should also be very lightly brown on top.

Remove the cake from the oven and allow it to cool in the pan for 10 minutes before transferring to a wire rack to cool completely.

While the cake is cooling, making the frosting. In a large bowl with a hand mixer or the bowl of a stand mixer fitted with the paddle attachment, place the cream cheese, butter, vanilla, and salt, and beat on medium-high speed until light and fluffy (about 3 minutes).

Add 1 1/2 cups (173 g) confectioners' sugar, and beat until smooth (another  or 2 minutes). I prefer this frosting to be soft and fluffy, but you can beat in up to another 1/2 cup confectioners' sugar to reach your preferred consistency. The more confectioners' sugar you use, then thicker the frosting will be.

Spread the frosting on top of the cooled cake, and slice it with a sharp knife into 9 or 12 pieces. You can also slice the cake bare and frost individual pieces.

If you don't plan to serve the whole cake at once, slice the cake bare and wrap any individual unfrosted pieces tightly in freezer-safe wrap before freezing. Defrost at room temperature and frost before serving.