These gluten free garlic pizza breadsticks will satisfy your craving for takeout. They make a great appetizer or side and are ready in minutes!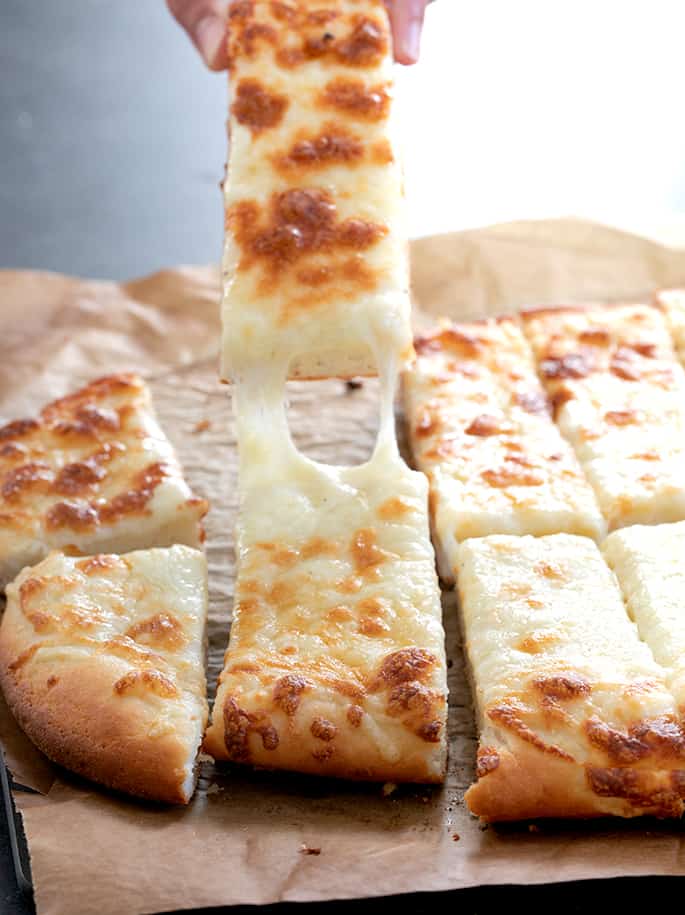 This thick pizza crust with tons and tons of cheese and garlic pressed into a gorgeous paste makes pizzeria-style pizza breadsticks that will bring you right back to your pre-GF days. Whether you're missing Pizza Hut (no shame!) or you're just longing to bite into a thick, crispy crust that's smothered in cheese, this recipe is for you.
About all that garlic
Maybe you're like my brother, who refuses to eat either one because he can't tolerate the way it makes him smell. Don't tell him, but I guarantee you he's eaten garlic and onions, since it's so hard to cook good food without them.
If you don't have fresh garlic, I actually really like freeze-dried garlic or minced garlic in oil from one of those jars. For freeze-dried garlic, just soak it in the melted butter, and maybe add a teaspoon of extra virgin olive oil. It will soften quickly.
If you can't or won't eat garlic, you can of course still make pizzeria style breadsticks like these. I'd use a bit more Parmigiano-Reggiano, since it has a lot of that umami flavor you'll be missing without garlic. You can also add some salt to brighten the flavors.
Which gluten free pizza crust should you make?
I consider our thick crust pizza dough recipe to be the savior of all things. It does require a bit of planning, since it performs best when it has a 12 hour refrigerator rise. But you can skip that step if you just can't spare the time.
Even though a long, slow refrigerator rise might be unfamiliar , I promise that it's a time-tested way to proof bread dough. And since it can be done up to 5 days ahead of time, you'll have pizza dough at your fingertips at a moment's notice.
If you're in a rush, this recipe would also work great with my yeast free gluten free pizza crust recipe. And of course our basic gluten free pizza crust recipe works in all pizza-type situations.
The method
The main differences between these gluten free garlic pizza breadsticks and a pizza pie are the lack of cheese, the garlic butter, and the extra cheese that goes alllll the way to the edges of the crust.
The longer the pizza dough has chilled in the refrigerator, the easier it will be to handle. Your shaping technique will also vary a bit based upon the dough recipe you've selected.
The main secret to shaping the dough into is to keep it moving. That way, it doesn't have much of a chance to stick. In the video, I'm shaping the dough on something called a "Bethany pastry board and cover," and it really helps to prevent sticking.
Once you've rolled the dough into an oval, gently fold it into thirds and transfer it to a sheet of parchment. Brush generously with garlic butter, and top with lots and lots of cheese. Bake at 400°F for barely 10 minutes, slice and serve.
Ingredients and substitutions
This is such a simple recipe that the only additional allergen I imagine you might face is dairy. It's really important to the recipe, but I'll still provide my suggestions for replacing it.
Dairy
If you make these breadsticks with the thick crust gluten free pizza recipe from GFOAS Bakes Bread, it's made with gluten free bread flour. That bread flour is necessarily made with whey protein isolate, almost pure dairy protein.
If you'd like to replace whey protein isolate, you can try by using pea protein or rice protein isolate, but you'll need to use a lot more water and the dough won't behave the same. If you're avoiding dairy, I recommend using our basic gluten free pizza dough recipe instead, which is already naturally dairy-free.
The butter that is used to brush the pizza dough can be replaced with Earth Balance buttery sticks. The cheese is harder to replace, but it's not impossible.
The best hard cheese is made by Violife, but it can be difficult to find. In recent years, I've found that Daiya brand cheeses have improved a ton. Miyoko's Kitchen brand is also quite good.
Gluten Free Garlic Pizza Breadsticks
Ingredients
1 recipe Thick-Crust Gluten Free Pizza Dough (or use this recipe for basic gluten free pizza dough)
4 cloves garlic, peeled and minced
1/2 teaspoon kosher salt
4 tablespoons (56 g) unsalted butter, melted
1 ounce finely grated Parmigiano-Reggiano cheese
8 ounces part-skim mozzarella cheese, grated
Instructions
Make the pizza dough according to the recipe instructions. Place the dough in a sealed container or bowl in a warm, draft-free location to rise for 1 to 2 hours or until risen. Full doubling is not necessary. Place the risen dough, still in a sealed container or bowl, in the refrigerator to chill until firmer (about 30 minutes). Alternatively, set the dough to rise in a sealed container in the refrigerator for about 12 hours or up to 5 days.

Shape the pizza dough. Place a pizza stone (or overturned rimmed metal baking sheet) on the bottom rack of your oven and preheat the oven to 400°F. On a lightly floured surface, place the pizza dough and sprinkle lightly with more gluten free flour and turn it over with a bench or bowl scraper, and roll the dough into a ball. Sprinkle lightly with flour, and, using well-floured hands and a rolling pin, as necessary, pat and roll out the first piece of dough on a lightly floured surface into an oval shape, about 12 inches x 15 inches. Be sure to rotate the dough and flour it frequently to prevent sticking, as shown in the gluten free pizza shaping video. Transfer the round of dough to a piece of unbleached parchment paper.

Prepare the pizza. Using the flat side of a large knife, press the minced garlic and kosher salt together firmly to form a thick paste. Add the garlic paste to the melted butter, and mix to combine. Using a pastry brush, brush the entire surface of the pizza dough with the entire garlic butter mixture, all the way to the edges of the dough. Sprinkle evenly with the grated Parmigiano-Reggiano cheese, followed by the grated mozzarella cheese, all the way to the edge of the dough.

Bake the pizza. Place the crust, still on the parchment paper, on the hot pizza stone. Bake until the crust is browned and the cheese is melted and browned in spots (about 10 minutes, but time will vary depending upon how crisp you'd like the crust). Allow to set briefly before slicing down the length in the center and then across into sticks, 8 sticks per side, and serving.

Adapted from Baked By Rachel. Originally published on the blog in 2014. Some photos, video, and some text new. Recipe unchanged.