Gluten free Tagalongs cookies are a simple shortbread cookie topped with peanut butter and covered in chocolate. The Girl Scouts may make a few gluten free cookies, but they don't make these!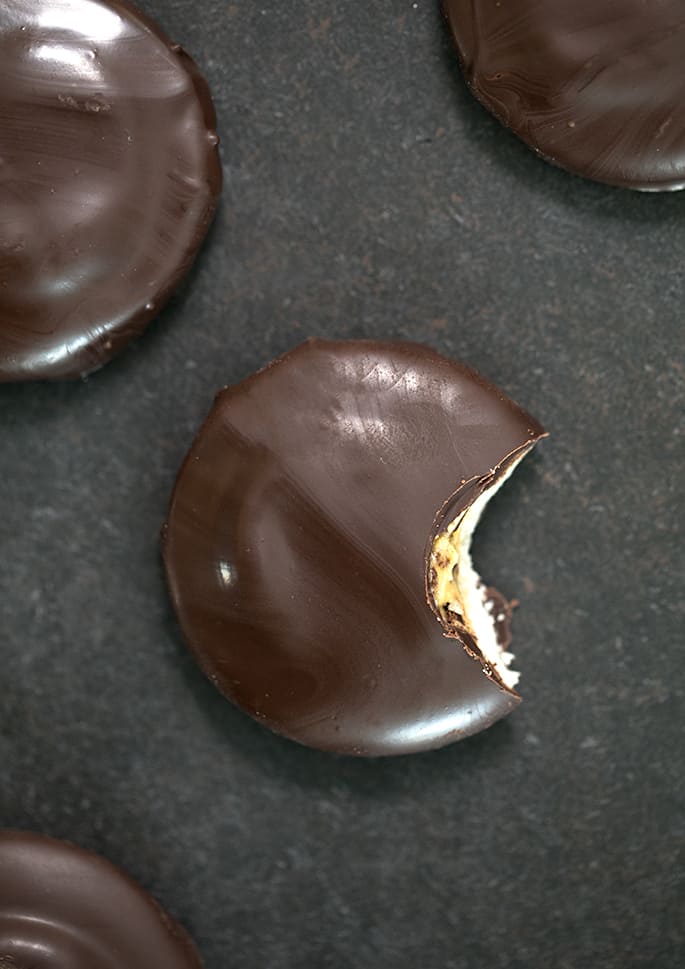 Why bother making your own Girl Scout Cookies?
There are a few steps to making these cookies. First, you have to make the shortbread cookies. There are so few ingredients and they roll out very easily. But it's a step, no doubt. If there are store-bought gluten free shortbread cookies you'd prefer to use, go for it!
Next, you have to make the filling—and it's more than just peanut butter. If you were to dollop plain peanut butter on top of the cookies, it would never stay put. You know what it's like when you spread peanut butter on a slice of bread, top it with another and then slice it in half? It's like that.
Finally, you have to dip them in chocolate. I mean, you don't have to, but if you want to experience tagalongs, that's how you make it happen.
To be honest, you may not want to bother. I can only tell you why I bother and why readers over the years have told me that they do the same.
I bother making my own Girl Scout Cookies because I have a gluten free son. He's 14 now, but especially when he was younger, Girl Scout Cookies would make their rounds for sale and then delivery in the middle of each winter, and he was left out.
It's as simple as that. He has two sisters, and for the most part, they can eat whatever they like. When I make him Girl Scout Cookies of his own, he feels "normal." So much of what I do in gluten free baking is to help him feel "normal," and you and your family feel the same.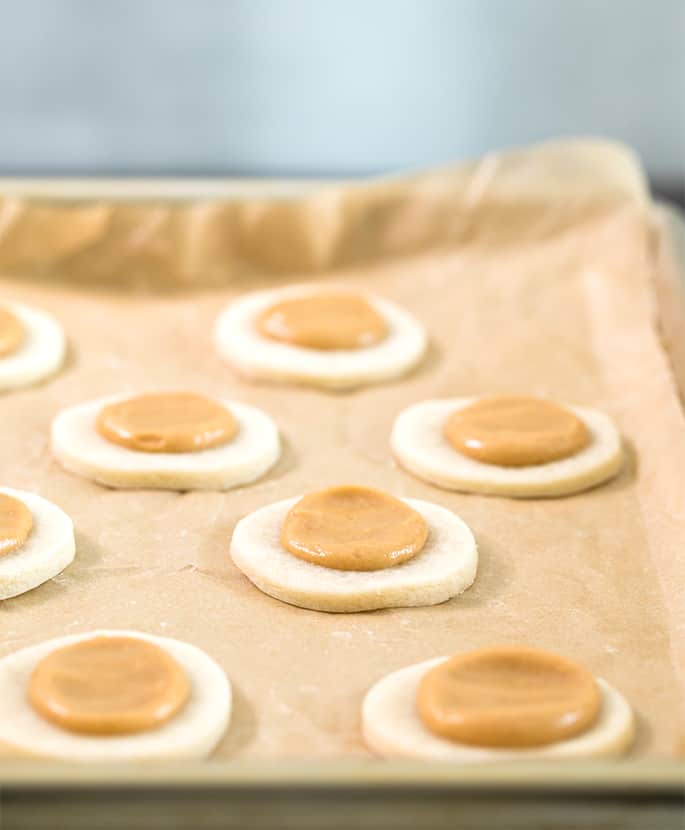 And over the years, I've gotten the best emails telling me the same. My daughter sells Girl Scout Cookies and my gluten free son can't eat them. There was a party in school and my gluten free daughter couldn't eat her own cookies.
My son is different in this way. He can't go out to the local pizza place with friends and grab a quick slice. And the older he gets, the less I can help him work that out. No teenager wants Mommy showing up with a foil-wrapped slice.
But for as long as I can, in as many situations as I can, I have and will continue to make things as normal as possible.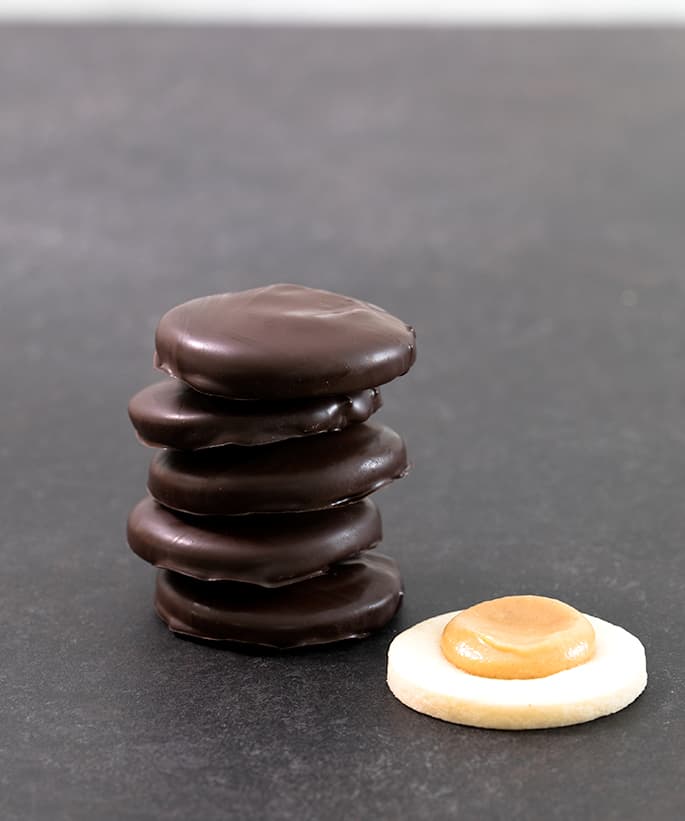 So, call them Tagalongs or call them Peanut Butter Patties (I think we all know who won the name game in that one), they're not gluten free until you make them gluten free. And the gluten free varieties that the Girl Scouts themselves sell? Well, they're not Tagalongs. Or Thin Mints.
Let's be clear that I'm not blaming the Girl Scouts for being unable to make gluten free cookies that are clones of their most famous conventional cookies. And if you want to support the girls and buy their GF varieties, I think that's great. But I'm not going to eat a sad little cookie and call it good. Or ask my son to, either.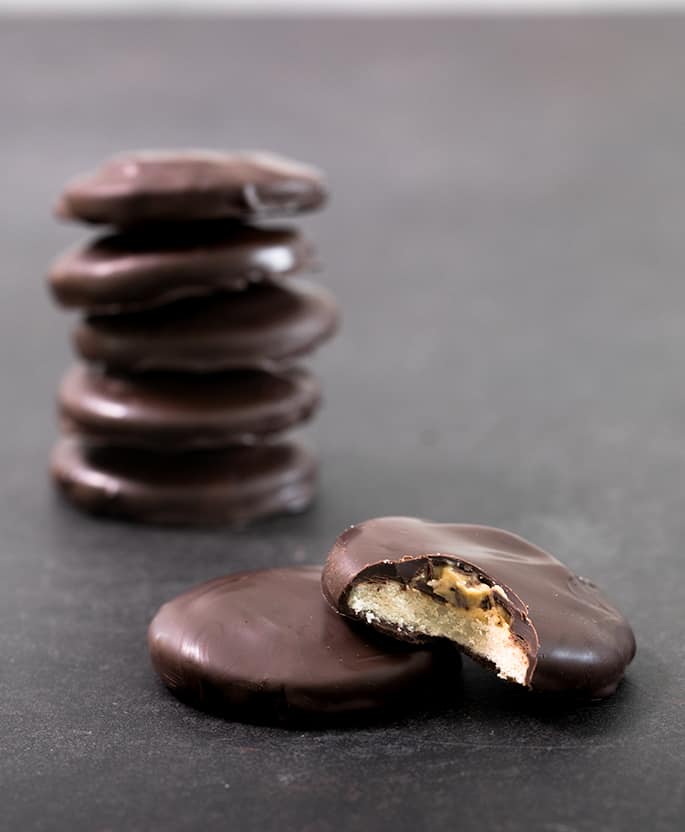 Ingredients and substitutions
There are 3 components to these Tagalongs, but there are surprisingly few ingredients. That makes the substitution game a bit simpler, if not actually easier. They're already gloriously egg free. I've made them dairy-free, but I haven't made them nut-free. Here are my best-educated substitution guesses, as usual:
Dairy-free: If you use a dairy-free semi-sweet chocolate for the coating, the only dairy in these cookies is the butter. You can easily replace the butter in the filling with virgin coconut oil (I did that, and it worked well), but the butter in the cookies is trickier.
I tried replacing the butter in the cookies with virgin coconut oil, and the dough was rather difficult to work with. It was either too soft at room temperature, or too hard once chilled. I think nonhydrogenated vegetable shortening would work better. I don't recommend Earth Balance as it has way too much moisture and the cookies will likely spread.
Peanut-free: You can use no-stir almond butter in place of peanut butter for sure, but a nut-free butter (like sunflower seed butter) will be difficult to work with as it's already so soft. You'll have to play with it a bit to get the filling to the proper consistency. If the filling is too soft, it won't stay in place when you dip the cookies in chocolate.
Watch this 1 minute GF Tagalongs Video
Click play ▶ and watch me make these cookies from start to finish. Then make your own for the gluten free ones you love! ❤
Tagalongs! Gluten-Free Girl Scout Cookies
Ingredients
For the cookies
1 3/4 cups (245 g) all purpose gluten free flour
1/2 teaspoon xanthan gum (omit if your blend already contains it)
1/8 teaspoon kosher salt
1/2 cup (100 g) granulated sugar
8 tablespoons unsalted butter, at room temperature
1 teaspoon pure vanilla extract
1 to 2 tablespoons lukewarm water
For the filling
3/4 cup (192 g) no-stir peanut butter, warmed
4 tablespoons (56 g) virgin coconut oil, melted
1/2 teaspoon pure vanilla extract
1/8 teaspoon kosher salt
1 cup (115 g) confectioners' sugar
1 to 2 tablespoons water
Chocolate Dipping Layer
12 ounces semi-sweet chocolate, chopped
3 tablespoons (42 g) virgin coconut oil
Instructions
Preheat your oven to 325°F. Line a rimmed baking sheet with unbleached parchment paper and set it aside.

In a large bowl, place the flour, xanthan gum, salt and sugar, and whisk to combine well. Add the butter, vanilla, and 1 tablespoon water, and mix to combine. Knead the dough with your hands to bring it together. If necessary for the dough to hold together, add another tablespoon of water, 1 teaspoon at a time. Press the dough into a disk, and then place the disk between two sheets of unbleached parchment paper and roll the dough between 1/8 inch and 1/4 inch thick. Cut out 2-inch rounds with a cookie cutter. Gather, reroll and cut any scraps into rounds. Transfer the cookies carefully to the prepared baking sheet by peeling back the parchment paper from the bottoms of the cookies.

Place the cookies in the center of the preheated oven and bake until the cookies are set and just beginning to brown around the edges (about 8 minutes). As soon as the cookies come out of the oven, press your thumb or the bowl of a small spoon into the center to create a well for the filling. Allow the cookies to cool for a few minutes on the baking sheet until they are firm enough to transfer to a wire rack to cool completely.

While the cookies are cooling, place the peanut butter and melted coconut oil, vanilla and salt in a large bowl and mix to combine. Add the confectioners' sugar, and stir until well-combined. The mixture will be very thick. Add one tablespoon of water, and stir to thin the filling. Add another teaspoonful of water if necessary to create a thickly pourable filling. Allow the filling to cool until no longer hot to the touch.

Place the cooled cookies on the prepared baking sheet in a single layer. Place the filling in a pastry bag fitted with a medium-sized plain tip (I used a #12 tip). Pipe a generous amount of filling on top of each cooled cookie, leaving at least a 1/2 inch border around the perimeter of the cookie. With wet fingers, press down the filling. Place the cookies in the freezer until the filling is well-chilled (about 5 minutes).

Melt the chocolate and shortening in a double boiler or a small, microwave-safe bowl, on 70% power at 30-second intervals, stirring in between, just until melted and smooth. Remove the chilled cookies from the freezer, and carefully immerse each cookie in the melted chocolate. With a dipping fork (or any fork, really), carefully turn the cookie over in the chocolate until it is completely coated. Turn the cookie right side up in the chocolate and draw the cookie out of the chocolate on the tines of the fork, scraping the bottom of the fork on the side of the bowl to rid the bottom of excess chocolate. Place the cookie back on the parchment paper. Allow the cookies sit at room temperature until the chocolate is set. Store in an airtight container in the refrigerator until ready to serve. Freeze any leftovers.

Originally published on the blog in 2013.