This super simple recipe for gluten free Japanese milk bread makes the softest recipe for batter-style gluten free bread you've ever seen, or tasted!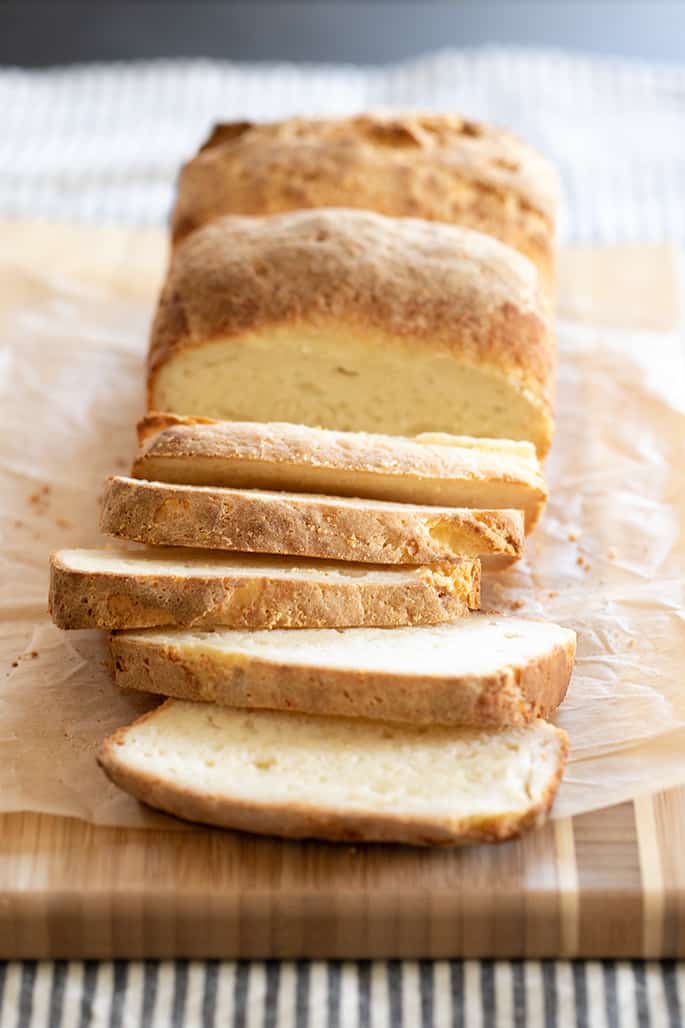 This loaf of bread is soft and tender without being super airy, like an English muffin bread. The crust is thin and crisp, but still tender and chewy. It's basically the softest bread you'll ever eat—and it's simple to make, too.
Batter-style gluten free bread
I began making homemade gluten free bread way back in 2005, only my second year of baking gluten free at all. Those first breads were all in the "batter-style," which simply means that the bread dough appears more like a cookie dough batter than what you would expect from yeast bread dough.
Even though I've moved on to develop other methods, recipes like this gluten free Japanese milk bread and our old-style gluten free white sandwich bread still work beautifully—and have a special place in my kitchen (and my heart ❤️).
The raw bread dough itself in batter-style bread baking is wet and remains that way all the way through shaping since it doesn't "stretch" when raw. Gluten free flours are typically water-loving, and the original successes in gluten free yeast bread baking called for adding more liquid to the bread to enable the yeast to thrive.
If any yeast bread dough is too dry or becomes that way during its rising time, the yeast will not thrive and the bread dough will not rise. My newer gluten free bread recipes have something different (whey protein isolate and Expandex modified tapioca starch) added to them.
Without that, all purpose gluten free flours will absorb tons of the water in the recipe and dry out the dough without more moisture. And that leads to an underwhelming (or completely absent) rise.
These batter-style bread recipes aren't as easy to shape as conventional bread recipes, and the rise isn't as smooth. That's why you'll see pock marks in the bread both before and after baking.
But they require fewer unfamiliar ingredients as my newer recipes, and they are much easier to adapt to accommodate additional allergies (please scroll down for the Ingredients and substitutions section for more detail on that).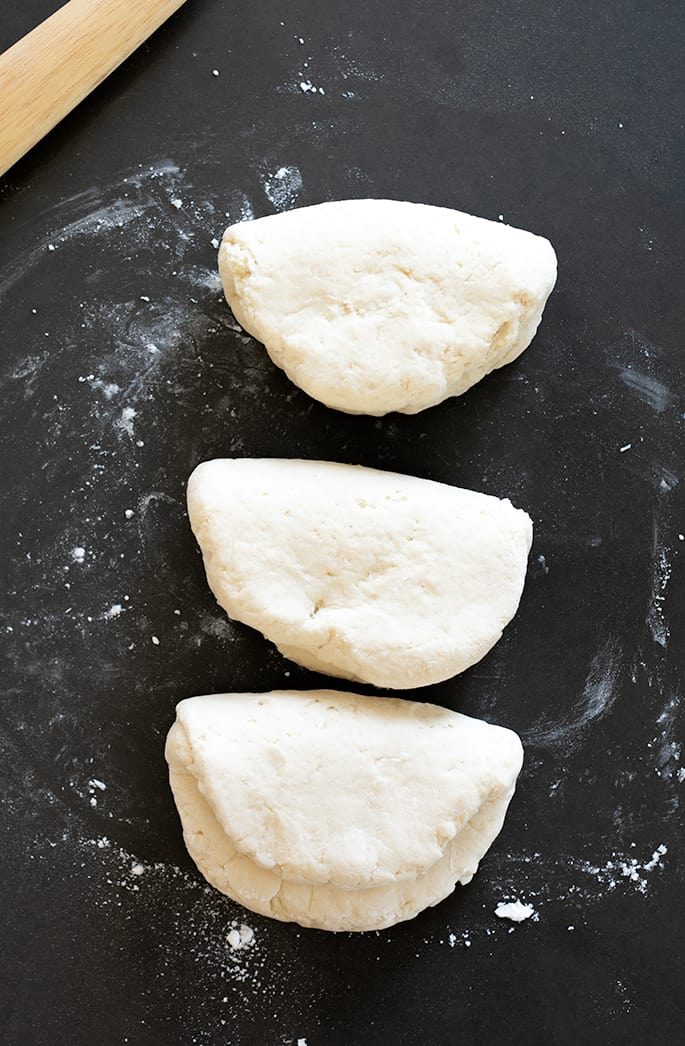 How to handle this bread dough
Since this batter-style bread dough is quite wet and must stay that way, keep in mind that the dough will be tacky to the touch both before, during and after shaping. It also will not rise as smoothly as we might like, taking on something of a cratered appearance.
You can smooth out the dough after its rise, if you like, with wet fingers but don't expect a tight rise. Even though the dough is wet, though, the moisture is still in balance with the other ingredients in the recipe. If you add too much moisture, the bread won't ever bake all the way through to the center and you'll end up with gummy spots.
You can sprinkle this dough very lightly with more flour as you're shaping it, but use as little as you possibly can. Try flouring your fingers a bit, rather than the dough very often, and use a light touch so the dough stays wet.
Remember that you won't be able to get the dough to be completely smooth on the outside, so let go of that goal! If you want to learn more, I've got 10 secrets to making the best gluten free bread.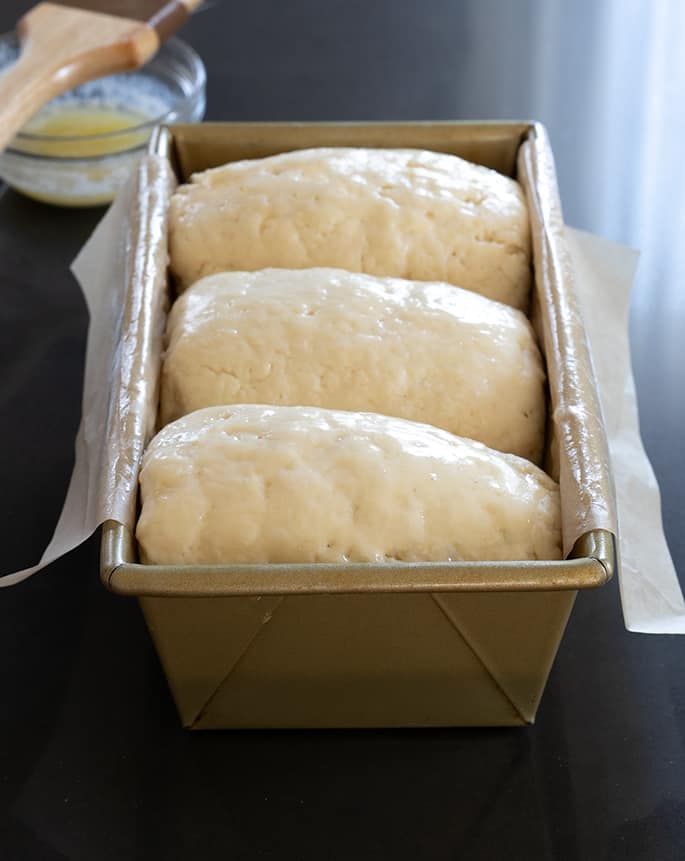 What is a water roux and what does it do in this recipe
Our batter-style gluten free white sandwich bread develops a thick bakery-style crust on the outside. But this loaf of bread stays soft all the way through the end of its baking.
The water roux that you make at the start of the recipe helps lock in moisture. It's just a simple cooked mixture of gluten free flour and water.
The water roux can be made days ahead of time (and even doubled, then divided for each loaf), and stored in a sealed container in the refrigerator. That way, you can dump all of the ingredients into your mixer whenever you're ready to make some bread without having to engage in that extra step of making the roux.
Ingredients and substitutions
Dairy
This recipe contains dairy in the form of butter and milk, both of which are generally not that difficult to replace. Instead of cow's milk, you can easily use unsweetened almond milk or coconut milk in the carton. Just be sure not to use anything nonfat (dairy or otherwise) since it has less richness and more additives.
Instead of the butter, try using Earth Balance buttery sticks in both the bread dough and for brushing the top of the bread. You might actually even be able to use a mild-tasting extra virgin olive oil in place of butter as well, but I haven't tested any fats in this recipe that are liquid at room temperature.
Eggs
Since there is only one egg in this recipe, you can try using a "chia egg" (1 tablespoon ground white chia seeds + 1 tablespoon lukewarm water, mixed and allowed to gel) in its place. Since this is a batter-style bread, you need a fair amount of help getting it to rise. Without the egg, even with an egg replacer, the bread will likely be denser.
Yeast
You cannot make this yeasted bread without yeast as there is no proper substitute. Try my yeast free gluten free sandwich bread instead!
If you only have active dry yeast, you can use that to replace instant yeast. Just use 25% more yeast (here, that would be a total of 10 grams). You'll also have to hydrate the yeast in a few tablespoons of the milk before adding it to the dough at the same time as the rest of the milk.