Soft and tender gluten free cream cheese sugar cookies with slightly firm Lofthouse-style frosting. Basically, they're the perfect cookie.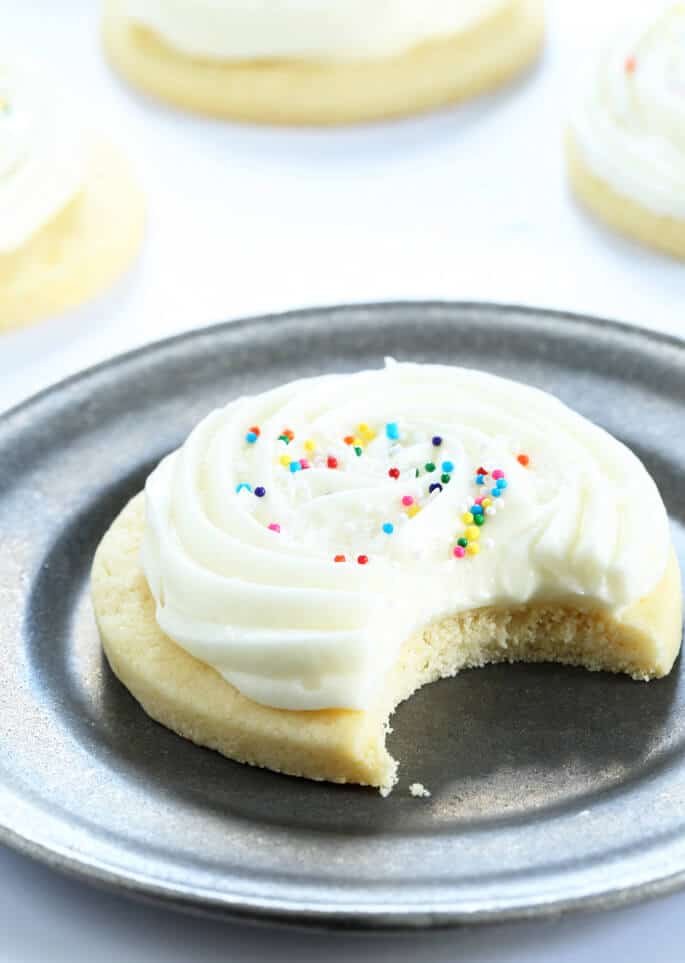 What makes a great cutout sugar cookie?
A proper cutout sugar cookie rolls out smoothly and easily and can take any shape. It doesn't spread at all during baking, which can ruin the shape in a hurry.
Because we already have a perfect recipe for Lofthouse-style gluten free soft frosted sugar cookies, it might seem like we're all set for Halloween, Thanksgiving, Christmas, Easter and everything in between.
And then you see these soft gluten free cream cheese cutout sugar cookies. And you know.
The cream cheese in the cookie dough makes these a wee bit more tender than our original cutout sugar cookies, but the real difference is in the taste. They roll out just as easily as our "originals." But the cream cheese flavor in both the cookies themselves and the frosting is just something special.
When I first gave these cookies to my children, I didn't really say anything about them. They just were all, "sugar cookies!!" and dug in. I expected them to assume they were eating the originals, which they have done dozens of times. And then my son said it:
"Mom? Are these, like, cheesecake cookies or something?" Bingo, young man. Bingo.
Cheesecake, I clearly love you
Anything with cream cheese tastes something like cheesecake, I guess. But especially since a classic cheesecake has little more than cream cheese, sugar, eggs, and vanilla, and so do these cookies, they're nearly a cheesecake in cookie form.
Since we just made mini cheesecake cookie cups, these cookies might seem a bit like overkill. Not only can these cookies contain their cheesecake essence right in the cutout cookie itself, but they can be cut into any shape, and covered with royal icing for any celebration.
About that Lofthouse-style frosting
When I first made this frosting, I made it with 8 ounces of cream cheese and no butter. More recently, I've switched to 4 tablespoons (56 g) of unsalted butter and 4 ounces of cream cheese.
I find that the frosting is a bit more stable that way. It also makes the recipe simpler overall since you need one 8 tablespoon-stick (112 g) of unsalted butter total and one 8-ounce package of cream cheese total.
Whatever you do, don't leave out the salt, since any frosting without salt will just taste too sweet. It's easiest to make if you have a stand mixer, but of course, a simple hand mixer will do. Just use a large bowl so you can beat the frosting until it's thick and smooth.
Ingredients and substitutions
If you can't have dairy, you might want to consider making our recipe for conventional cutout sugar cookies instead since cream cheese is nearly impossible to replace successfully with a dairy-free alternative. I even have a chocolate cutout sugar cookie version.
But if you'd like to go ahead and try to make this recipe, here are my best guesses for how to go about it:
Dairy
To make these cutout cookies dairy-free, you'll need to replace both the butter and the cream cheese in this recipe. I have tried many dairy-free versions of cream cheese, and although Daiya is my favorite brand, it still has something of a strange aftertaste that becomes more pronounced the more of it you use.
For that reason, I'd recommend replacing the butter and cream cheese with the following: 3 ounces dairy-free cream cheese substitute + 3 tablespoons (36 g) Spectrum nonhydrogenated vegetable shortening + 4 tablespoons (56 g) vegan butter (Melt brand is my current favorite, but Earth Balance buttery sticks are fine, too). To make the frosting dairy-free, I'd make the same adjustments as I recommended for the cookie dough.
Eggs
Since there is only 1 egg in this recipe, I think it should be able to be made egg-free by using 1 "chia egg" in its place (1 tablespoon ground chia seeds + 1 tablespoon lukewarm water, mixed and allowed to gel).
Since these are cutout cookies and the texture of the dough matters a lot, you might want to try using a boiled flax egg, like we did in our vegan black bean brownies recipe.
The frosting calls for some meringue powder, which helps it harden as it sets, much like the Lofthouse cookies you find in the grocery store in those plastic clamshell boxes. Without the meringue powder, it will not harden as it sets, though, so the cookies cannot be stacked on one another without the meringue powder in the frosting.
If you don't have meringue powder, simply add more confectioners' sugar by the tablespoonful, beating well, until the frosting thickens enough that it holds its shape well when scooped.
Corn
At first glance, it seems like these cookies are naturally corn-free. But conventional confectioners' sugar has cornstarch added to it to help keep it from clumping. There are corn-free brands of confectioners' sugar, though.
If you can't find corn-free confectioners' sugar, you can make your own confectioners' sugar from granulated sugar and a starch. In place of the cornstarch that is called for in that recipe, I'd use arrowroot to make it corn-free.
Soft Gluten Free Cream Cheese Sugar Cookies
Ingredients
For the cookies
2 cups (280 g) all purpose gluten free flour
1 teaspoon xanthan gum (omit if your blend already contains it)
3/4 teaspoon baking powder
1/4 teaspoon kosher salt
1/2 cup (100 g) granulated sugar
5 tablespoons (36 g) confectioners' sugar
4 ounces cream cheese, at room temperature
4 tablespoons (56 g) unsalted butter, at room temperature
1 egg (50 g, weighed out of shell) at room temperature, beaten
1/2 teaspoon pure vanilla extract
For the frosting
4 ounces cream cheese, at room temperature
4 tablespoons (56 g) unsalted butter, at room temperature
1/2 teaspoon pure vanilla extract
1/8 teaspoon kosher salt
2 teaspoons meringue powder (LorAnn brand gluten free)
4 cups (460 g) confectioners' sugar
Instructions
Preheat your oven to 350°F. Line rimmed baking sheets with unbleached parchment paper and set them aside.

In a large bowl, place the flour, xanthan gum, baking powder, salt, granulated sugar and confectioners' sugar and whisk to combine well. In a separate bowl, place the cream cheese, butter, egg and vanilla, and mix to combine well. Create a well in the center of the dry ingredients and add the cream cheese mixture. Mix to combine, and then knead it together with your hands until a smooth dough forms. Place the dough between two sheets of unbleached parchment paper and roll out a bit less than 1/3-inch thick. Using a 2 1/2-inch round cookie cutter, cut out rounds of dough and place them about 1-inch apart on the prepared baking sheets.

Place the baking sheet in the center of the preheated oven and bake set in the center and just beginning to brown on the edges, about 10 minutes. Remove the cookies from the oven and allow them to cool for 10 minutes before transferring to a wire rack to cool completely.

While the cookies are cooling, make the frosting. In the bowl of your stand mixer fitted with the paddle attachment or a large bowl with a handheld mixer, place the cream cheese, butter, and vanilla, and mix on medium speed until combined. Turn the speed up to high and mix until creamy. Add the salt, meringue powder and about 3 1/2 cups of confectioners' sugar. Mix slowly until the sugar is incorporated. Turn the mixer up to high and beat until it becomes uniformly thick. Add the rest of the confectioners' sugar if necessary to thicken the frosting.

Once the cookies are completely cool, pipe or spoon a generous amount of frosting onto the top of each in whatever pattern you like. Allow to set at room temperature until the frosting hardens and is firm to a light touch. Store any leftovers in an airtight container at room temperature.

Adapted from my recipe for Soft Frosted Gluten Free Sugar Cookies. Originally published on the blog in 2015. How-to video and some photos new; many photos original; frosting recipe altered very slight.