No bake gluten free pie. Blah blah blah blah pie. As long as it ends in pie, you've got my attention. Now that I have yours, we can talk about how this gluten free pie is a perfect warm weather treat that won't having you slaving away in the kitchen when you're trying to enjoy the outdoors, and your lovely guests. Make it ahead, freeze it and then allow it to thaw a bit while you eat, say, a lovely gluten free cold pasta salad.[pinit]
This pie is a (much better) riff on the yogurt pies I used to have as a kid. Those were a tub of thawed Cool Whip mixed with some strawberry flavored yogurt (probably nonfat, at least if it was the lowfat 90's, when everyone got fatter), pour into a premade graham cracker pie crust, and then frozen.
This gluten free pie is worlds apart from that one (which, sadly, makes me shudder when I recall the plastic taste). Lightly sweet, totally real and absolutely fresh and creamy. Instead of strawberry flavored nonfat yogurt, we use full fat plain Greek yogurt mixed with fresh strawberries reduced with just a touch of sugar (if you're reading this and it's no longer strawberry season, frozen and thawed strawberries would work great). Instead of Cool Whip, fresh whipped cream stabilized with some unflavored gelatin. You can skip the gelatin, but the pie will be much more icy in texture.
After I made the pie a few times, I bought more strawberries and made more of that gorgeous, bright red strawberry puree and have been drizzling it over gluten free waffles, mixing it into yogurt and stirring it into lemonade. Oh my word.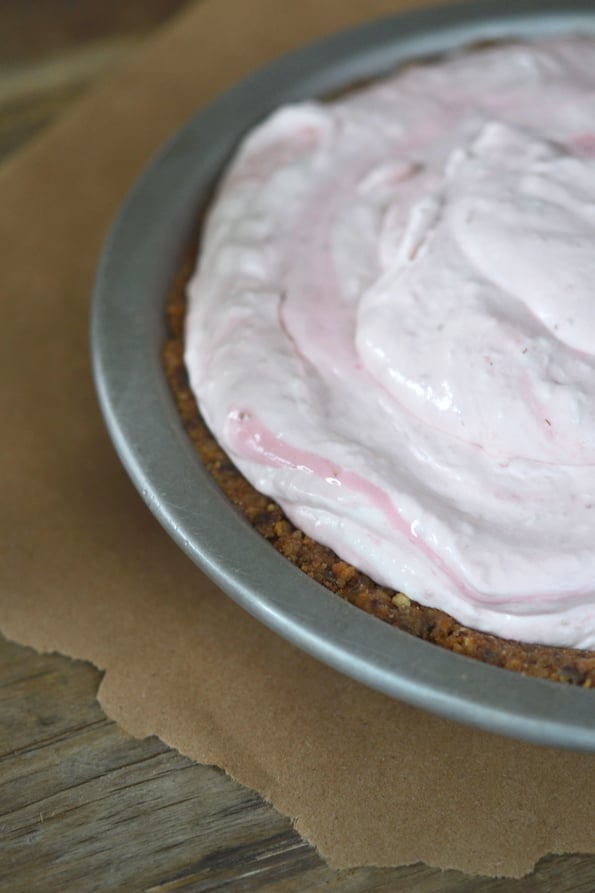 You can even stir some of the strawberry puree into the top of the pie right before you freeze it. Or serve it with some more sauce on the side. Or just give it to me. I'll figure something out.
The crust is just a basic no-bake cookie crumb crust. One time I used crushed thin & crispy gluten free chocolate chip cookies, another time gluten free graham crackers. Or … you could make things even easier (and let's face it way better for you!) and serve it crustless. Naked pie! To avoid any confusion, I am not suggesting eating it when you're naked (not that there's anything wrong with that but this is a family blog so let's keep it clean).