What if I told you that you could have all the taste of fried chicken without frying anything at all? Try this gluten free baked fried chicken and see for yourself!
One of the most popular recipes on this blog year after year is the KFC-Style Gluten Free Fried Chicken. I am endlessly fascinated by what recipes take off and what recipes are received with a *yawn,* both on my blog and on other websites. After nearly 7 years of food blogging, I'm more surprised by what I don't know and can't predict, still.
But KFC-style fried chicken that really really does taste like KFC? I should have seen that one coming a mile away. But as much as I will forever sing the praises of deep-frying (it's not unhealthy when done right! it's not hard! it doesn't have to be messy! you can reuse the oil multiple times!), I know that it's generally not practical for, say, a workaday Wednesday such as today.
When I switched up the method and altered the spices a bit and took a chance with a healthy gluten free baked "fried" chicken, I found I could make it quick-and-easy Wednesday night style. And my family? More than half of the members love it more than actual fried chicken. ?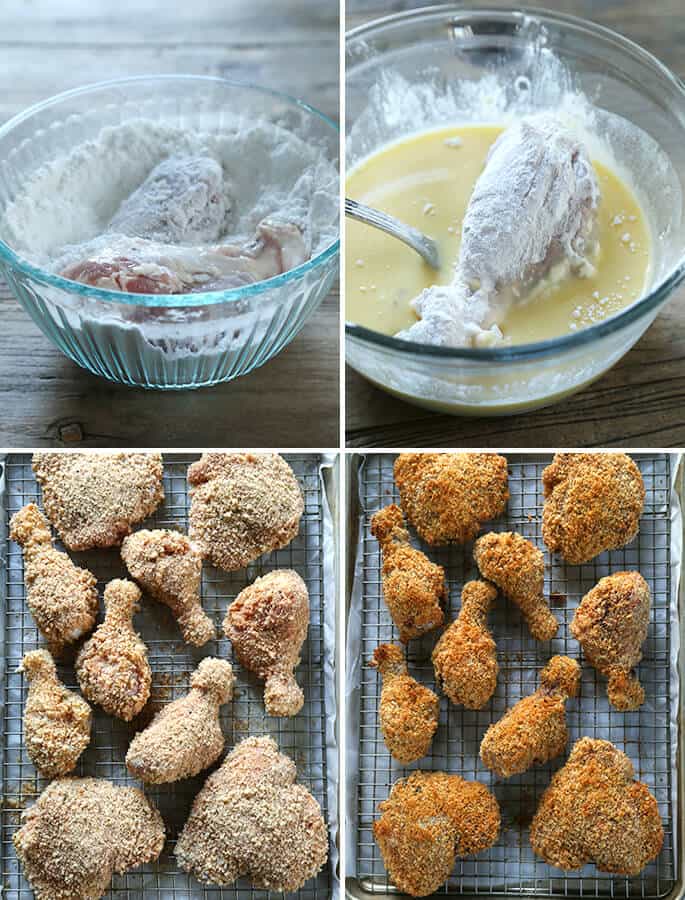 Having my family actually prefer the more convenient recipe is like having all three of my kids scheduled for basketball practice at the same time, in the same gym, on the same night—right around the corner from my house when all my work is done and I'm leisurely reading the newspaper and cuddling with my dogs. It's like hearing hoofbeats and actually seeing zebras, not horses. Or unicorns!
And if you're looking for the perfect side, I recommend these Oven Baked Fries from Kristen of A Mind "Full" Mom.
Oh, and did I mention how economical it is to make baked "fried chicken," or really anything with skin-on, bone-in chicken parts? You can buy high quality chicken parts for just a couple dollars a pound, and *bonus* most everyone prefers to eat with their hands anyway. Okay, except for my son who low-level grumbles the whole time but I tune him out so it's a-okay.
You can even prepare the chicken parts completely ahead of time (the night before, maybe?), place them on a baking sheet and stash them in the refrigerator. When you come home at the end of the day, fire up the oven and pop them in.
Baking them on a wire rack after spraying the tops with cooking oil ensures a crispy, crunchy coating, all those herbs and spices make every bite a flavor party and the chicken is always juicy and tender. Use whichever chicken parts you like best.
I either use a mixture of thighs, drumsticks and breasts, or 4 whole pounds of thighs, which tend to make everyone happy. Fingers crossed that your family loves, and maybe even prefers, baked "fried" chicken like mine does!