These gluten free New York Times Chocolate Chip Cookies taste exactly like the famous crispy-outside-chewy-inside cookies published (in gluten-containing form, of course) by the New York Times in 2009. You just won't believe how good they are!
This recipe for gluten free New York Times chocolate chip cookies is precisely the sort of recipe that would have been solidly off-limits before writing Gluten-Free on a Shoestring Bakes Bread.
Before Bakes Bread, there was no gluten free bread flour. Now, we have gluten free bread flour. A whole new world of possibilities has opened up.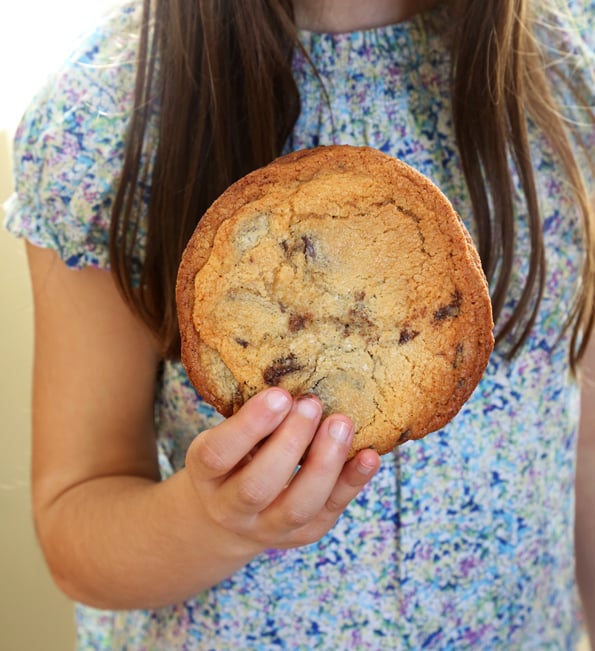 These are the cookies to scale. They are not for the faint of heart.
Are you familiar with the Famous New York Times Chocolate Chip Cookies? They're made with a combination of bread flour and cake flour.
We make bread flour like we do with our new gluten free breads. We make cake flour the way everyone does: with a combination of about 80% all purpose (gluten free) flour + 20% cornstarch.
The dough really does benefit from being chilled for 24 to 72 hours. I've tried baking the dough righta way, and baking it after chilling it for at least a full day. The texture of the baked cookies is really amazing after the wait.
If you think you won't be able to wait without even a taste, try chilling half the dough and baking off half the dough. Then, you can judge whether it was worth the wait.
One way or another, you're gonna need to make these. They're the perfect combination of chewy (in the center) and crispy (on the edges).
Be sure to sprinkle that little bit of coarse salt on top.That salty-sweet combination of tastes, along with all that texture magic, is something you won't soon forget.