These gluten free cake mix donuts made the easy way, by just adding 4 ingredients to a gluten free chocolate cake mix, are rich but not too sweet. The perfect gluten free chocolate donut!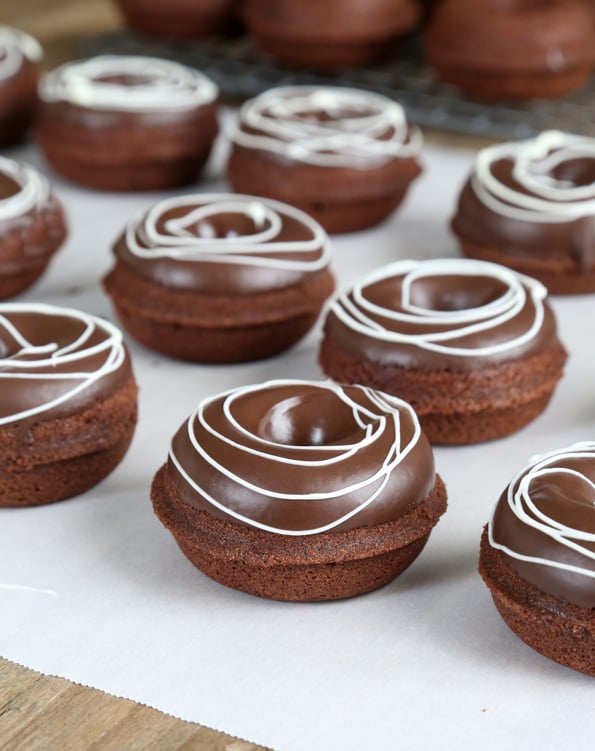 Donuts are not muffins, and muffins are not cupcakes. That's just a fact. Donuts are denser than muffins and cupcakes, and they can be yeast-raised or cake donuts made with baking powder and baking soda. But did you know that a cake … can be turned into a donut? It's true. I partnered with Arrowhead Mills to bring you these cake mix donuts. They're ridiculously easy to make, especially if you have one of those little electric donut makers like I do.
I like the donut maker much better than making cake donuts in the oven, and not just because I don't have to turn on the oven. When you use the donut maker, it cooks the donuts evenly on the top and the bottom, so both sides of the donut are ready for their close-up. You can try using your favorite gluten free chocolate cake mix, or my make-your-own mix. If you use a mix that is closer to 14 ounces, just use 2/3 of all of the other ingredients (which means using 67% of all the other ingredients, or 75 g butter, 38 g oil, 120 g beaten eggs, and about 6 3/4 fluid ounces milk). If you're using my Make-Your-Own Gluten Free Chocolate Cake mix, which weighs in at 16 ounces, cut all of the other ingredients by 1/4 (which means using 75% of all the other ingredients, or 84 g butter, 42 g oil, 135 g beaten eggs and 7 1/2 fluid ounces milk). No biggie!
The glaze is really just chocolate thinned with coconut oil since it's delicious and beautiful, but you could also do a simple chocolate sugar glaze by mixing 1 cup (115 g) confectioners' sugar, 1 tablespoon (5 g) unsweetened cocoa powder and 2 teaspoons of milk. Mix well, then add more milk by the half-teaspoon until you have a smooth but thickly pourable liquid. That would be beautiful, too. Don't you think?