These gluten free cake mix donuts made the easy way, by just adding 4 ingredients to a gluten free chocolate cake mix, are rich but not too sweet. The perfect gluten free chocolate donut!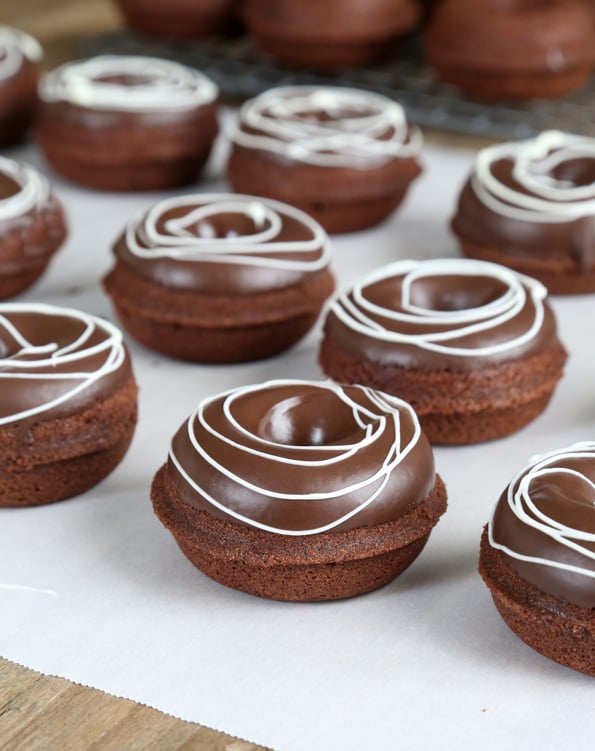 Donuts are not muffins, and muffins are not cupcakes. That's just a fact. Donuts are denser than muffins and cupcakes, and they can be yeast-raised or cake donuts made with baking powder and baking soda. But did you know that a cake … can be turned into a donut? It's true. I partnered with Arrowhead Mills to bring you these cake mix donuts. They're ridiculously easy to make, especially if you have one of those little electric donut makers like I do.
I like the donut maker much better than making cake donuts in the oven, and not just because I don't have to turn on the oven. When you use the donut maker, it cooks the donuts evenly on the top and the bottom, so both sides of the donut are ready for their close-up. You can try using your favorite gluten free chocolate cake mix, or my make-your-own mix. If you use a mix that is closer to 14 ounces, just use 2/3 of all of the other ingredients (which means using 67% of all the other ingredients, or 75 g butter, 38 g oil, 120 g beaten eggs, and about 6 3/4 fluid ounces milk). If you're using my Make-Your-Own Gluten Free Chocolate Cake mix, which weighs in at 16 ounces, cut all of the other ingredients by 1/4 (which means using 75% of all the other ingredients, or 84 g butter, 42 g oil, 135 g beaten eggs and 7 1/2 fluid ounces milk). No biggie!
The glaze is really just chocolate thinned with coconut oil since it's delicious and beautiful, but you could also do a simple chocolate sugar glaze by mixing 1 cup (115 g) confectioners' sugar, 1 tablespoon (5 g) unsweetened cocoa powder and 2 teaspoons of milk. Mix well, then add more milk by the half-teaspoon until you have a smooth but thickly pourable liquid. That would be beautiful, too. Don't you think?
Chocolate Gluten Free Cake Mix Donuts
Ingredients
For the donuts
21 ounces gluten free chocolate cake mix (try my recipe for Make-Your-Own Gluten Free Chocolate Cake mix)
8 tablespoons (112 g) unsalted butter, at room temperature
4 tablespoons (56 g) neutral oil (like canola)
3 eggs (180 g, out of shell) at room temperature, beaten
1 1/4 cups (10 fluid ounces) milk, at room temperature
For the glaze
5 ounces dark chocolate, chopped
2 tablespoons (28 g) virgin coconut oil or vegetable shortening
Melted white chocolate, for drizzling (optional)
Instructions
Preheat your oven to 350°F. Grease a mini donut pan or muffin tin and set it aside.*  

*Alternatively, bake the donuts in an electric miniature donuts maker. Instead of preheating your oven, warm the donut maker according to the manufacturer's directions. Make the batter in the manner described in the recipe instructions, and fill the bottom of the donut maker wells completely with batter, then close and secure the lid. Allow to bake for 3 minutes. Open the donut maker and remove the donuts with the remover tool included in the package. Transfer to a wire rack to cool completely.

In a large bowl, place the entire contents of the cake mix, and whisk to work out any lumps. Create a well in the center of the dry ingredients, and add the butter, oil, eggs and milk, mixing to combine after each addition. The batter will be thick and fluffy. Fill the prepared donut or muffin wells about 3/4 of the way full. Place in the center of the oven and bake for about 10 minutes, or until the donuts are set. Transfer to a wire rack to cool.

While the donuts are cooling, make the glaze. Place the chopped chocolate and the coconut oil in a small, heat-safe bowl and place over a small saucepan with about an inch of simmering (not boiling water), making sure the water doesn't touch the bowl. Melt over medium-low heat, stirring occasionally until smooth. Dip the top of each donut in the glaze and invert back onto the cooling rack. Drizzle with the optional melted white chocolate. Allow the glaze to set before serving.