These gluten free blueberry muffin tops have all the best parts of a blueberry muffin, just without the "stump." No special baking equipment needed for this easy one-bowl recipe.
Tops and stumps
If you've ever watched Seinfeld, you might remember the episode where Elaine owns part of a bakery that sells only the tops of muffins. The muffin top is the best part, filled with the lumpy, craggy lightly browned bits.
They bake the whole muffin, though, and then discard the "stumps." It's actually not a particularly funny episode if you ask me. But it's right about the tops. And of course here we just bake the tops.
No special equipment
The concept of muffin tops has become popular enough that there are "muffin top pans" that you can buy. I do not count such a purchase among my baking excesses. Instead, these gluten free blueberry muffin tops are made … on a baking sheet.
These muffin tops have the right balance of flour, fat, blueberries, and just a bit of liquid, so they puff up enough to make the craggy bits. But they don't spread too much.
They really do just taste like the tops of the muffins. The outside of the muffin top is this thin, lightly sweet shell and the inside is moist, tender and satisfying.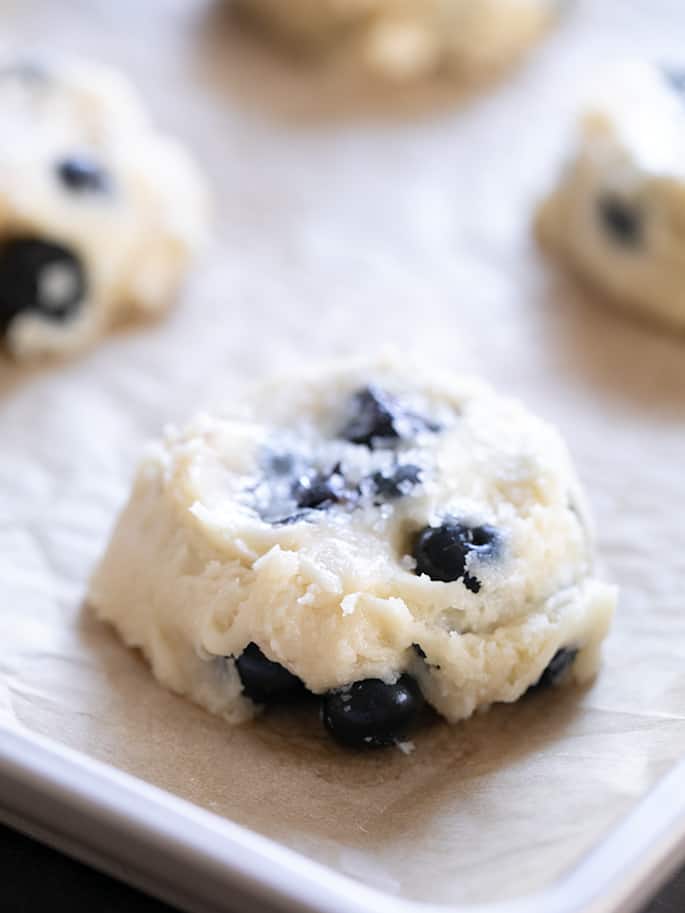 How to bake with (frozen) blueberries
Ideally, we'd all only eat the freshest, round and gorgeous blueberries. We'd only bake blueberry recipes like these muffin tops, our bakery-style blueberry muffins, or our blueberry muffin bread with the best of the best.
*ahem*
Back in the real world, if it's not the middle of blueberry season, most of the blueberries I can find at my grocery store are tiny, tart, kind of chewy (?) and crazy expensive. That's when I bake with frozen blueberries.
There are few tips for baking with frozen blueberries. First, be sure to buy the larger kind of berries, not what are usually sold as "wild blueberries," which are delicious but tend to be quite small and are more likely to disappear into the batter.
Then, do not defrost the frozen berries.. Just rinse them with cold water before tossing in the dry ingredients. This will help keep the color of the blueberries from bleeding into the batter during baking.
Ingredients and substitutions
Dairy: The dairy in this recipe is in the form of both butter and buttermilk. I haven't tried replacing them, but you should be able to make these gluten free blueberry muffin tops dairy-free with a few tweaks.
In place of the butter, try using Melt brand or Miyoko's Kitchen brand vegan butter, my favorite butter substitutes for baking. Either one should work in this recipe without any further adjustments.
If you can't locate either brand of vegan butter, try using Earth Balance buttery sticks, but eliminate the salt in the recipe and don't press down the mound of batter before baking. Earth Balance has a lot more moisture than butter, so the muffin tops with naturally spread more in the oven.
For a dairy-free alternative to buttermilk, I recommend trying half (1 1/2 tablespoons) plain nondairy yogurt and half (1 1/2 tablespoons) unsweetened nondairy milk. "Souring" plain nondairy milk with some vinegar will not replicate the thickness of true buttermilk.
Eggs: You can try replacing the single egg in this recipe with a "chia egg" (1 tablespoon ground white chia seeds + 1 tablespoon lukewarm water, mixed and allowed to gel). Since there's only a single egg, it should work well.
Corn: In place of cornstarch, try using arrowroot or even potato starch. There are only two tablespoonfuls so it should work either way.
The purpose of the added starch is to lighten the all purpose gluten free flour blend a bit. If you're already using a higher starch blend like Cup4Cup gluten free flour, just use 2 more tablespoons of that flour instead of the added starch.