This cinnamon swirl quick bread is made easily by swirling some cinnamon and sugar between two layers of vanilla quick bread. Your house will smell amazing!
No matter how smoothly things seem to be going on busy mornings, eventually we'll end up having breakfast issues in my house. Once we get into a groove with a make-ahead breakfast that all 3 of my kids like and I feel reasonably good about, well I settle in to that groove.
As my kids got older, maybe I should have just let them just.eat.cereal. I was just never really willing to give up, though. Instead, I've always tried to clear the decks by serving up something nearly too good to reasonably be called breakfast, like this cinnamon swirl gluten free quick bread.
I can almost guarantee that, if you serve it for breakfast with some fruit you'll be like me. Surprise surprise, there is not one complaint.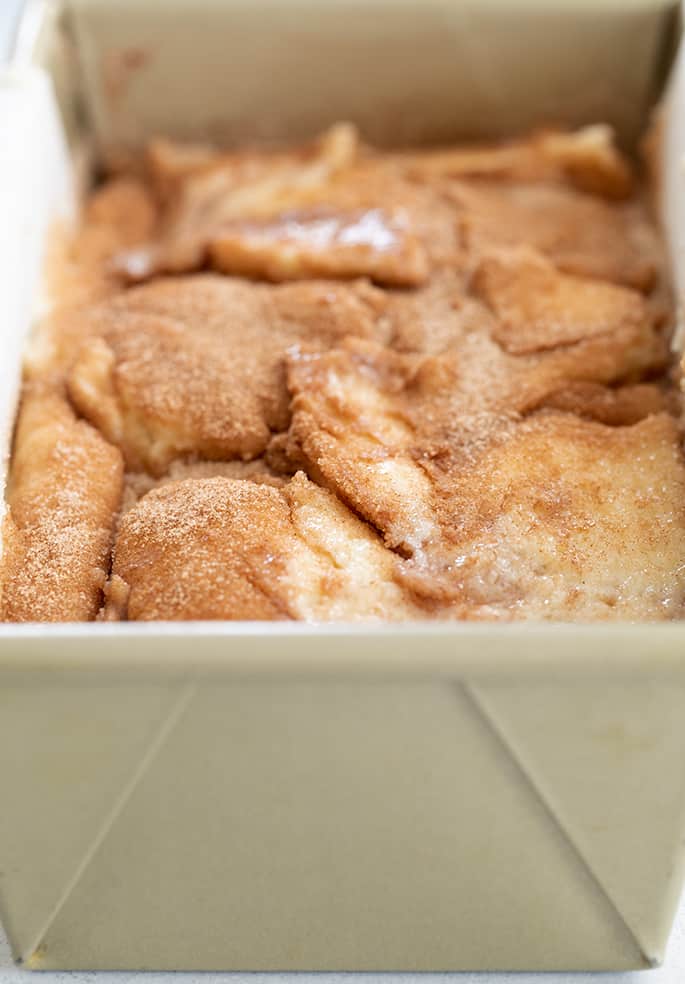 How to make all that cinnamon sugar quick bread texture
The layered and then swirled batter doesn't necessarily mean that the cinnamon-sugar mixture makes its way into every single nook and cranny of the quick bread. But it's not meant to.
The swirling makes for a perfectly craggy and nubby top, one that makes the whole business taste like the perfectly tender coffee cake which it basically is, after all. And spreads out the cinnamon-sugar just enough.
It's not nutritious like oatmeal muffins, but it does remind me and my children alike that I can, in fact, make something that they love for breakfast. Sometimes, you just need a win. You know?
Ingredients and substitutions
Dairy
You should be able to replace both the buttermilk and the butter in this recipe. The buttermilk can be replaced with half (by volume) unsweetened nondairy milk (my favorite is almond milk) and half (by volume) unsweetened nondairy plain yogurt.
You can also make this swap with dairy-containing ingredients if you just don't have buttermilk. The butter should be able to be replaced with your favorite vegan butter.
I like Melt and Miyoko's Kitchen brands best. I would avoid Earth's Balance buttery sticks, since they're not my first choice for baking.
Eggs
In place of each of the 2 eggs, you can try using one "chia egg." Place 1 tablespoon ground white chia seeds in a small bowl, add about 1 tablespoon lukewarm water, mix and allow to gel.
Corn
If you can't have corn, try replacing the cornstarch with potato starch or arrowroot. If you're using an all purpose gluten free flour blend like Cup4Cup brand, which already high in starch, don't use the extra cornstarch. Replace it with an equal amount, by weight, Cup4Cup.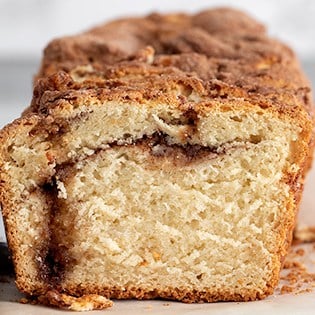 Cinnamon Swirl Gluten Free Quick Bread
Ingredients
For the quick bread
1 3/4 cups (245 g) all purpose gluten free flour (I used Better Batter)
1 teaspoon xanthan gum (omit if your blend already contains it)
1/4 cup + 2 tablespoons (54 g) cornstarch
1 1/2 teaspoons baking powder
1/2 teaspoon baking soda
1/2 teaspoon kosher salt
3/4 cup (150 g) granulated sugar
6 tablespoons (84 g) unsalted butter, at room temperature
1 cup (8 fluid ounces) buttermilk, at room temperature
2 eggs (100 g, weighed out of shell) at room temperature, beaten
1 teaspoon pure vanilla extract
For the cinnamon-sugar mixture
1/2 cup (100 g) granulated sugar
2 teaspoons ground cinnamon
For the (optional) glaze
1 cup (115 g) confectioners' sugar
1 tablespoon milk (any kind), plus more by the 1/4 teaspoonful if necessary
Instructions
Preheat your oven to 350°F. Grease and line with unbleached parchment paper a standard 9-inch x 5-inch loaf pan and set it aside.

Make the quick bread batter. In a large bowl, place the flour, xanthan gum, cornstarch, baking powder, baking soda, salt and sugar, and whisk to combine well. Create a well in the center of the dry ingredients and add the butter, buttermilk, eggs, and vanilla, mixing to combine after each addition. The batter will be thick and fluffy.

Make the cinnamon-sugar mixture and assemble. In a small bowl, place the granulated sugar and cinnamon, and mix to combine well. Scrape half of the quick bread batter into the prepared loaf pan, and spread into an even layer with a wet spatula. Place half of the cinnamon-sugar mixture on top and shake into an even layer. Place the remaining batter on top followed by the remaining cinnamon-sugar mixture, in the same manner. Using a wet butter knife at an angle perpendicular to the bottom of the loaf pan, carefully swirl the batter in all directions. The top of the batter should be craggy and uneven.

Bake the loaf. Place the loaf pan in the center of the preheated oven and bake for 30 minutes at 350°F. Lower the oven temperature to 325°F, rotate the loaf pan 180°, and continue to bake until a toothpick inserted in the center of the loaf comes out with no more than a few moist crumbs attached, and the top is light golden brown and firm to the touch (about another 15 minutes). Remove from the oven and allow to cool in the baking pan for 15 minutes before transferring to a wire rack to cool completely.

Make the glaze while the quick bread is cooling. In a small bowl, place the confectioners' sugar and 1 tablespoon of milk. Mix well, until a thick paste forms. Add more milk by the 1/4-teaspoon, mixing to combine well, until the glaze falls off the spoon slowly, in a thick but pourable glaze. Add milk very slowly, as it is much easier to thin, than to thicken, the glaze. If you do thin the glaze too much, add more confectioners' sugar a teaspoon at a time to thicken it. Drizzle the glaze in zigzag patterns all over the top of the cooled quick bread. Slice thickly and serve.

Adapted from Taste of Home and my recipe for Lemon Poppyseed Bread. Originally published on the blog in 2015. Some photos new; video new. Recipe unchanged.