These ten gluten free biscuit recipes cover everything from sweet to savory, drop to layered. Use them for sandwiches, or to serve alongside any meal.
Whether you're trying to complete a simple meal, or dress up a breakfast or brunch, biscuits are where it's at. Below are 10 amazing gluten free biscuit recipes that will carry you through the meals and the seasons. Any of these recipes freeze well, but there really is no need to freeze drop biscuits as they are just.so.simple.
If you'd like to freeze any of the layered kinds of biscuits, just make and shape the dough, freeze the rounds in a single layer on a baking sheet and pile them into a zip-top bag. Bake directly from frozen, adding a couple of minute on to the baking time.
Biscuit Baking Tips
When you're making pastry, gluten free or not, the keys to success are in proper temperature and architecture. Let me explain…
Temperature is super important in making pastry. When the fat (usually butter) is kept cold, it constricts and stays, well, small. That way, when the cold dough goes into the oven, the fat expands quickly in the heat and puts outward pressure on the rest of the dough around it. That, and some sort of leavener (baking powder and/or yeast) are what creates the lightness and airiness. All pastry should be cold before you bake it.
Architecture is also very important—when you're making layered pastry. Drop biscuits are made more like drop cookies. Just put the ingredients together, keep them cold and handle them lightly, then pop them in the oven. Layered biscuits and other pastries are where architecture comes in.
Laminating dough is the process of creating thin layers of dough separated by butter (or another fat that is solid at room temperature) through a series of "turns," or alternating folding and rolling the dough. Full lamination is in puff pastry, but even a few turns will create a nicely layered biscuit. It only takes a few more minutes, and the rewards can be great.
Here are my 10 of my favorite gluten free biscuit recipes, for everything from savory to sweet, layered to drop. Whatever the question, biscuits are the answer. Trust me!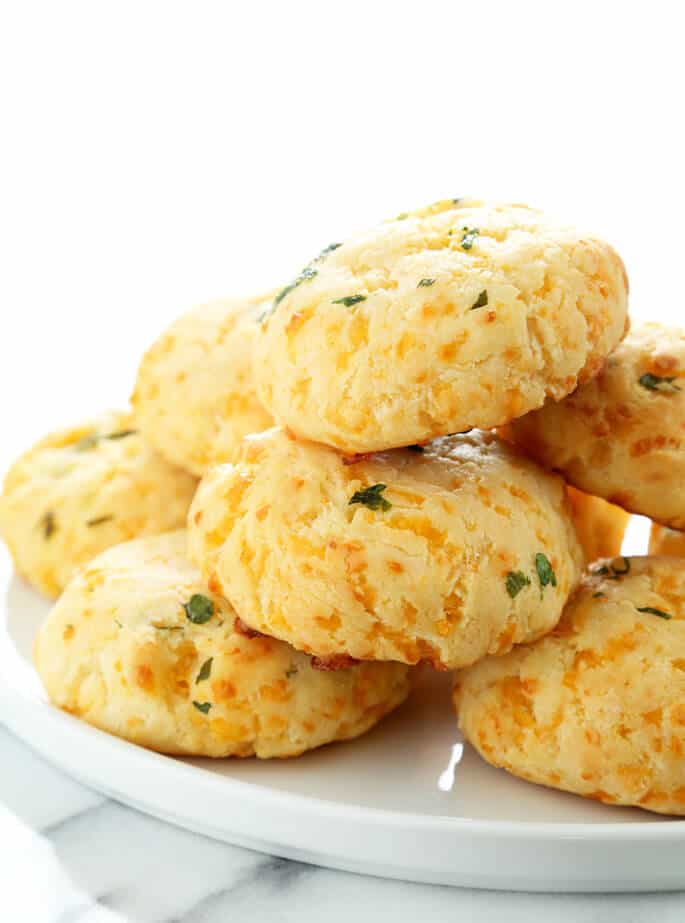 Just-like-you-remember, homemade gluten free Cheddar Bay Biscuits. Simple drop biscuits that are super easy to throw together, and taste just like the famous Red Lobster Biscuits. With just the right amount of garlic, butter and a light sprinkling of fresh parsley.
They're perfect for any meal, and since they're drop biscuits, there's no folding and laminating of the dough. There's a time for laminating and folding, don't get me wrong. This just isn't it!
Truly light and flaky gluten free biscuits with rich sausage gravy. Ready in minutes, this hearty breakfast is a family favorite, and now you can have it back.
You really can make the gravy with any fat as a base (bacon grease, butter, olive oil), but there's something special about making it with sausage drippings—and bits of crumbled cooked sausage. The biscuit recipe is your classic layered biscuit. Watch it puff in the oven. You'll be amazed!
Made with both baking power and yeast, gluten free angel biscuits are guaranteed to rise high, up to the sky. Don't tell the other biscuit recipes, but this one's my favorite in the classic style. Just look at the fluffiness!
The delicate cinnamon-sugar stripes all the way through each biscuit, plus the caramelized sugar on top of each, make these gluten free cinnamon sugar biscuits a real brunch time show-stopper. Clearly, they're not drop biscuits. But they're worth it, dressed as they are to impress.
Crisp and flaky on the outside, pillow-soft and tender on the inside, these gluten free ricotta biscuits are just a little bit more hearty than your usual biscuit. Perfect for a biscuit sandwich, especially since biscuits are severely underutilized for sandwiches. 
Gluten free cream cheese biscuits are made with a combination of butter and cream cheese for an extra tender, slightly tangy biscuit. I've made them with mascarpone cheese, a slightly sweet Italian cream cheese, and straight-up Philly cream cheese. I haven't made them with the light-style cream cheese, which of course isn't cream cheese at all, but it's worth a shot.
 
These gluten free bacon, egg & cheese biscuits take breakfast for dinner to a whole new level. They actually freeze quite well, in case you were inclined to make and freeze them.
 
Hearty gluten free cornmeal drop biscuits are heartier than your typical drop biscuit, and not flaky like more traditional biscuits. But they're tender and so flavorful that they make a regular chicken dinner into an event.
When you need donuts and you need them now, grab that batch of gluten free biscuit dough you always have in the refrigerator or freezer (right??), and make gluten free biscuit donuts in minutes. Like the famous Dominique Ansel cronuts, but gluten free and sooooo much easier.
Tender and light gluten free drop biscuits are ready in 20 minutes, start to finish. They may not be flaky and layered, but you can't beat the taste or the convenience. If you've never made biscuits, this is the place to begin. If you've made biscuits before but you only have a few minutes and need them now, this is the recipe for you. Light, buttery, and fluffy gluten free drop biscuits are the perfect complement to any meal.