Gluten free mac and cheese at its easy best. This recipe only takes about 20 minutes to make from start to finish, and it's made entirely on the stovetop. So good!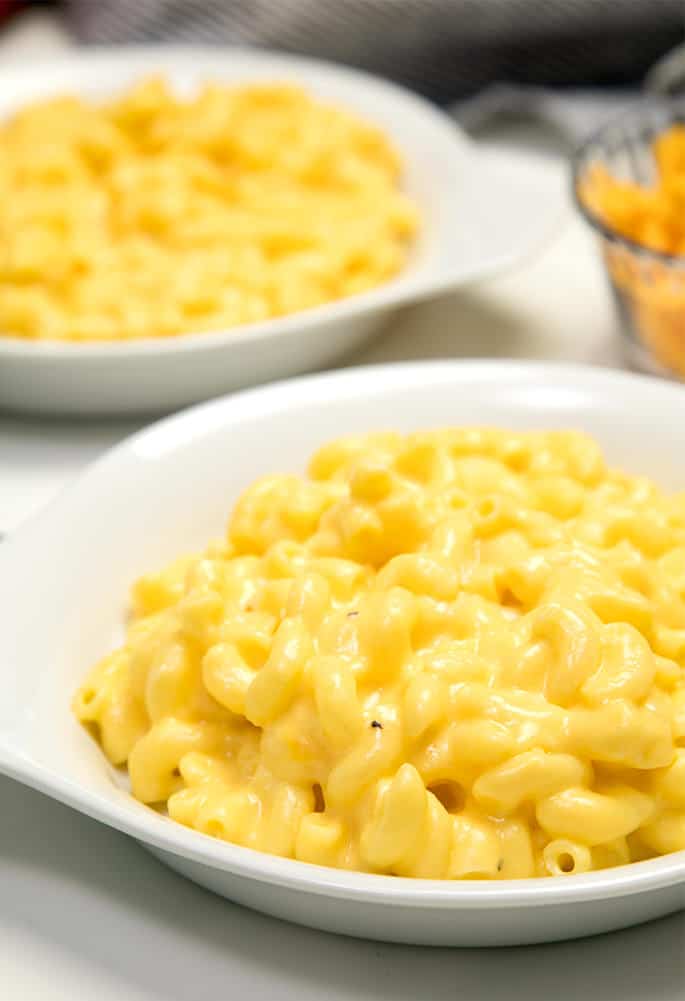 If you only have one recipe…
This super easy gluten free mac and cheese is just the recipe you need. I know this because I use it regularly for a last-minute dinner in my house when I basically have nothing planned and everyone is hungry hungry hungry.
It's made entirely on the stovetop, uses only basic gluten free pantry ingredients (yes, you really do need a basic gum-free gluten free flour blend but it's only 3 simple flours and incredibly useful), has no eggs and is ready in minutes.
So not only is it perfect for a weeknight (or a Friday night when you're just.plain.tired), it's also perfect for the holiday table since, well, it doesn't use the oven!
It's creamy and dreamy and delicious. And you can even make the pasta hours and hours ahead of time, then just cover it and keep it at room temperature until you're ready to throw together the cheese sauce and serve. It's that easy!
How easy is it really?
Okay so I did the step-by-steps and the video above because you can see for yourself how easy it is. All you do is make a roux out of butter and the simple flour blend, then add the milks and the cheese with a bit of seasoning, and mix in the cooked pasta.
There are ways to make this even easier by tweaking the method to cook the dried pasta in the same saucepan first, but you have to use more liquids and the overall method isn't any easier. In fact, I think it's more complicated and confusing.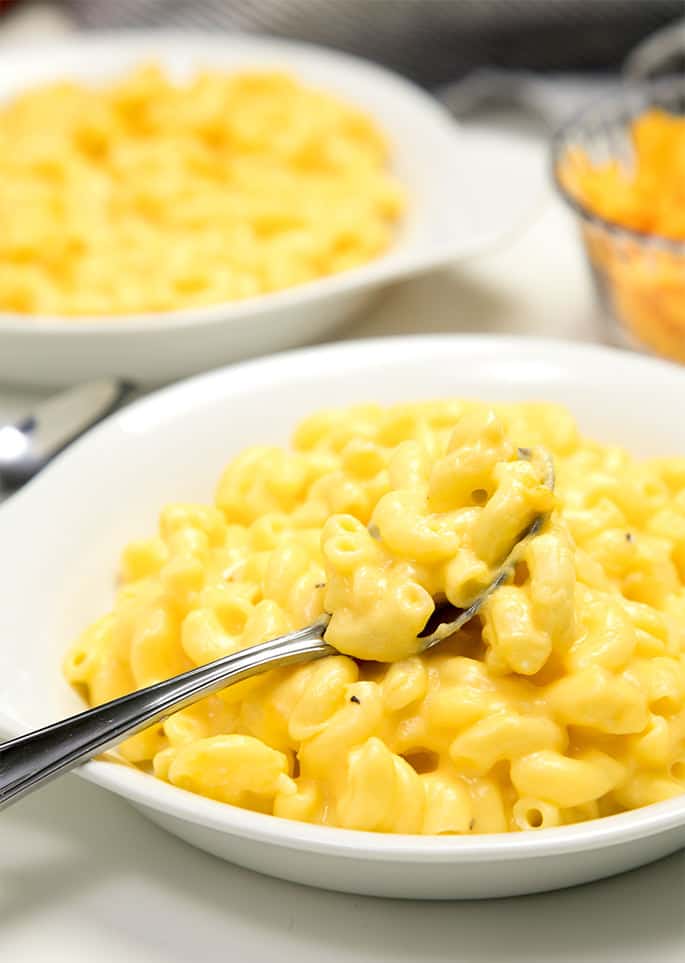 The good news is that you can even boil the pasta ahead of time, toss it with some olive oil, then cover it and keep it at room temperature for hours (or even a day, when the weather isn't steamy). Then, make the cheese sauce, add the pasta and dinner is served.
So creamy! I've even made the pasta at home, then brought the handful of cheese sauce ingredients and a medium-size pot, and made this at my brother's house to serve a great gluten free meal away from home with ease.
What if you're dairy free, too?
I would never have thought that I could tell you that there was even a prayer of taking my recipe for gluten free mac and cheese and making it dairy free. But ever since I made Paleo pizza with vegan cheese that actually melts, I think it's worth a shot.
To be perfectly clear, I have never tried to make this mac and cheese recipe (or any, really) myself dairy free. But I think it's worth your while to try replacing the butter with Earth Balance buttery sticks, the milk with unsweetened almond milk, and the cheese with my favorite recipe for meltable vegan mozzarella by Miyoko Schinner.
If you do give it a go, please report back and let us know how it went! Press play ▶️ on the video below and see for yourself just how easy it is…
More Links:
Casserole-style GF Classic Mac and Cheese.
Slow Cooker GF Mac and Cheese.