BLT gluten free pasta salad, with spinach or other baby greens, is a quick and easy way to enjoy a restaurant-quality meal at home without breaking the bank—or heating up the kitchen.
This isn't your typical mayonnaise-style pasta salad (not that there's anything wrong with that sort). It's a main dish pasta salad, but it's served warm, not hot.
Plus it's ready in less than 20 minutes, from start to finish. All you need on hand is some fresh baby greens (any kind you like—I like a mixture of arugula, baby kale and baby spinach), cherry tomatoes, thick-cut bacon, dried pasta and a grated semi-hard cheese.
My family loves asiago cheese, since it adds so much flavor and aroma, but the same could be said of Parmigiano-Reggiano cheese. If you're dairy free, try replacing the sour cream with a nondairy sour cream and the grated cheese with nutritional yeast (if you haven't tried nutritional yeast, you should!).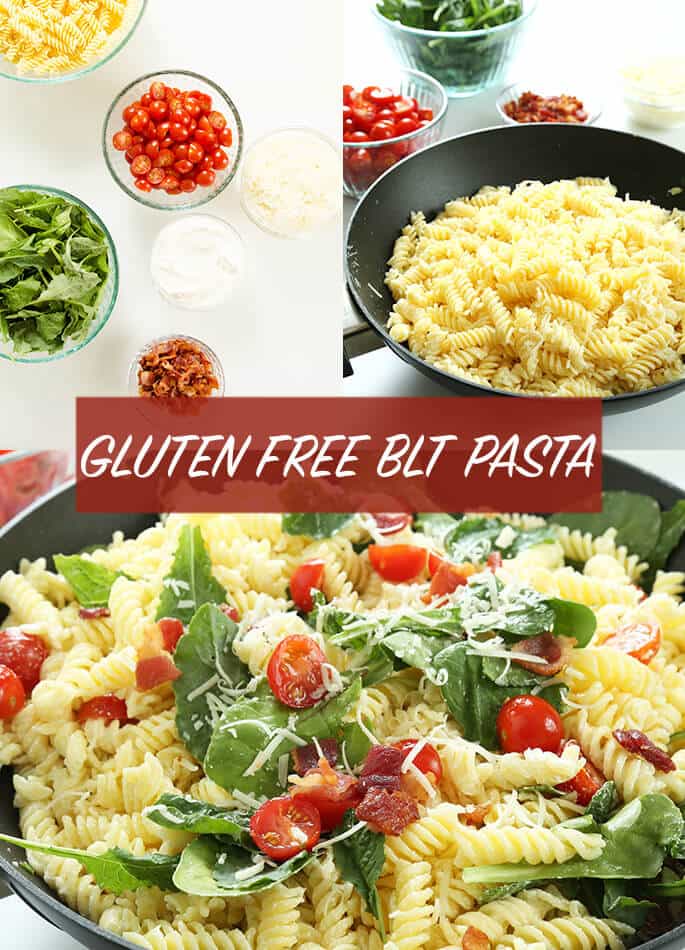 Gluten free pasta
Gluten free pasta is sort of notorious both for not having a proper texture, and not holding an acceptable texture once chilled in the refrigerator. First of all, you need the proper gluten free dried pasta (my favorite, hands down, is Barilla) that boils perfectly every time—without any special treatment.
Be sure to check out the comments to this post, though. There are a lot of great suggestions for other dried gluten free pasta brands that seem to have the goods.
A trick I use is tossing the cooked pasta with a bit of oil, then covering it and storing it at room temperature. It will retain a perfect al-dente texture without any extra effort. If you do boil the pasta ahead of time, this is really going to be the fastest, most satisfying dinner in the history of ever.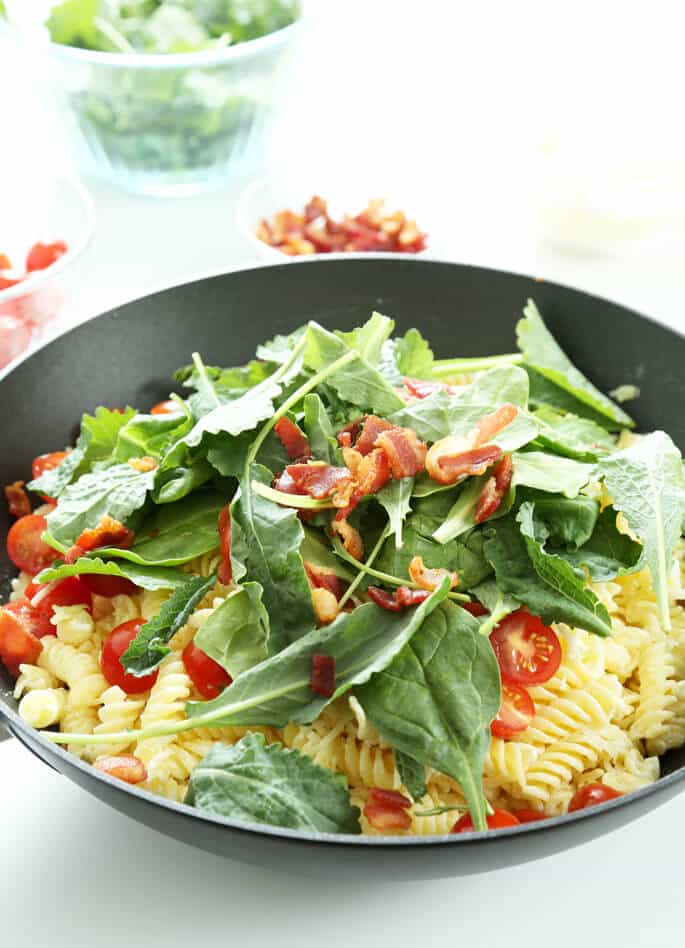 Variations
I've made this with a couple variations already, all with fabulous results. I've tried it with blanched cauliflower florets in place of the greens (or in addition to the greens), and with sundried tomatoes added at the sour cream stage.
This dish is also lovely served at room temperature entirely, and would make a great pack-and-go summer meal for the beach.
I'm not sure I would have thought to make a pasta sauce with a sour cream, bacon and garlic base on my own, but no worries. Chef John did it for me!
Click play ▶️ below and watch me make this lovely little dish. It may be hot outside, but we're gonna eat well!
BLT Gluten Free Pasta Salad
Ingredients
1 pound (16 ounces) dried gluten free rotini pasta (my favorite brand is Barilla)
8 ounces thick-cut smoked bacon, diced
2 cloves garlic, peeled and minced
1/2 teaspoon kosher salt
1 1/4 cups (300 g) sour cream
1/4 cup (4 fluid ounces) chicken stock or pasta water, plus more as necessary
2 tablespoons (1 fluid ounce) apple cider vinegar (or white wine vinegar)
1 pound (about 3 cups) cherry tomatoes, sliced in half
5 ounces baby spinach or mixed baby greens
3 ounces finely grated asiago cheese (or Parmigiano-Reggiano cheese)
Instructions
Boil the pasta to an al dente texture according to the package directions. I boil mine for 5 minutes flat. Drain and rinse with cold water, and set aside briefly.*

*The pasta can be boiled up to a day ahead of time, then drained and rinsed, tossed with a tablespoon or two of extra virgin olive oil then covered tightly and stored at room temperature. Proceed with the recipe when ready.

In a medium-size, heavy-bottom saucepan, cook the bacon over medium-high heat until browned and crispy (about 5 minutes). Remove the cooked bacon from the saucepan and transfer to a paper towel-lined plate to drain. Drain off all but 2 tablespoons of the rendered bacon fat and set it aside. Press the minced garlic with the flat side of a large knife into a paste with the kosher salt, then add it to the pan. Cook the garlic in the bacon fat over medium heat until fragrant (about 2 minutes). Add the sour cream, stock, vinegar, and as much of the rendered bacon fat as you dare, and whisk until smooth and well-combined. Add more stock by the teaspoonful as necessary to thin the sauce.

Add the cooked pasta to the pan and toss to coat. Remove the pan from the heat and add the tomatoes, greens, 2 ounces of the grated cheese, and cooked bacon, and fold gently into the pasta. Divide into 4 servings and sprinkle evenly with the remaining ounce of grated cheese. Serve immediately. 

Adapted from Allrecipes Magazine. Originally posted on the blog in 2016. Video and some text new.