BLT gluten free pasta salad, with spinach or other baby greens, is a quick and easy way to enjoy a restaurant-quality meal at home without breaking the bank—or heating up the kitchen.
This isn't your typical mayonnaise-style pasta salad (not that there's anything wrong with that sort). It's a main dish pasta salad, but it's served warm, not hot.
Plus it's ready in less than 20 minutes, from start to finish. All you need on hand is some fresh baby greens (any kind you like—I like a mixture of arugula, baby kale and baby spinach), cherry tomatoes, thick-cut bacon, dried pasta and a grated semi-hard cheese.
My family loves asiago cheese, since it adds so much flavor and aroma, but the same could be said of Parmigiano-Reggiano cheese. If you're dairy free, try replacing the sour cream with a nondairy sour cream and the grated cheese with nutritional yeast (if you haven't tried nutritional yeast, you should!).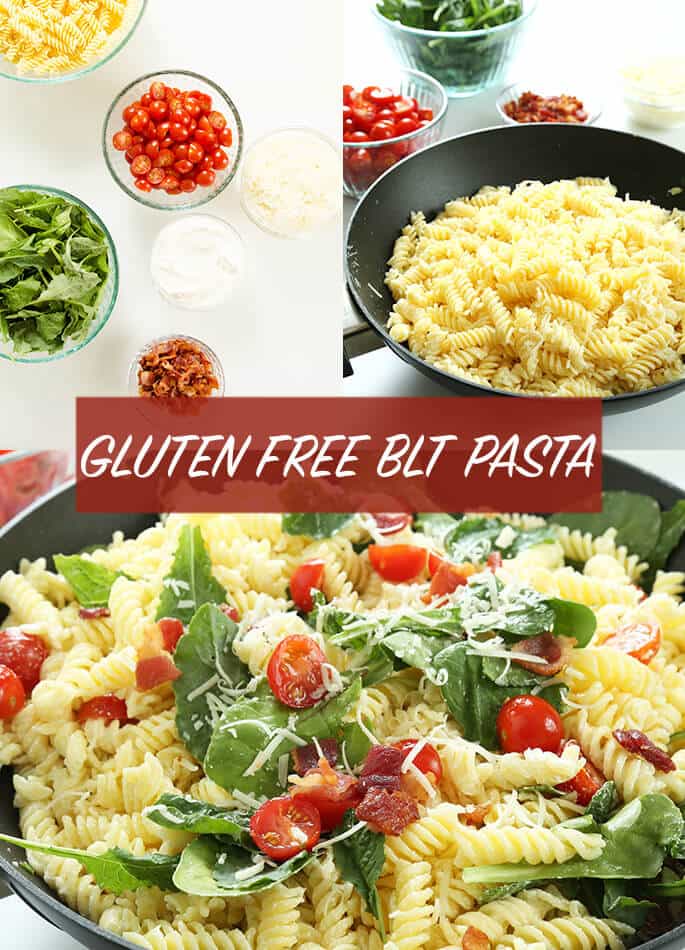 Gluten free pasta
Gluten free pasta is sort of notorious both for not having a proper texture, and not holding an acceptable texture once chilled in the refrigerator. First of all, you need the proper gluten free dried pasta (my favorite, hands down, is Barilla) that boils perfectly every time—without any special treatment.
Be sure to check out the comments to this post, though. There are a lot of great suggestions for other dried gluten free pasta brands that seem to have the goods.
A trick I use is tossing the cooked pasta with a bit of oil, then covering it and storing it at room temperature. It will retain a perfect al-dente texture without any extra effort. If you do boil the pasta ahead of time, this is really going to be the fastest, most satisfying dinner in the history of ever.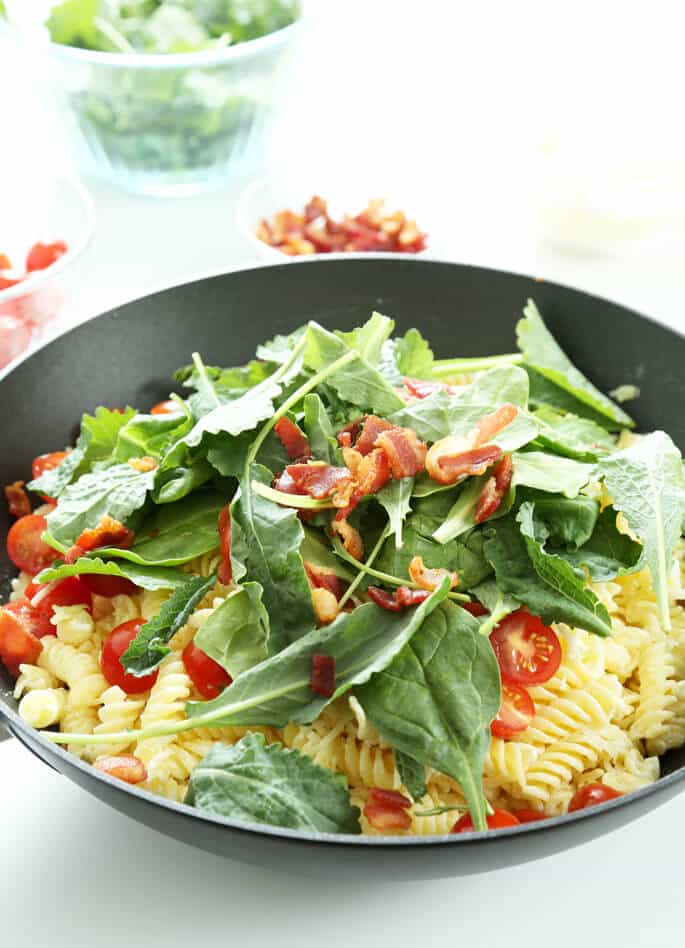 Variations
I've made this with a couple variations already, all with fabulous results. I've tried it with blanched cauliflower florets in place of the greens (or in addition to the greens), and with sundried tomatoes added at the sour cream stage.
This dish is also lovely served at room temperature entirely, and would make a great pack-and-go summer meal for the beach.
I'm not sure I would have thought to make a pasta sauce with a sour cream, bacon and garlic base on my own, but no worries. Chef John did it for me!
Click play ▶️ below and watch me make this lovely little dish. It may be hot outside, but we're gonna eat well!