No churn ice cream recipe made with a simple homemade marshmallow base—and no sweetened condensed milk. Creamy, dreamy and so delicious, you won't believe how easy it really is!
No Churn Marshmallow Ice Cream
Making no churn ice cream just means making ice cream without an ice cream machine. Since 2013, I've been making no churn ice cream at home with nothing more than sweetened condensed milk, cream and vanilla. In all that time, I don't believe that I've broken out my ice cream maker even once. No need for the fuss.
But what about making homemade ice cream when you don't have/don't want to make sweetened condensed milk—or simply don't want to use it? Oh, hello marshmallow ice cream.
If you have a simple candy thermometer (affiliate link) (or even if you don't—just do the "softball stage" test), you can make homemade marshmallows with nothing more than gelatin, water, cream of tartar and sugar.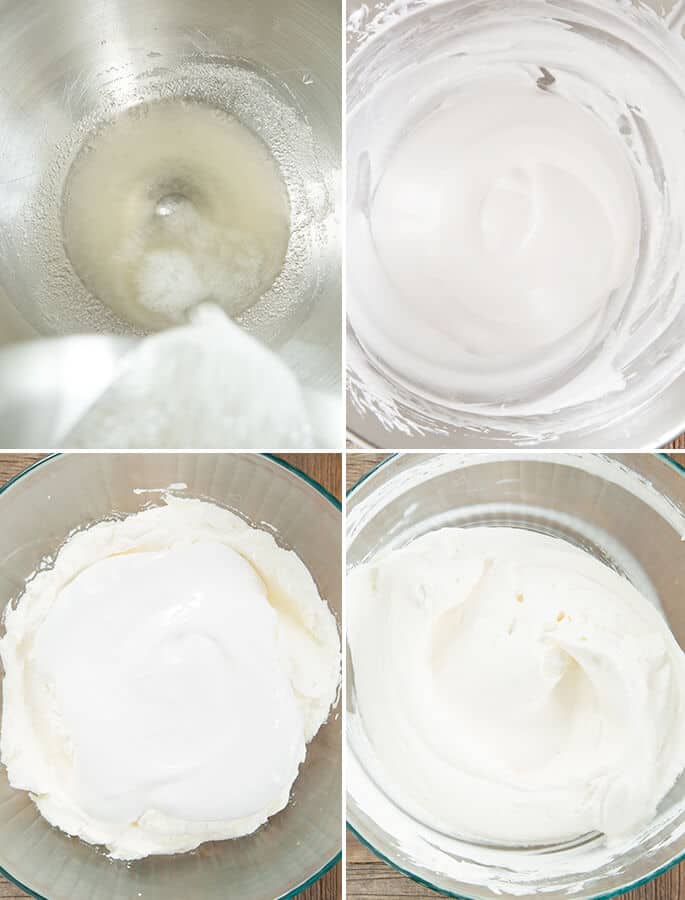 Use about half the gelatin you would for marshmallows, keep everything else the same, fold the mixture into fresh whipped cream and make marshmallow ice cream. It's really that simple.
The secret to making stable whipped cream? Whip the heavy cream on medium-high, not high speed. The more slowly you whip it, the more stable it will be.
This homemade ice cream is incredibly creamy and light, and tastes like you would imagine marshmallows would if they were creamy instead of just soft. It's my family's favorite homemade ice cream. In fact, whatever cake my children choose for their birthdays, they always beg for a "side of marshmallow ice cream."
To Make Homemade Marshmallows
Increase the unflavored powdered gelatin to 7 grams, and keep everything else exactly the same (but eliminate the heavy whipping cream as an ingredient). Line a baking pan or sheet with parchment, cover with a layer of confectioners' sugar, and spread the marshmallow mixture into an even layer on top. Allow to set at room temperature before slicing into squares.
To make little marshmallow kisses, grease the inside of a piping bag fitted with a large, open piping tip and pour the marshmallow mixture inside. Pipe out little kisses onto a layer of confectioners' sugar and allow to set.