This is the classic gluten free buttermilk pancake recipe you've been looking for. So light and fluffy, and you can make them ahead, freeze and reheat for a super quick breakfast!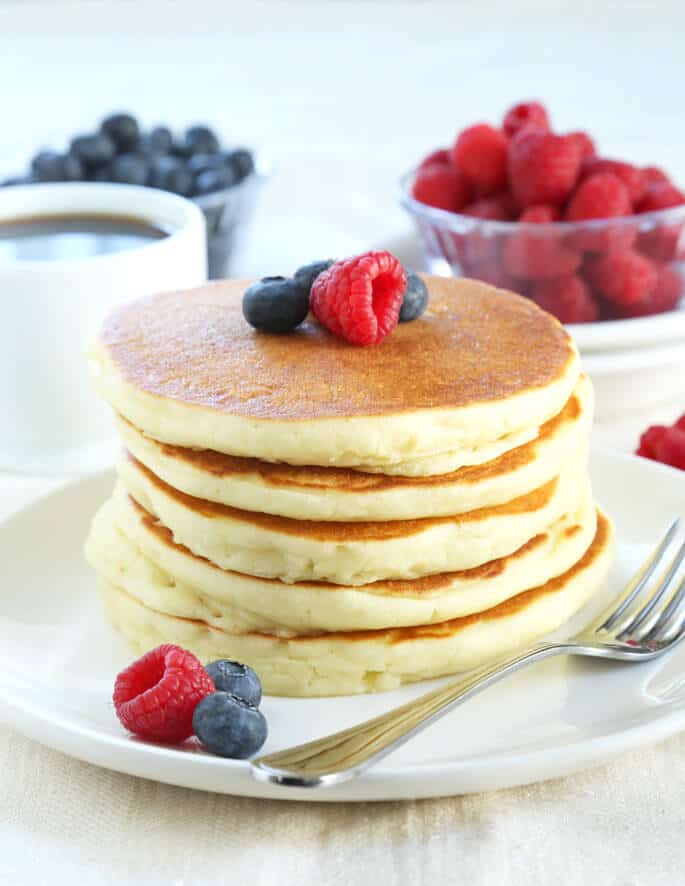 I've been tinkering with this recipe for gluten free buttermilk pancakes for weeks and weeks. Here was my wish list: thick, fluffy pancakes that don't need a lot of sugar to have a lot of flavor.
And these pancakes made all of my breakfast dreams came true.? (In case you'd like to see, I also have a recipe for a Bisquick-style mix for gluten free pancakes.)
About maple syrup and pancakes: I don't ever buy imitation maple syrup. Pure maple syrup doesn't come cheap, but I use it sparingly and you just can't compare imitation syrup to it.
Plus, here's another tip: try drizzling about 1/2 teaspoon of cold maple syrup onto the underside of each pancake after it's been cooking on the griddle for about a minute. Allow that side to continue cooking (it may take another few seconds to set), flip and finish.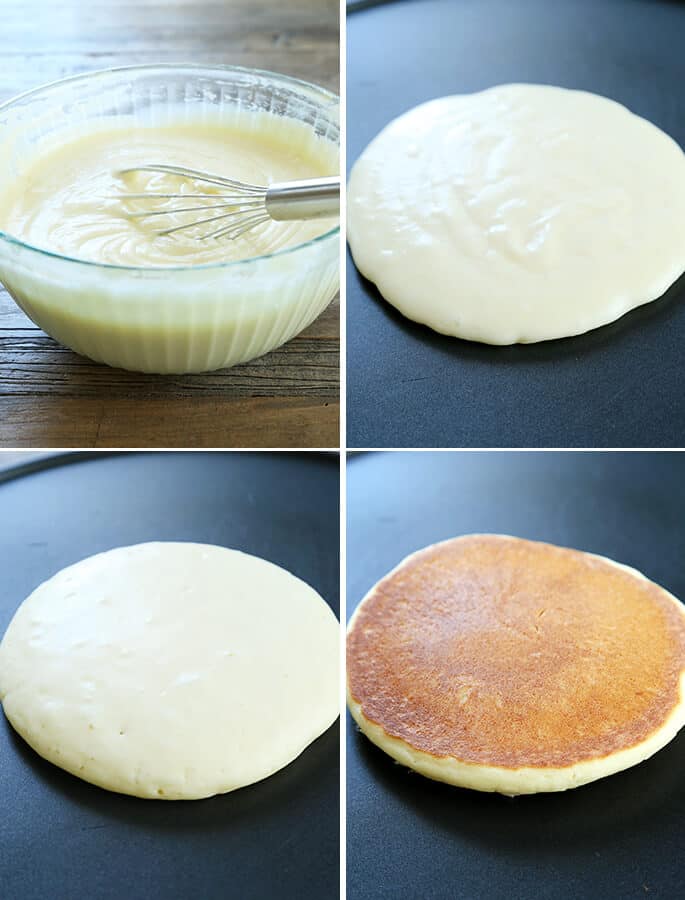 The batter for these pancakes is quite thick, even more so if you add the optional 1/4 teaspoon of xanthan gum. Resist the urge to swirl the batter around after pouring it onto the griddle.
If you'd like extra-thick pancakes, allow the batter to cook for 1 minute on the first side, then pour a bit more batter right into the center. Once the edges are set, the extra batter won't spread the pancake any wider. It will just take a few extra seconds to be ready to flip.
Finally, a word about xanthan gum: You do not want to use a flour blend that already has xanthan gum in the mix. The pancakes will simply be too gummy, the batter way too thick.
You can make these pancakes with just my basic gum-free blend, and no added xanthan gum. The only difference will be that, without the gum, the edges of the pancakes will feather out irregularly as they cook. So it's truly up to you whether you include a bit or not.
Perfect Gluten Free Buttermilk Pancakes
Yield:
9 to 12 pancakes, depending upon size
Ingredients
1 1/4 cups (175 g) basic gum-free gluten free flour blend (115 g superfine white rice flour + 39 g potato starch + 21 g tapioca starch/flour)
1/4 teaspoon xanthan gum (optional—will keep the edges of the pancakes from feathering)
1 1/2 teaspoons baking powder
1/2 teaspoon baking soda
1/2 teaspoon kosher salt
2 tablespoons (24 g) granulated sugar
2 eggs (100 g, weighed out of shell) at room temperature, beaten
3/4 cup (6 fluid ounces) buttermilk, at room temperature
2 tablespoons (28 g) unsalted butter, melted and cooled
Instructions
In a large bowl, place the flour blend, optional xanthan gum, baking powder, baking soda, salt and sugar, and whisk to combine well. Set the bowl aside. In a large spouted measuring cup, place the eggs, buttermilk and butter, and whisk vigorously to combine well and beat the eggs completely. Create a well in the center of the dry ingredients and add the buttermilk and egg mixture in a slow, steady stream, whisking constantly. Continue to whisk until the mixture is smooth. It will be thick.

Heat a griddle or lightly greased nonstick or cast iron skillet over medium heat. Grease it lightly, and pour as many portions of about ¼ cup of batter onto the hot griddle as can fit comfortably, without touching. When pouring the batter, don't swirl it around; pour straight down. For extra thick pancakes, allow the pancakes to cook until the edges are beginning to set, and then add more batter right to the center of the pancake. Allow the pancakes to cook until large bubbles begin to break through the top of the batter in each pancake and the edges are set (about 2 minutes). With a wide, flat spatula, carefully flip over each pancake, and continue to cook until set (about another 2 minutes). Remove from the skillet, and repeat with the remaining batter.

Pancakes can be cooled completely, then stacked, wrapped tightly and frozen. Separate the pancakes and defrost in the toaster oven on 'light' or 'low.'