This no bake healthy paleo fudge is rich, chocolatey, and so satisfying you'll never eat too much of it. Just a few ingredients, and no added sugars!
This Paleo fudge is not low-calorie, but it's got tons of flavor and healthy, satisfying fats and fiber, so it doesn't kick up carbohydrate cravings. So I'm satisfied after just a taste.
I only have so much will power (so do you! it's science), so I like to keep it in reserve as much as possible.
The only "cooking" this fudge requires is melting the chocolate and virgin coconut oil on the stovetop, perched over some simmering water, but that can also be done in the microwave. I
n fact, if we didn't have to melt the chocolate we could probably call this "raw" fudge. But I'm sure there are all sorts of rules for what can be called raw and what can't, right?
If you've been around this blog for much time at all, you may already know that I always hesitate before using my food processor. It's not that I don't think it's an incredibly useful kitchen workhorse. I do! But drying it can be such a chore.
It just has so many nooks and crannies for holding water. But this Paleo fudge is rich enough, but not too rich, creamy but still firm, not too sweet and incredibly satisfying. So it's 100% worth it.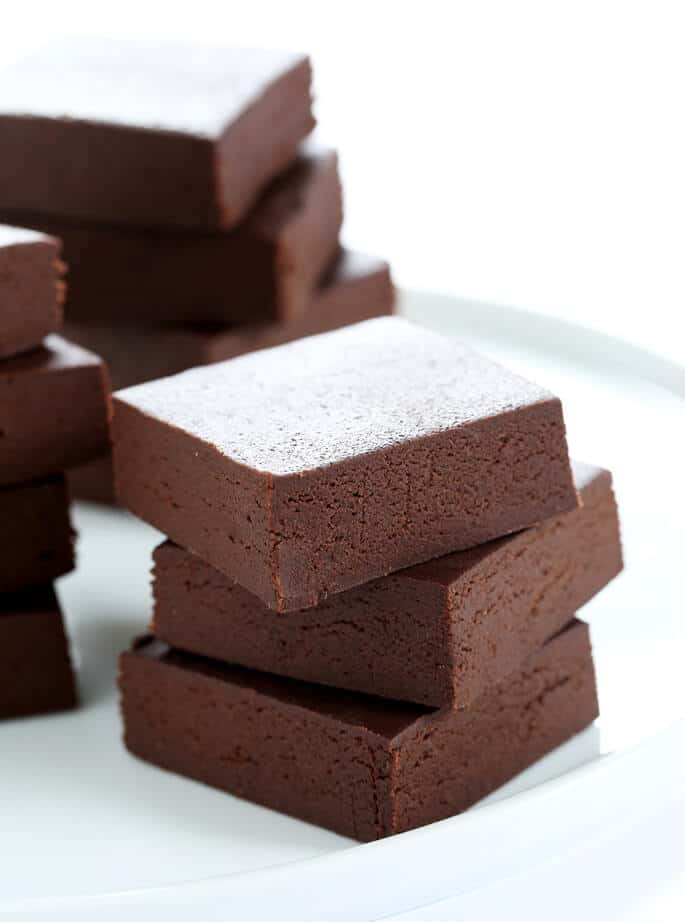 Here's how it's done: super nutritious and naturally sweet dates + good-quality unsweetened chocolate (I used Scharffen Berger brand) + virgin coconut oil + Dutch-processed cocoa powder (I used Rodelle brand) + some coconut cream (or heavy cream).
Blend, chill, roll out and press into shape, chill again, then slice. That's it. Store it in the freezer, deep in the back where no one but you ever goes. Just a suggestion.
Healthy Paleo Fudge
Ingredients
6 ounces unsweetened chocolate, chopped
6 tablespoons (3 ounces) virgin coconut oil
1 pound medjool or deglet noor dates*, pitted
1/2 cup (4 fluid ounces) cream or full fat coconut milk
2 teaspoons pure vanilla extract
1/2 cup (40 g) Dutch-processed cocoa powder
*Medjool dates are sweeter and a bit more moist, but can be harder to find (I usually find them at my local Trader Joe's). Deglet noor dates are a bit drier and less sweet, but they are plenty sweet for this recipe.
Instructions
Place the chopped chocolate and coconut oil in a medium-sized bowl, and place the bowl over a small saucepan with about 1 cup of water that is simmering over medium-high heat. Allow the chocolate and coconut oil to sit above the simmering water, stirring occasionally, until the chocolate and oil are melted and smooth. Remove the bowl from the heat and set it aside to cool briefly.

In a large bowl, place the dates and cover with hot tap water. Allow to sit for 10 minutes, then drain the water and squeeze the dates to rid them of excess water. Place the dates in the bowl of a food processor fitted with the steel blade. Add the cream and the slightly cooled melted chocolate and coconut oil, and process until the dates are smooth (about 4 minutes). You may have to stop the food processor occasionally to scrape the mixture off the lid of the food processor and back into the bowl. Add the vanilla, and the cocoa powder, and pulse until the cocoa powder is absorbed and the mixture is thick and shiny (1 to 2 minutes).

Scrape the fudge into a medium-sized bowl, and place it in the refrigerator to chill for about 5 minutes to make it easier to shape. Place the chilled fudge between two sheets of unbleached parchment paper and roll out into an 8-inch by 8-inch square, press the edges to square them. Place the fudge, still between the sheets of parchment paper, into the refrigerator to chill until firm (about 30 minutes). Slice the chilled fudge into 16 squares. Store any leftover fudge in an airtight container in the refrigerator or freezer.

First published on the blog in 2013. Photos and text updated. Recipe unchanged.