I'm calling it a menu of gluten free Easter recipes, but there's no ham! I figure you already have your own recipe for ham, your own favorite way to make it. But … what about gluten-free Hot Cross Buns? That's where I come in…
This collection of Easter recipes was first published in 2013. Since then, we've added more recipes to help make your Easter celebration, whatever it looks like, feel special.
Some old recipes have gotten a facelift (new photos, a snazzy video). Others are sort of suspended in amber—but are just too fun and adorable not to mention. I mean, bunny 🐇 butt cookies and little chocolate baby chicks 🐣 on top of gluten free cupcakes?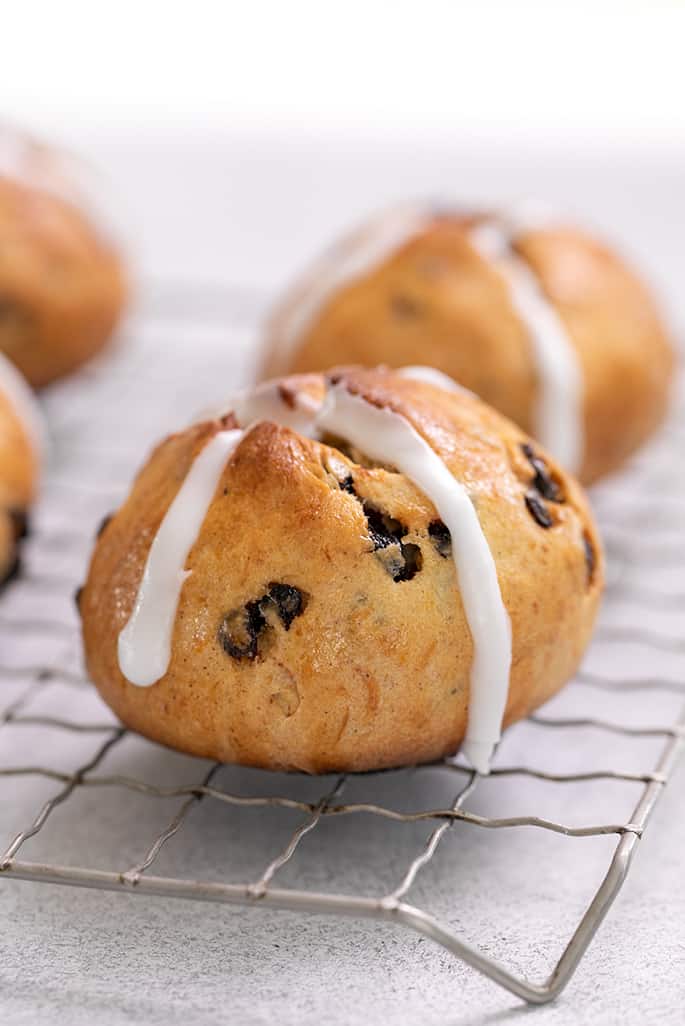 Warm and fragrant, these traditional gluten free hot cross buns will make your house smell like a home, and make your Easter celebration special. The dough is super easy to work with, and is best handled when it's at room temperature.
This gluten free carrot pineapple cake just tastes like the best classic carrot cake you've ever had. The crushed pineapple in the batter brings it all the way to amazing.
If you're at all concerned because pineapple isn't your thing, you can't even taste it in the finished product. It just makes the cake extra tender and moist.
These moist and tender gluten free carrot cake whoopie pies with cream cheese filling are a fun alternative to cupcakes or cake. They also freeze really well. Just wrap each individually, and enjoy whenever you have a craving.
If what you seek is the classic gluten free carrot cake, loaded with fresh carrots and topped with traditional cream cheese frosting, this is your cake. Not all cupcake recipes make great cakes, but this special recipe works beautifully for either form. Serve mine with extra cream cheese frosting, please.
This list may not have the ham or the deviled eggs, since those are usually naturally gluten free. But sharing the best recipes for biscuits and breads are the reason I get up in the morning. I had to make sure you had at least a biscuit for your Easter table.
Tender and light, these gluten free drop biscuits are ready in 20 minutes, start to finish. You can't beat the taste or the convenience. You can have a crisp outside and fluffy inside without the extra effort of folding/laminating the dough.
For a traditional Easter celebration, but the easy way, try this recipe for gluten free hot cross bun muffins. Perfectly moist and tender muffins with all the right spices and flavors, and none of the (admittedly minimal) fuss of the yeasted buns above.
These delicate little gluten free petit fours are just tiny iced almond cakes, covered with a simple icing. If you've ever wondered how petit fours are made, or just what that icing is made of, here's your chance to see how easy they are. Plus, they just look so beautiful on any holiday table.
This simple sugar cookie crust topped with whipped cream cheese frosting, decorated with fresh fruit makes an easy but impressive gluten free fruit pizza. I usually don't like to buy out-of-season fruits since they're rarely as vibrant in taste or color, but these days you seem to be able to find everything, at any time, in the grocery store.
I'm not about to spend hours decorating a gorgeous cake that looks like the Easter Bunny himself or anything (not even the coconut-shaving-covered bunny head cake of my childhood). But these sweet little gluten free Easter chick cupcakes are easy enough that we can all make them.
The little chicks have 2 main ingredients (chocolate and light corn syrup), plus some food coloring. Homemade modeling chocolate is way easier than you think, and really makes the occasion.
Gluten free bunny cookies are made with a simple round-cut out cookie, frosted simply, and a few candies added on top to look like, well, a bunny on its way out the door!
Whatever your plans, from my family to yours, I hope you have a fun yet relaxing gluten-free holiday weekend & a Happy Easter to those who celebrate!
Love,
Nicole